UP staff share their biggest moments and stories of 2021
---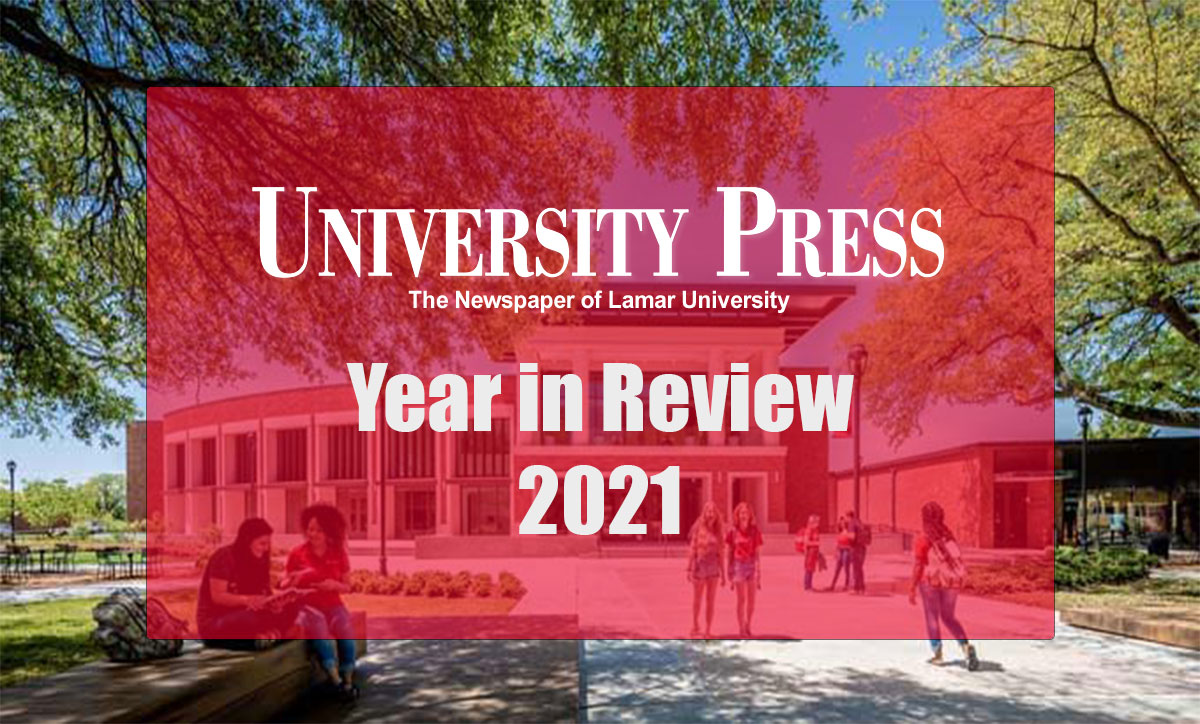 To navigate to each month, use the custom sidebar on the right.
---
January 2021
---
Insurrection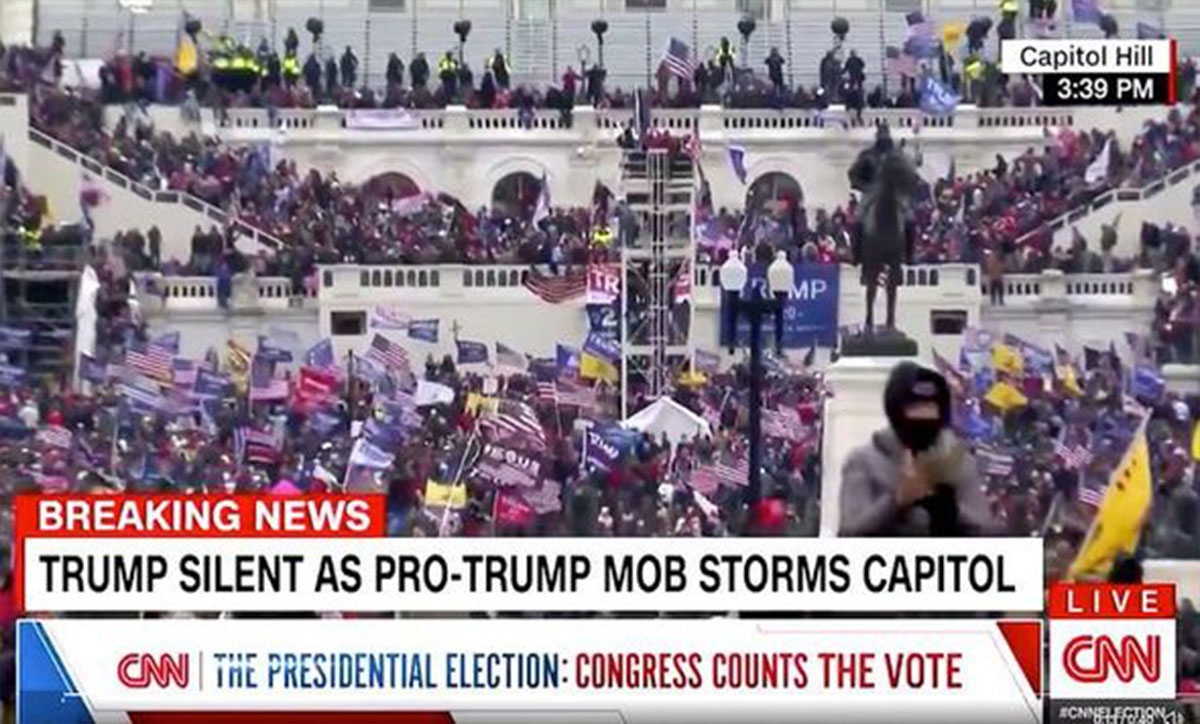 On Jan. 6, 2021, Pro-Trump protestors stormed the U.S. Capitol damaging offices and hallways, and stealing lecterns, flags and government laptops, resulting in the death of a Capitol police officer and four rioters.
The rampage occurred as the House and Senate gathered to certify the election of Joe Biden as president with a count of the Electoral College votes, traditionally a ceremonial event. This year, Donald Trump had tweeted that his supporters should strongly protest the count.
UP editor Tim Cohrs spoke to Nicole Wright, a student at George Washington University, who became an intern at the US Senate two days before the events unfolded. Wright told her first-person account of the events that took place that day. 
For the full story, click here.
Analysis: An attack on democracy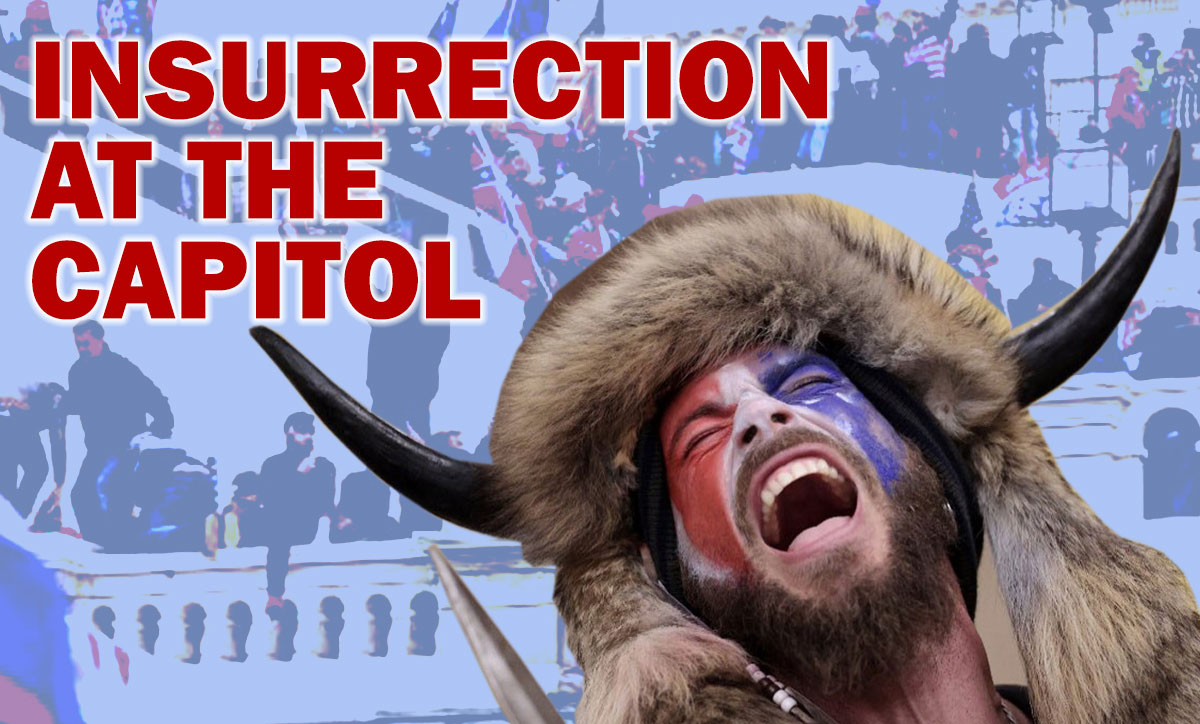 UP contributor and political science major,  Maissa Salibi analyzed the events that took place on Jan. 6. 
For the full column, click here.
'This is democracy's day'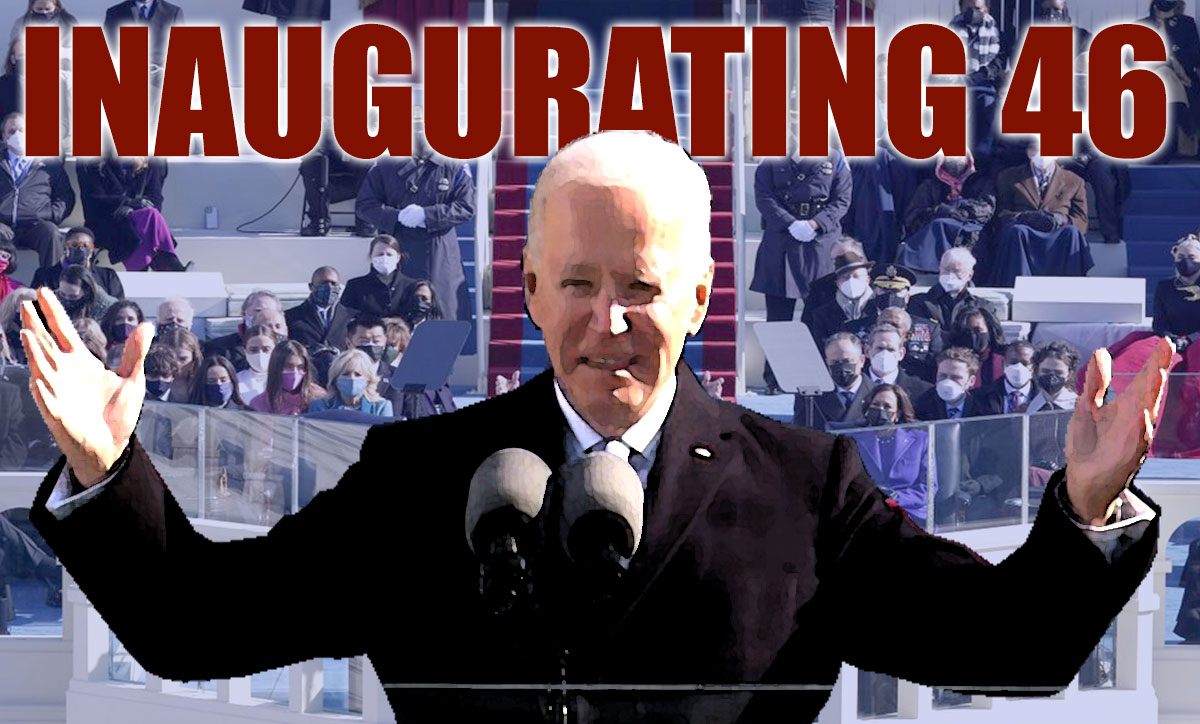 UP contributor Maissa Salibi covered the inauguration of President Joseph R. Biden Jr. on Jan. 20. 
For the full story, click here.
Making sports COVID friendly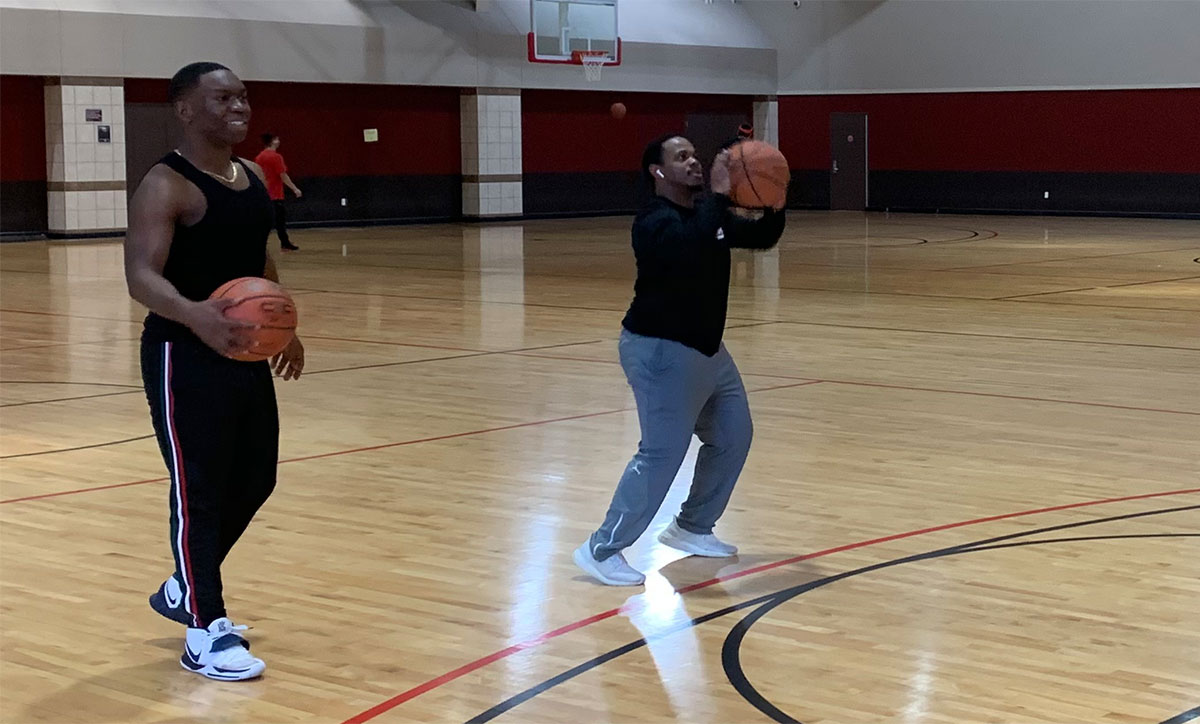 The LU department of recreational sports had to adjust their programming for the spring 2021 semester and also adjust their protocols due to COVID-19 case numbers still being high.
This included socially distanced sports, no-contact sports and special sanitization. 
For the full story by UP contributor Aliya Robertson, click here.
---
February 2021
---
LU joins WAC, leaves Southland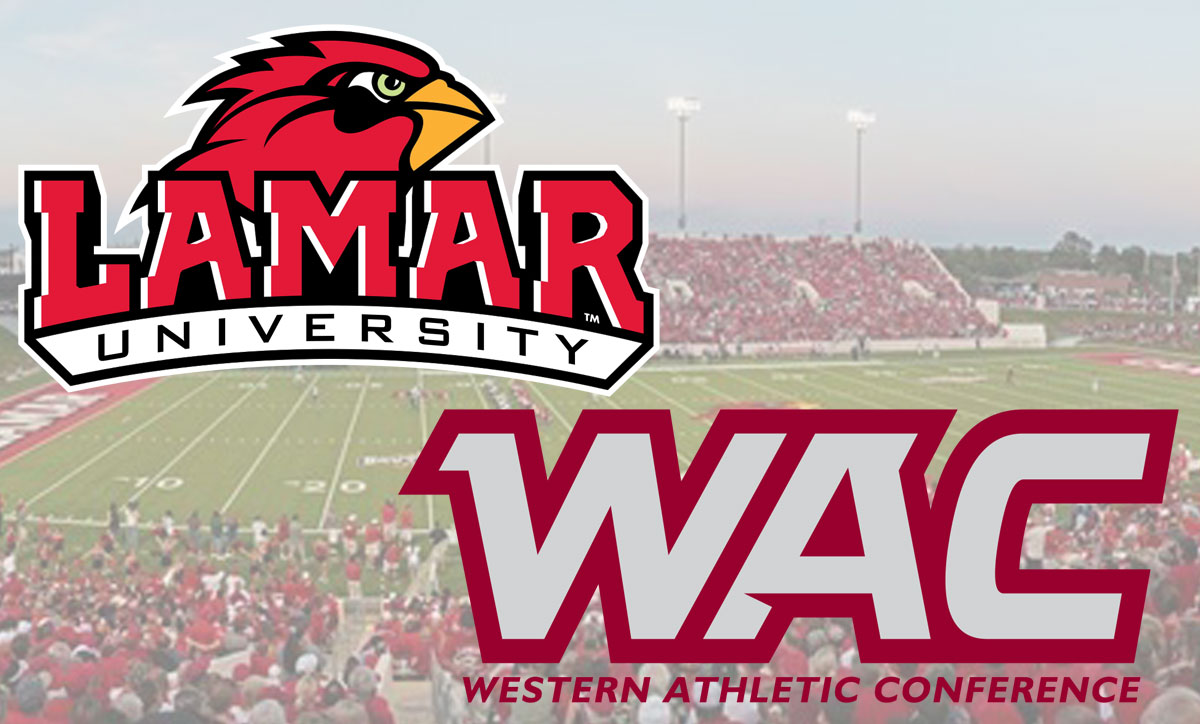 Lamar Cardinals left the Southland Conference and joined the Western Athletic Conference on July 1, 2021, LU President Kenneth Evans announced, Jan. 21, 2021. 
Lamar University moved in unison with Stephen F. Austin State University, Sam Houston State University and Abilene Christian University. The WAC combined these schools with current members Tarleton State University and University of Texas Rio Grande Valley to form a Southwest division.
Seven other schools, California Baptist, Dixie State, Grand Canyon, New Mexico State, Utah Valley and Southern Utah will form a West division.
Members of the LU athletic department and LU administration cited improved recruiting and competition as some reasons for the move. 
For the full story by LU contributor Reuben Durham, click here.
Cardinals Add Five on National Signing Day
LU football head coach Blaine Morgan signed five high school recruits despite not coaching a single game due to COVID-19. This was a first for the LU football program. 
This year Lamar University had their first season with a new coach and a new team of players. 
For the full story, click here. 
LU campus closed Feb 15-18 due to freeze
The LU campus was not spared by the freeze that swept over the state of Texas. 
Lamar first intended to have classes move to a remote format, but the freeze made the power grid unstable in SETX. 
LU made accommodations to those living on campus such as modified hours at the Brooks Shivers Dining Hall, with housing and residence life staff helping dining services staff to ensure residential students receive adequate dining services during the severe weather event. 
Accommodations also included the Setzer Student Center and the Shiela Umphrey Recreational Sports Center serving as a warming center and as a place where students were able to shower and use the restroom as many dorms lost water pressure during the freeze. The department of housing and residence life eventually installed "Port A Johns" temporarily outside all residence halls. 
The City of Beaumont was under a boil notice from Feb. 17 to a few days after the freeze subsided. The university provided water for students living on campus. 
The campus was not completely back to normal after the freeze as repairs across residence halls and other buildings on campus occurred due to many pipes rupturing as an effect of the freezing temperatures. The WiFi infrastructure across campus was also under maintenance for weeks following the water events.
Nevertheless, students enjoyed the snow on campus, which is not a norm in the area. 
For the full coverage by Tim Cohrs, click here.
LU theatre returns to stage with 'The Good Doctor'
"Being able to sit down in our theatre six feet from others and still be able to laugh, cry and learn is a treat after the tough transition we've all had to take," Reece Smithhart said.
Smithhart plays the narrator in Lamar University's production of "The Good Doctor," which premiered Feb 26-Feb 28, 2021. Directed by Joel Grothe, associate professor of theatre, it was the first LU production since the start of the COVID-19 pandemic.
The selection of such a unique play format was primarily for the benefit of students, Grothe said. As the first live performance in almost a year, "The Good Doctor" was a great opportunity for theatre and dance students to obtain experience.
"A lot of these students are new to Lamar, so many of them had their (high school) one-act play canceled last year," Grothe said. "For a lot of them, this is the first time that they're performing live in about a year. When I'm picking a play, it's always about the students. And it's going to be appropriate, at least at Lamar, for our student actors and our student designers, to help train them to be professionals."
"The Good Doctor" showed the perseverance of the department throughout the pandemic, Grothe said.
"We've actually been the only program on campus that has kept all of our majors' classes in person," he said. "And we're very pleased that, to this point, we have only had a few cases in our department. But like the rest of the university, we haven't had any tracing back to the classroom, meaning that the cases have been isolated. So, we've managed to keep things going.
"Last spring was really tough, teaching acting classes and directing classes online for the second half of the semester. But I think that in theatre and dance we're pretty good creative problem solvers. We figure out a way to make things work, and make sure that everybody's on the same page and everybody's in it together. It has certainly been a challenge."
The show adhered to COVID-19 protocols that were in place at the time such as masks and social distancing. 
For the original story, click here.
March highlights Black history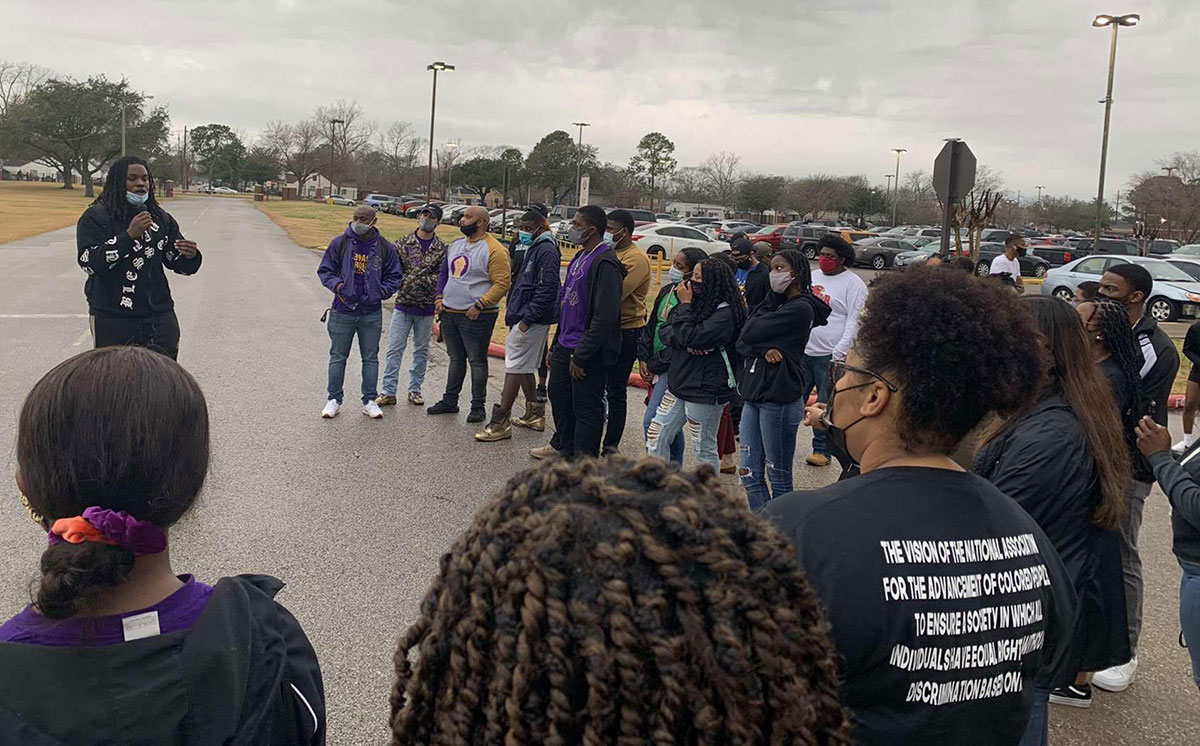 The Upsilon Theta Chapter of Omega Psi Phi Fraternity Incorporated led a march featuring many of Lamar University's student organizations, Feb. 25, to highlight Black History.
The march began at the Setzer Student Center and follow a path throughout campus. At various locations organizations gave information and history, as well as highlighting the importance of black history and the impact it has on Lamar University.
For the full story by UP contributor Abraham Asabi, click here.
---
March 2021
---
LU announces first Lavender graduation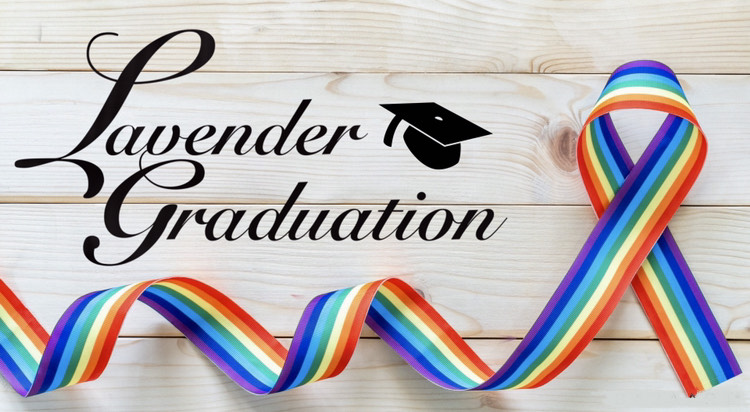 Lamar University held its first Lavender Graduation in May. The event coincided with university graduation at the end of the spring semester.
Andre Favors, Instructor in the Department if Communications and Media, said he is working with the Office of Global Diversity and Inclusive Excellence to secure a yearly anonymous donation to fund Lavender Graduation and other LGBTQ+ programs.
"This gives folks an opportunity to share and celebrate their accomplishments with folks who are like-minded and supportive of their identity," Favors said. "We are providing other minority groups these celebrations, and I think that any group that would like to be recognized this way should have that opportunity."
According to the Human Rights Campaign, "Lavender Graduation is a cultural celebration that recognizes LGBTQ students of all races and ethnicities and acknowledges their achievements and contributions to the university as students who survived the college experience."
The establishment of Lavender Graduation is another step towards Lamar's ongoing promise of inclusivity, Favors said.
"By highlighting that (Lamar University) supports and values LGBTQ+ students and their allies, it demonstrates that we are very mindful of diversity and the importance of celebrating all of our students, and their uniqueness and value to our community," he said.
LGBTQ+ Students of Lamar was involved with the organizing of the inaugural event. 
For the full, original story by UP contributor Aliya Robertson, click here.
LU issues statement on mask order
On March 5, Lamar University released a statement on Governor Greg Abbott's lifting of the statewide mask mandate. Despite the order being lifted, LU decided to abide by guidance released by the Texas Education Agency which stated that masks will still be worn at educational insitutions. 
For the full release, click here.
Cardinal football breaks internet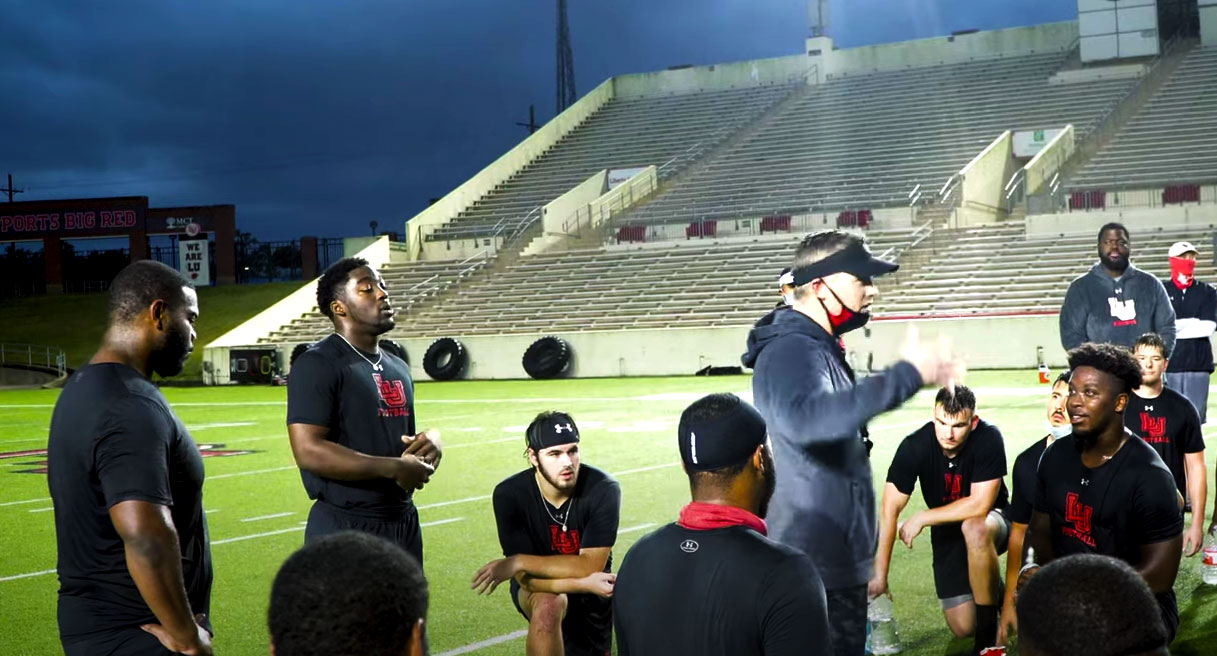 When two members of the Lamar University football team opened their Tik Tok, Feb. 11, they discovered they were global celebrities. Instead of game highlights, they found a video of new head coach Blaine Morgan surprising the walk-ons — senior tight end Dawud Shorts and freshman defensive lineman Caleb Williams — with scholarships at the end of a practice.
The video had received 20.6 million views, 4.3 million likes and 42,200 comments, including famous accounts such as Dr. Phil, Buffalo Wild Wings and Billy VSCO. The video was subsequently reposted on ESPN's SportsCenter and the social media account "House of Highlights."
 The original video was posted on the Lamar Cardinals YouTube channel, Nov. 25, 2020, and had garnered 25,240 views, 381 likes and 24 comments.
The video begins with the team gathered together. Morgan calls up the two players, asking, "How late did you work last night?" Shorts replies, "I got off at 11." Morgan then says, "He got off at 11 last night working at BW3s. Who else in here worked until 11 last night? Nobody else right? 'Cause the rest of you guys are on scholarship. But he's got a smile on his face, he's paying for school guys, but he's happy to be here." Morgan paused before announcing, "Both these guys are going on scholarship."
The team rest of the team immediately mobs their fellow teammates.
For the full story, click here.
 Town hall creates civic engagement in Port Arthur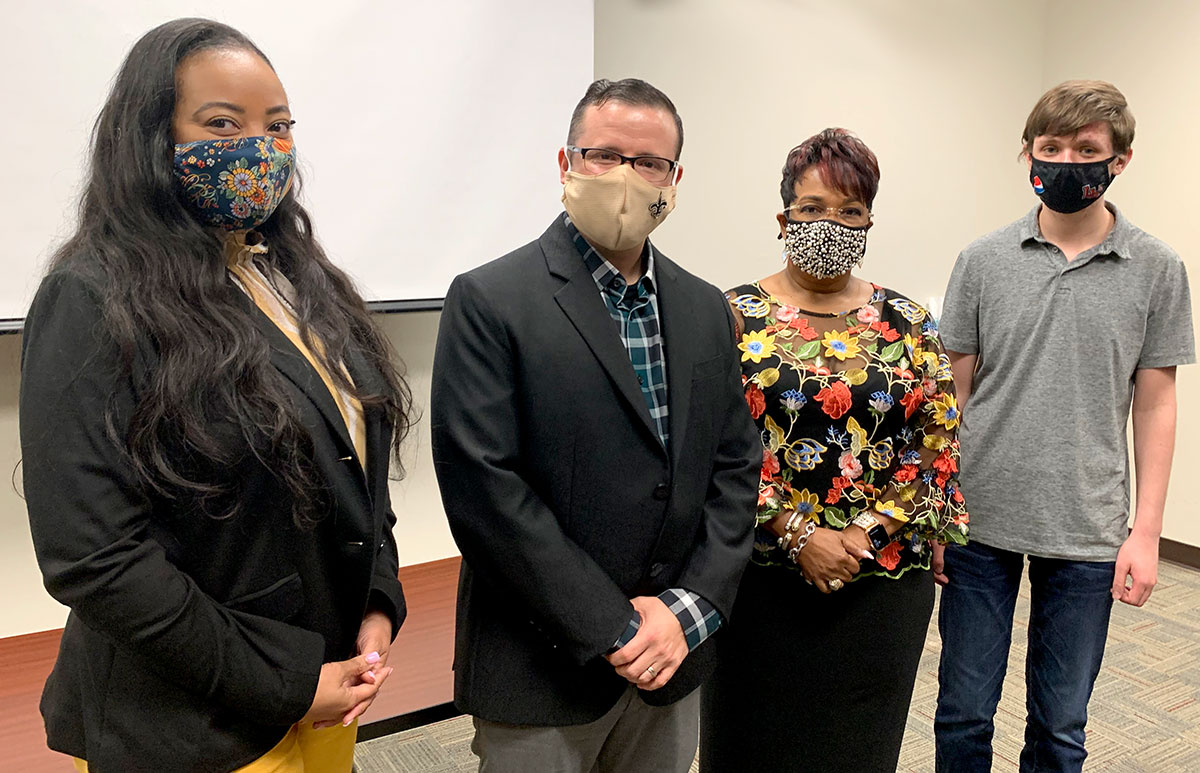 The Port Arthur News, in collaboration with the Lamar University Department of Communication and Media and the University Press, hosted a virtual town hall, March 10. The topic was a proposition by the Port Arthur City Council to divert a portion of the City of Port Arthur's sales tax funds into upgrading Rose Hill Park and Adams Park. The proposition was on the ballot, May 1.
Charlotte Moses, Port Arthur councilwoman and Mayor Pro Tem, and Chandra Alpough, director of parks and recreation at the City of Port Arthur, were on hand to answer questions about the proposition. Stephen Hemelt, publisher of the Port Arthur News, moderated the event.
The livestreamed event garnered a reaction from the community with more than 45 viewers attending with 1,200 views and 55 comments the morning after. Viewers were able to submit questions and comments that were addressed by Moses and Alpough. After the event, Alpough, Moses and Hemelt said civic engagement programs are something they will continue in the future.
The event is the result of months of planning which began in December 2020. The project began as part Lamar's submission to the University of Missouri's Reynolds Journalism Institute 2021 Student Innovation Competition.
This town hall is part of an ongoing project to boost civic engagement both at Lamar and Southeast Texas.
To watch a video of the livestreamed event, click here.
For the full story, click here.
Lamar offering COVID-19 vaccine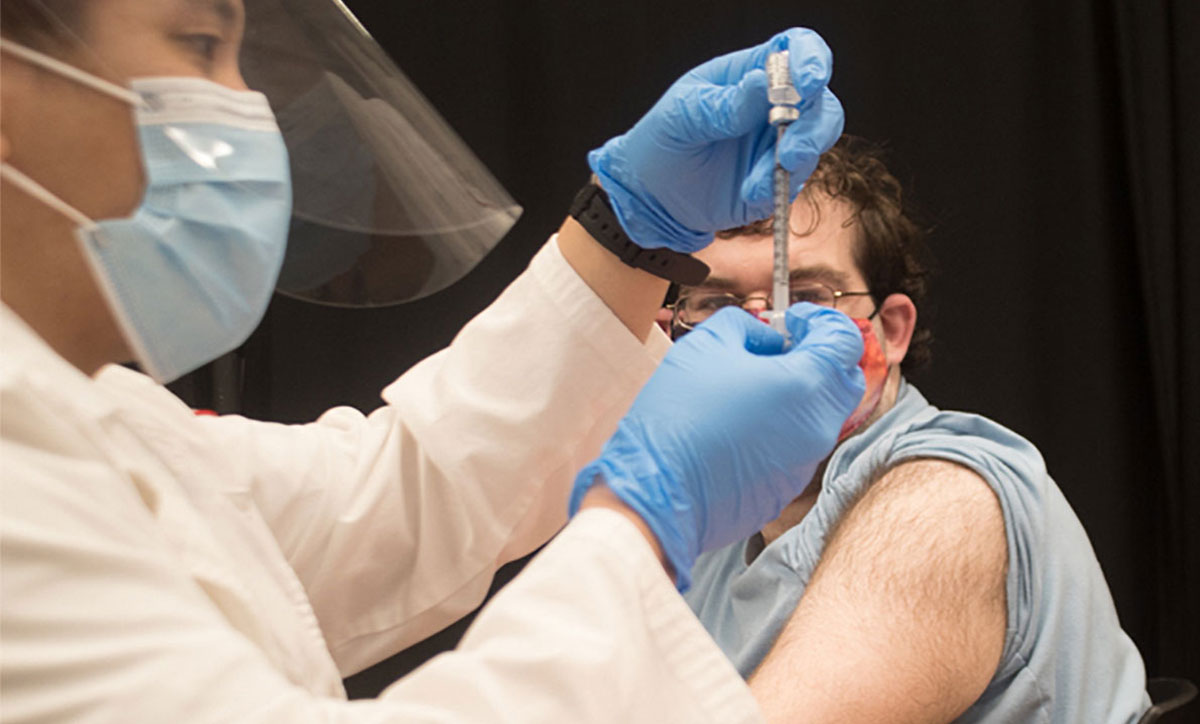 Lamar started administering the Pfizer COVID-19 vaccine in limited supply and according to the state's distribution plan. This rollout led to the vaccination initiatives currently in place at LU.
For the full story, click here.
Evans named president of OCU
Former Lamar University President Ken Evans has been named president of Oklahoma City University in Oklahoma City, Oklahoma.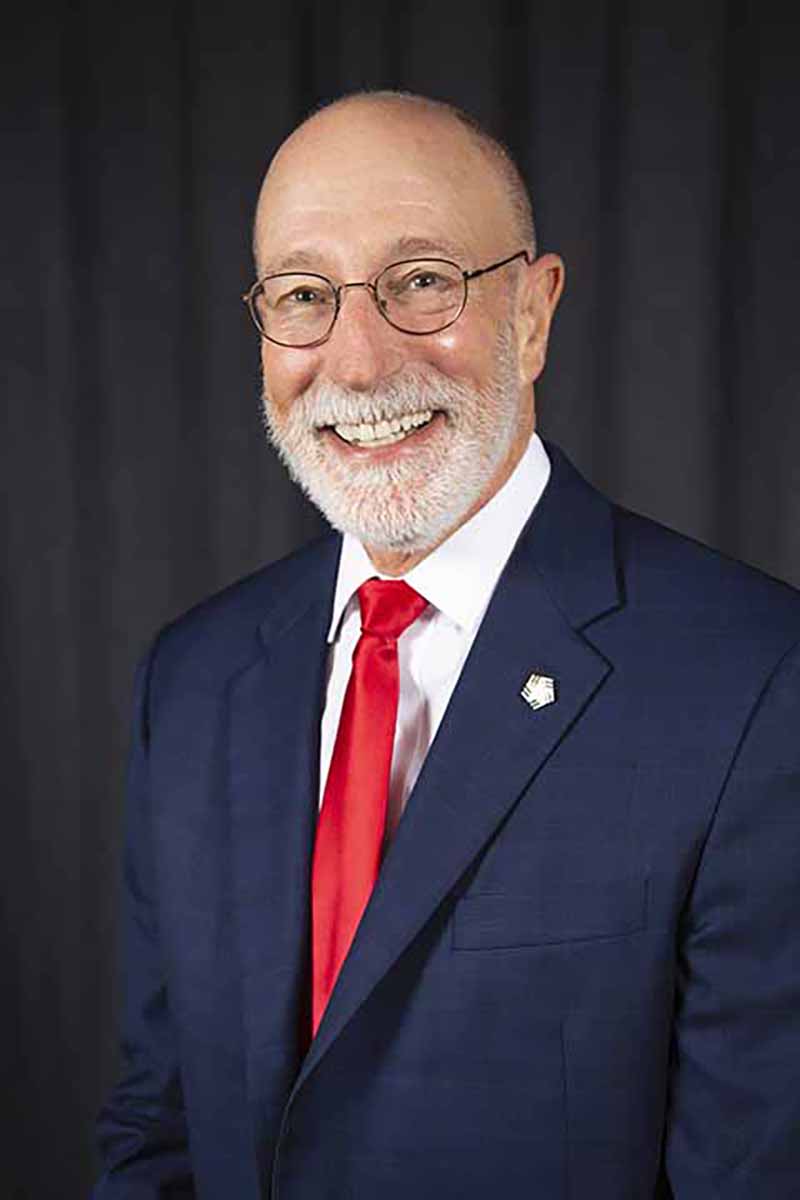 Evans, LU's fifteenth president, announced his retirement to be effective June 2021; however, the position at OCU allows Evans to return to familiar territory and to continue to have an impact on higher education.
In July 2013, Evans joined LU after serving more than six years as Dean and Fred E. Brown Chair at the Michael F. Price College of Business at the University of Oklahoma.

"I'm delighted to have the opportunity to return to a community I know and respect and to a university that contributes so significantly to Oklahoma City's workforce and culture," said Evans. "An added benefit is the proximity of Oklahoma City to my family who can in turn be part of the OCU experience with me."

Evans began his new position at OCU July 1, 2021.

A presidential search by the Texas State University system began following this news.
For the original release, click here.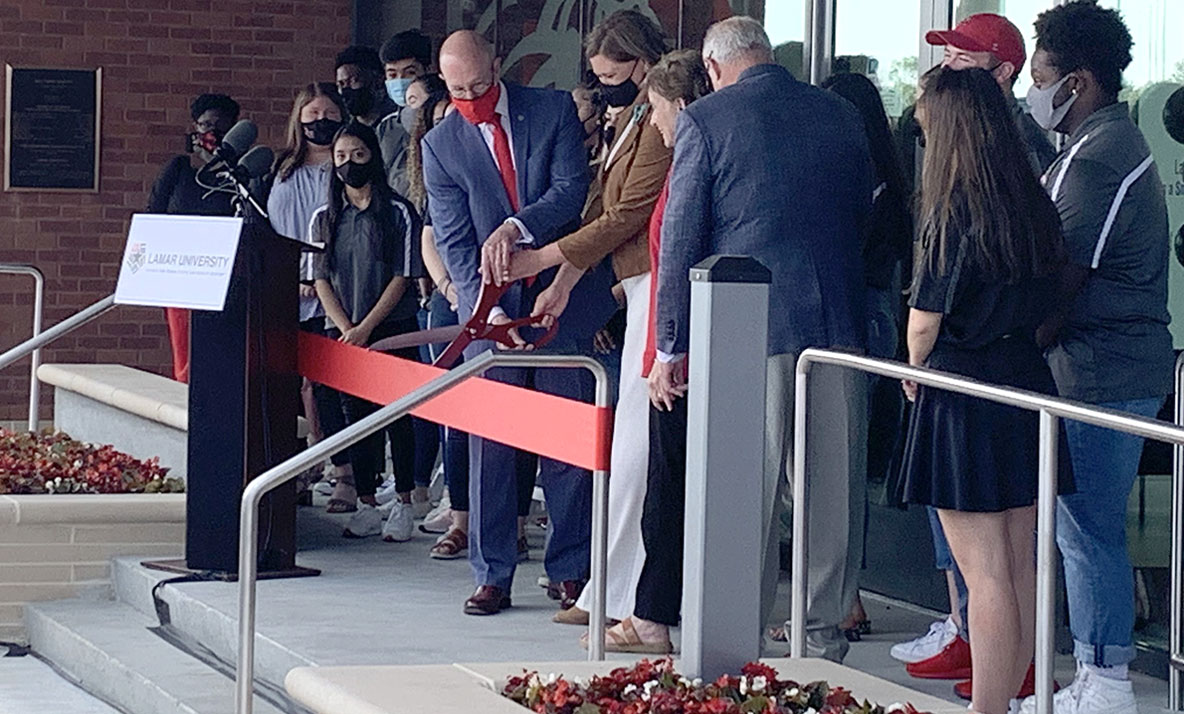 Lamar University President Kenneth Evans and Tracie Craig, Welcome Center director, cut the ribbon at the grand opening of Lamar University's new Welcome Center March 25.
The Welcome Center was later dedicated to former president and first lady of LU, Ken and Nancy Evans.
For the full story, click here.
LU vision campaign wins SGA election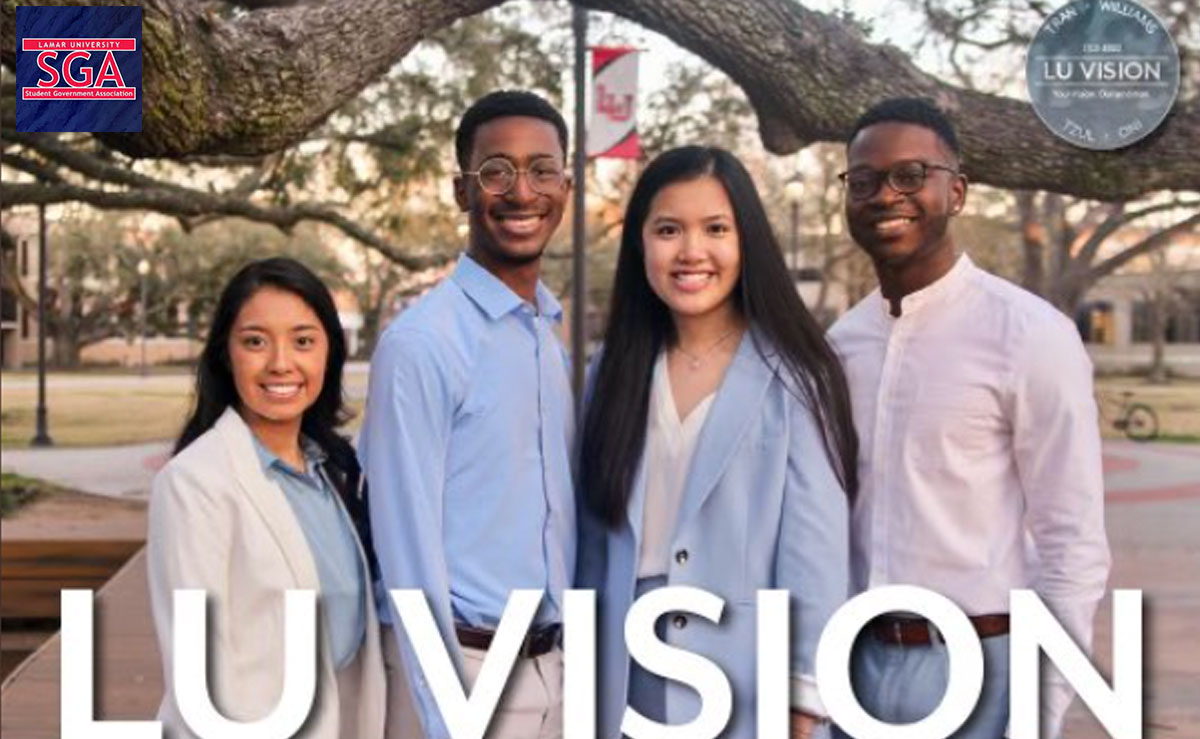 Lamar University's Student Government Association elections closed March 25, 2021, at 5 p.m. with the LU Vision campaign winning all of the executive positions for the 2021-2022 school year.
Tiffany Tran won the presidential spot, earning 604 out of 988 votes cast, which equates to 61.1 percent of the total vote.
David Williams won the vice-presidential race, earning 586 out of 945 votes (62 percent of the total vote.)
Jane Tzul won the secretary-treasurer race, earning 508 out of 941 votes, for 50.4 percent of the vote.
In class senator elections, Ayokunle Oni will fill the senior class senator postion and Tarshaye Flakes will be junior class senator.
Sophomore class senator candidates Oluwatomisin Egbewale and Destini Hearne tied with 46 out of 111 votes cast and there will be a runoff election starting at 8 a.m., March 31, and ending April 1 at 5 p.m.
For more information, visit lamar.edu/sga.
For the full story, click here.
---
---
 LU tabs Brooks to lead men's hoops
One of the all-time great players in Lamar University Cardinal basketball history, Alvin Brooks was named the program's 12th head coach on April 1, 2021. Brooks returns to the program that he led to the 1980 NCAA Sweet 16 as a player, and where his coaching career began.
For the original story, click here.
UP staff earns 13 awards at TIPA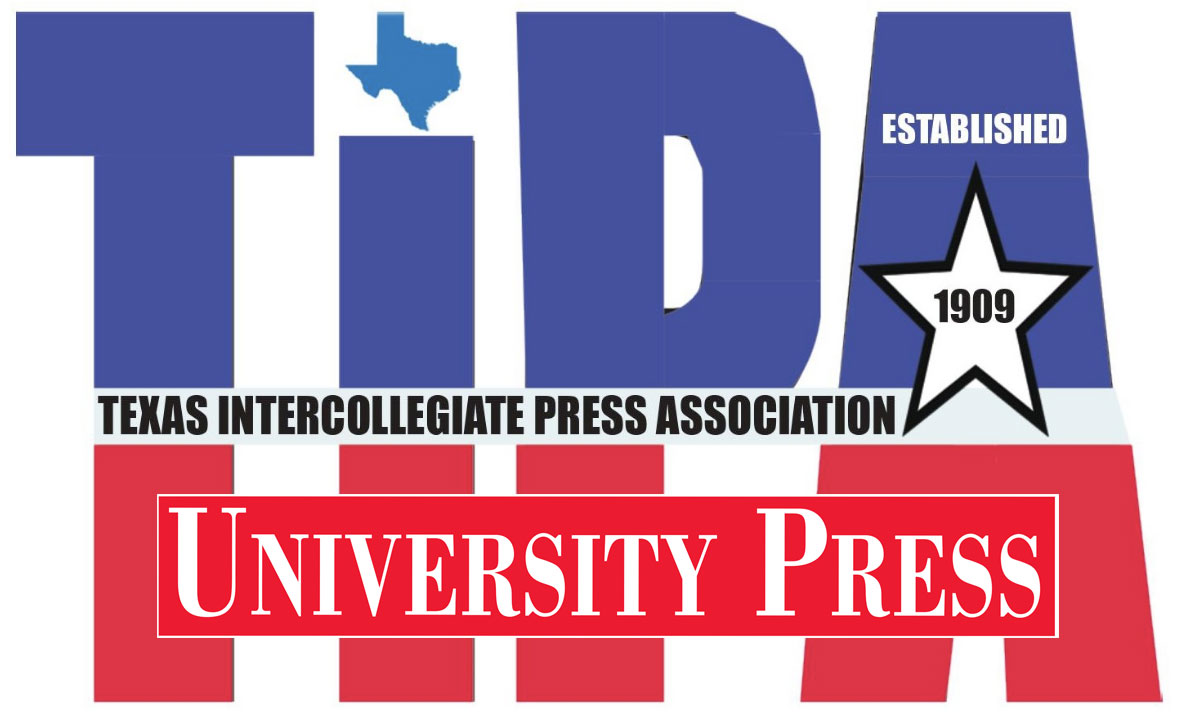 Lamar University students from the University Press earned a baker's dozen of awards at the Texas Intercollegiate Press Association, announced in March.
University Press staffers earned four first-places among the 13 awards for previously-published work in 2020.
For the full story, click here.
Health Center registering for COVID vaccine
The Student Health Center offered the Johnson and Johnson (Jannsen) vaccine to all LU and LIT students as one of the first waves of vaccines widely availiable to the campus population. 
Shortly after registration opened, the CDC issued warnings for the Jannsen vaccine and vaccine distribution on campus was briefly halted. 
From uniform to suits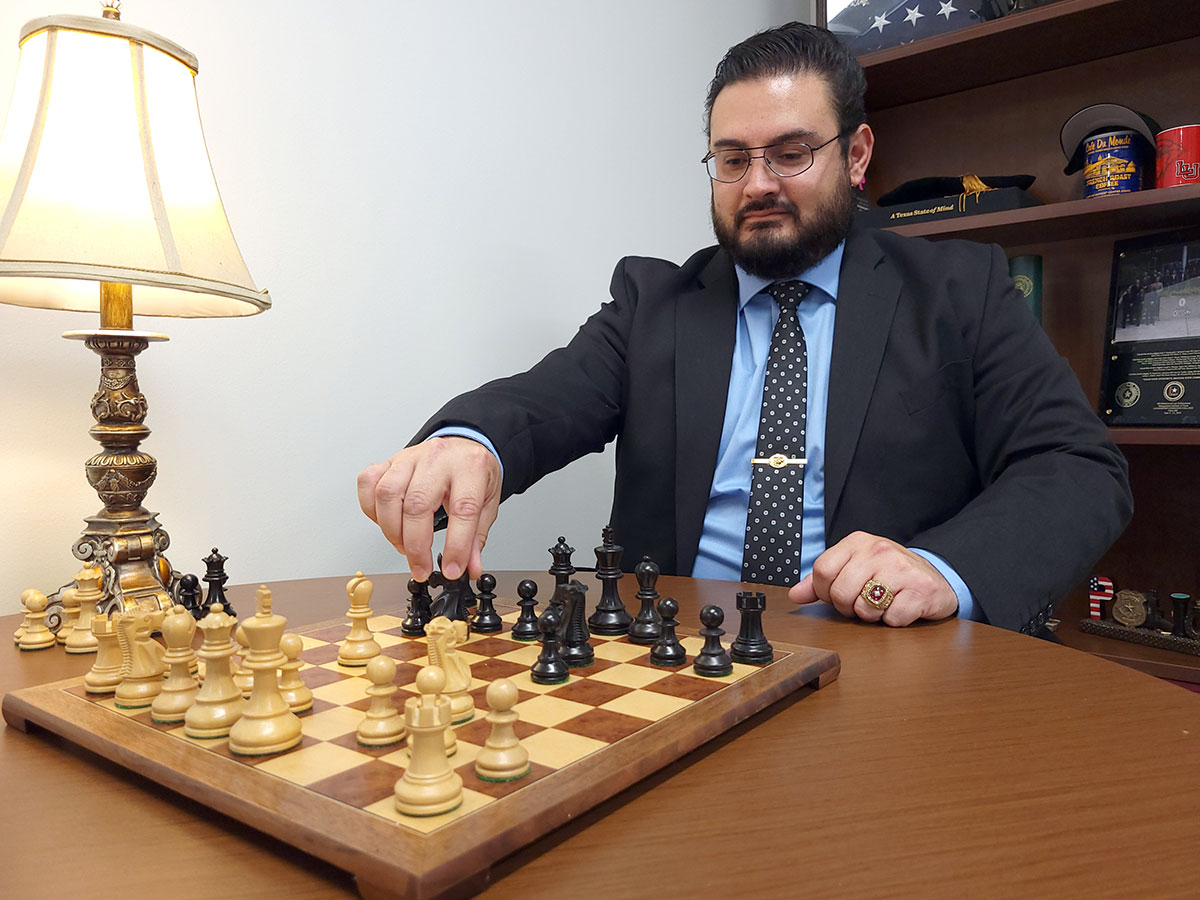 Hector Flores, LU's chief of police, was named the new dean of students and associate vice president, April 5.
For the full story, click here.
UP releases spring 2022 edition of UPbeat magazine
For the award winning UPbeat magazine, click here.
May 2021
Democratic Party holds rally in Beaumont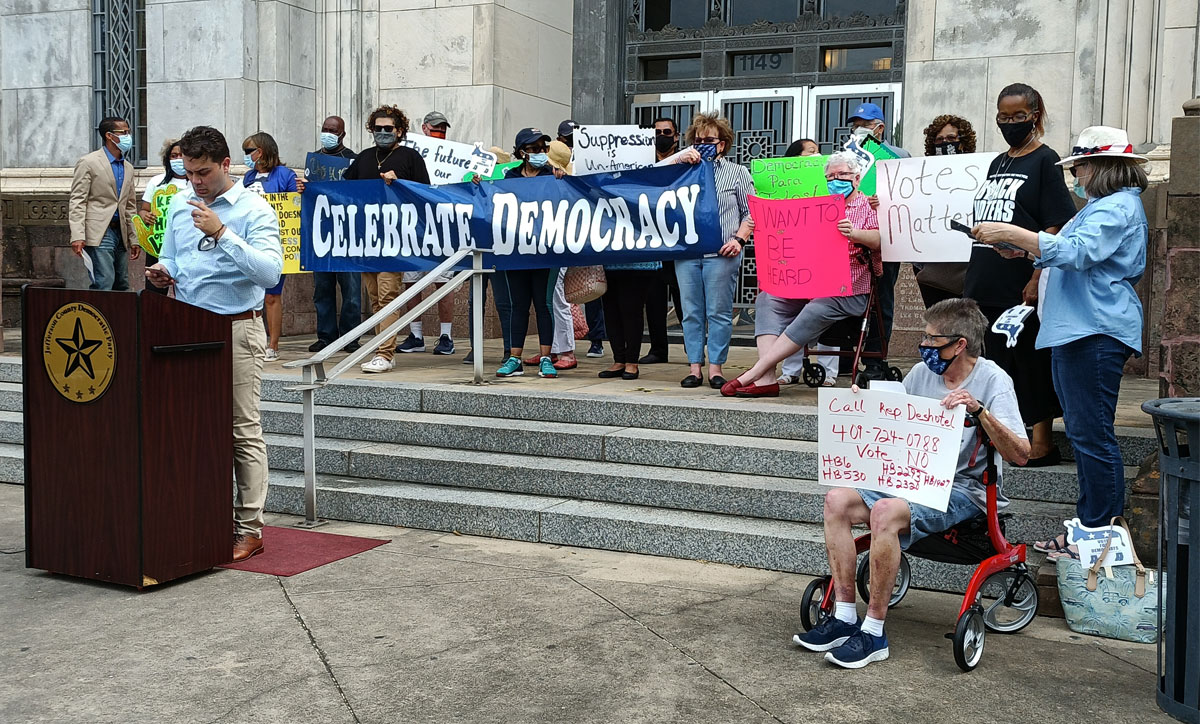 The Jefferson County Democratic party held a press conference at the Jefferson County Courthouse, April 28. Joseph Trahan, JCD party chairman, gave a speech to raise awareness over voter's rights and other house bills that will be voted on in the coming weeks.
For the full story, click here.
LU no longer requiring masks on campus
In accordance with Governor Abbott's Executive Order GA 36, Lamar University will no longer require face masks or coverings to be worn on campus by any student, faculty, staff member, or guest.
For the full release, click here.
June 2021
Evans leaves LU, Taylor enters
For our coverage on the Presidential transition, click the links below.
August 2021
Big Boy visit excites train enthusiasts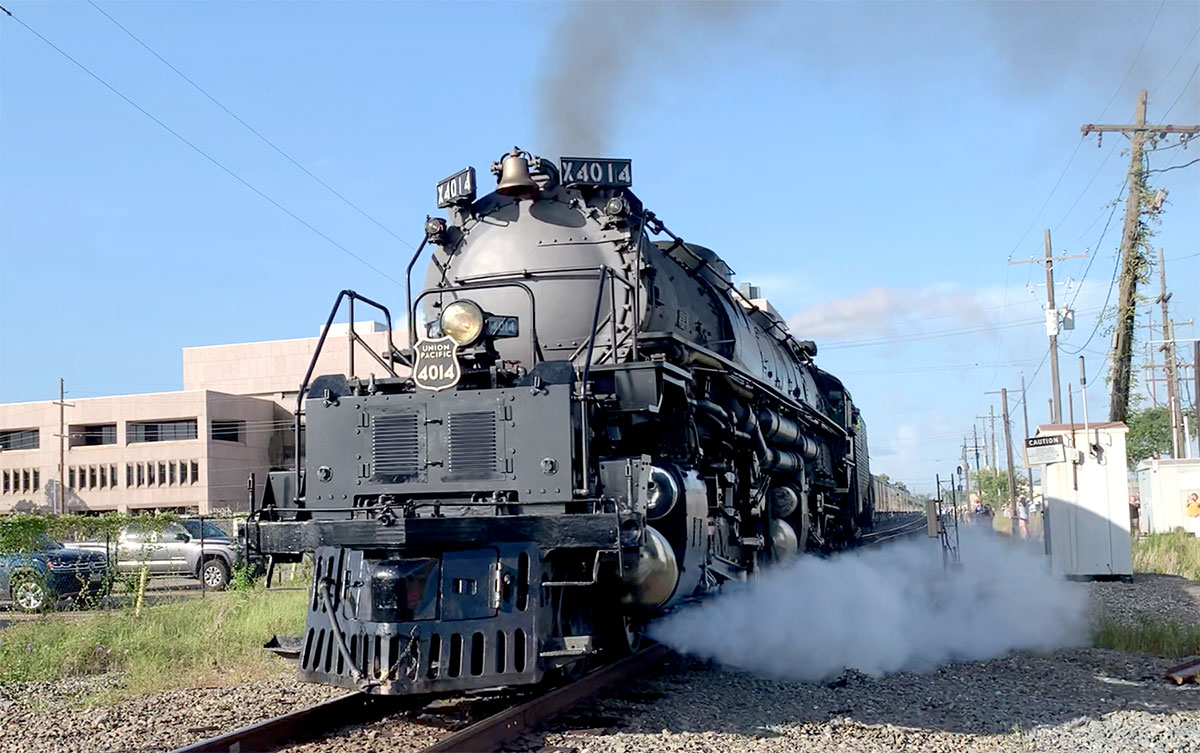 World's largest steam locomotive makes layover in Beaumont
Despite a downpour, hundreds of people gathered to catch a glimpse of Big Boy No. 4014, the world's largest operating steam train, as it settled for an overnight stop in Beaumont, Aug. 18.

The Union Pacific locomotive was designed in the late 1930s and its size enabled it to transport military equipment over the mountains in Colorado and Utah. Ed Dickens, senior manager of Union Pacific's heritage operations and a conductor on the train, said there are thousands of locomotives that traverse the country, but Big Boy stands out because of its size.
For the full story, click here.
New conference, new gameday experience
With LU's entrance into the Western Athletic Conference, the Lamar University football program made many improvements to the gameday experience at Provost Umphrey Stadium including returfing the field and the addition of a beer garden, kids zone and Cardinal Cabanas. 
For the full story, click here.
September 2021
Paralympics bring back memories for Mutz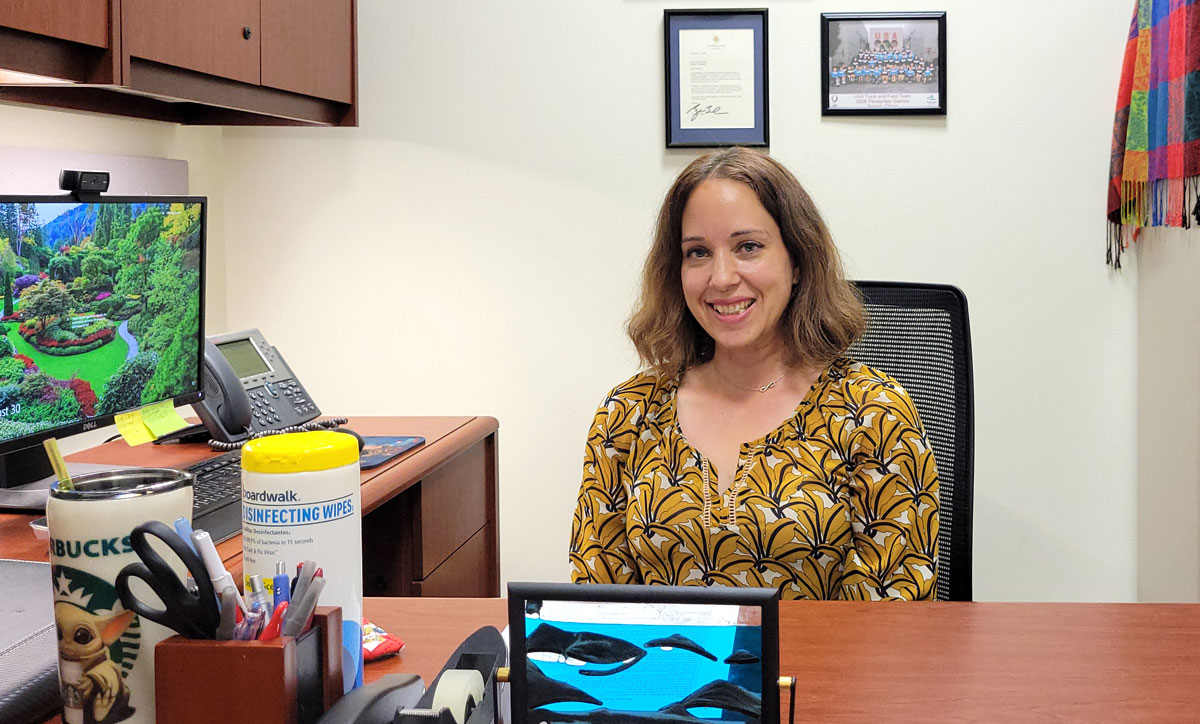 Students on the Lamar campus may know Jenny Mutz from the undergraduate advising center, but most are unaware she is also a two-time Paralympian.
For the full story, click here.
LU turns 98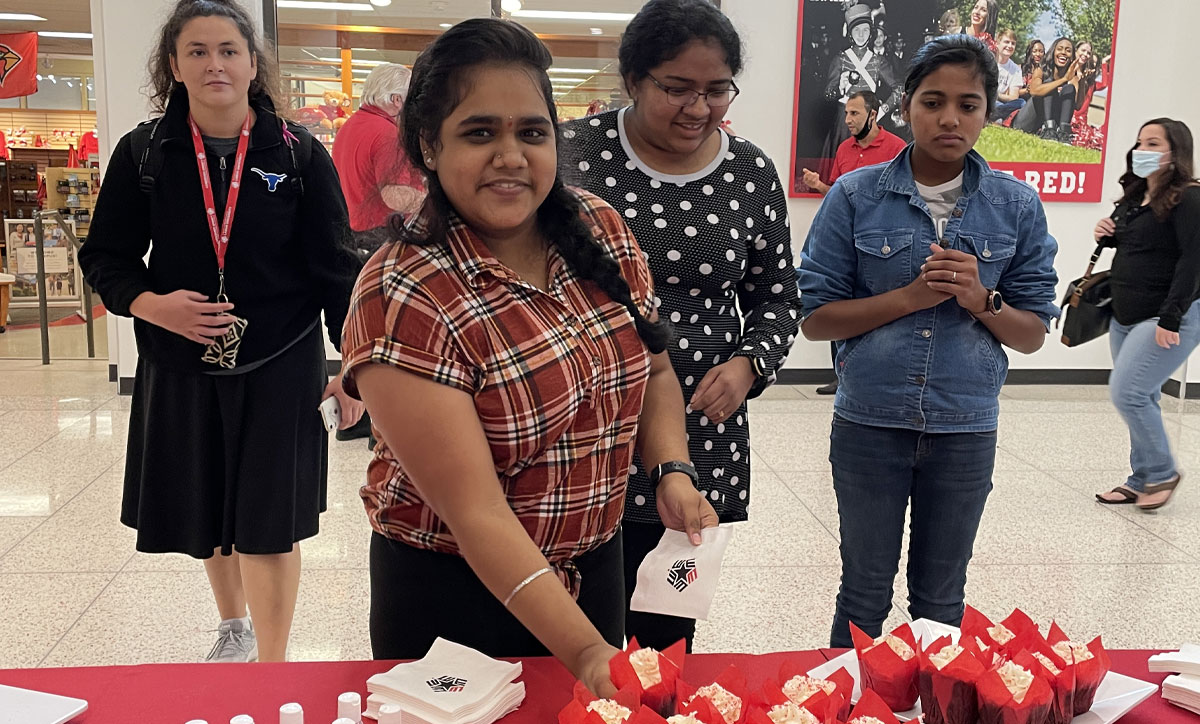 Lamar University hosted a 98th-anniversary celebration, Sept. 17, in the Setzer Student Center.
President Jaime Taylor and first lady Stacy Taylor were present at the event and served LU themed cupcakes
For the full story, click here.
LU hosts Multicultural Community Festival
For the full story, click here.
Phelan announces new funds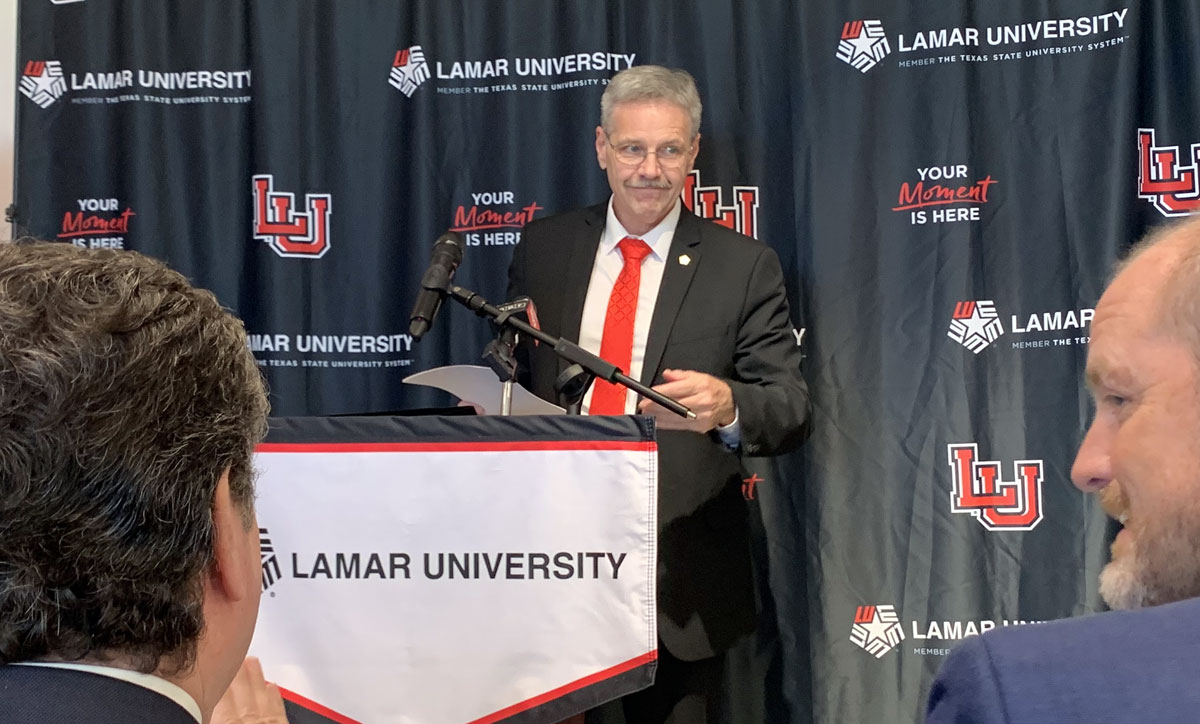 Lamar University President Jaime Taylor announced Sept. 23 at a press conference that the school will receive $17 million in "equity funding" and millions more in formula funding and maintenance dollars from the state budget that was approved in May.
Taylor announced the funding with Speaker of the Texas House of Representatives Dade Phelan, a Beaumont native who also represents Orange County and part of Jefferson County in District 21.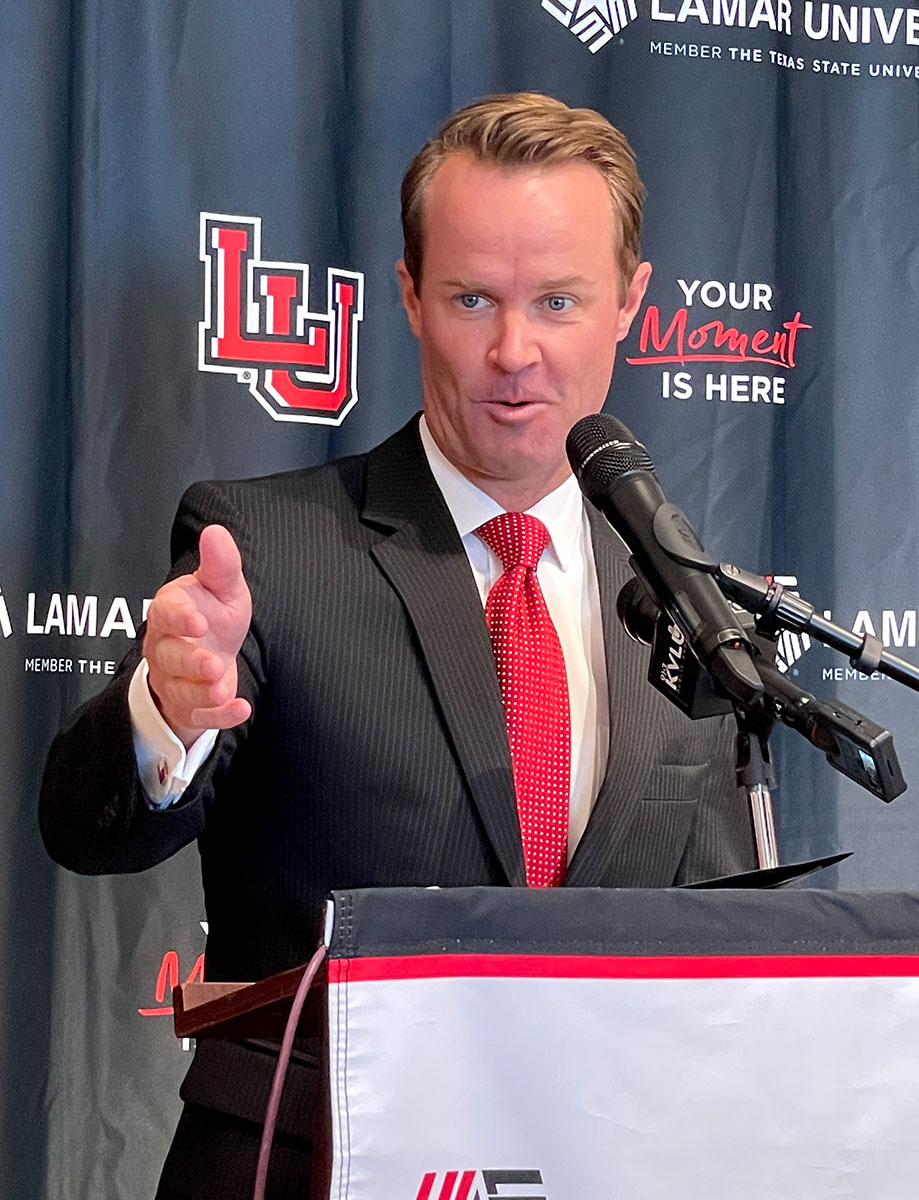 Lamar will also receive $13.8 million in formula funding, which is how public higher education institutions equally allot funding from the state, in addition to a one-time $5.7 million to aid in tropical storm-related repairs on campus.
The $17 million in equity funding will bring the university's non-formula funding up to par with peer institutions, Taylor said.
For the full story, click here.
Recycling Services return to LU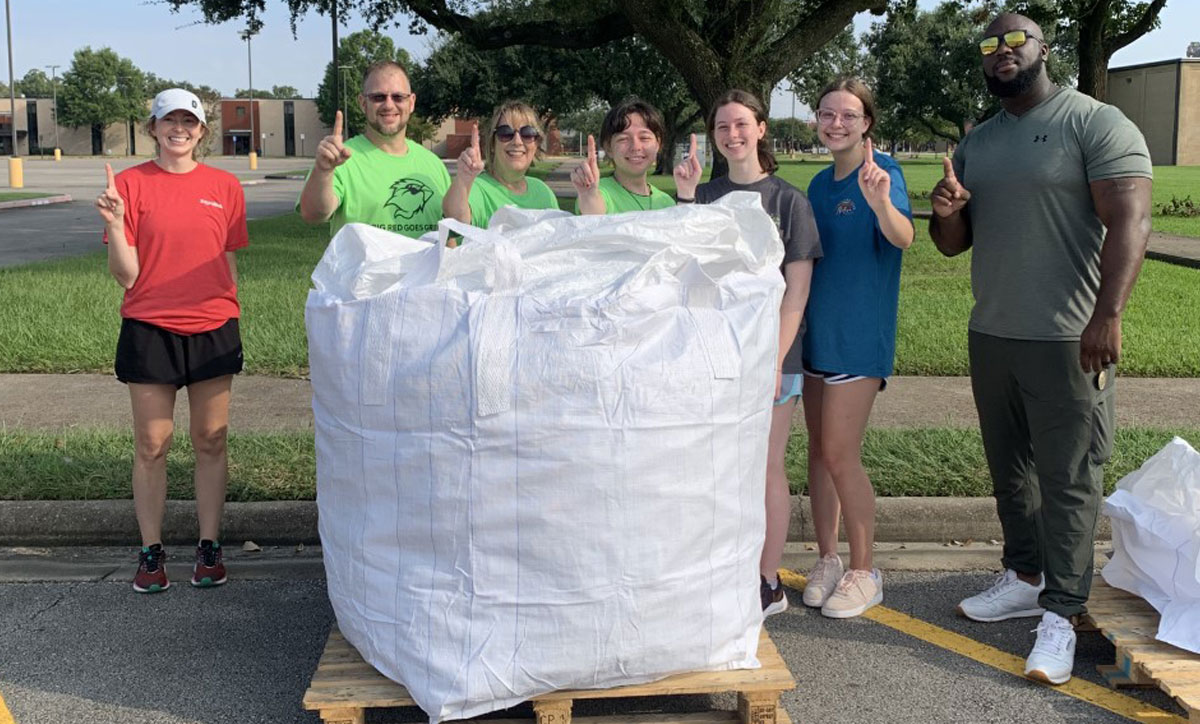 Recycling services have returned to Lamar University for the first time since coming to a halt in 2019.
For the full story, click here.
October 2021
Improvements to Rec Center, SSC underway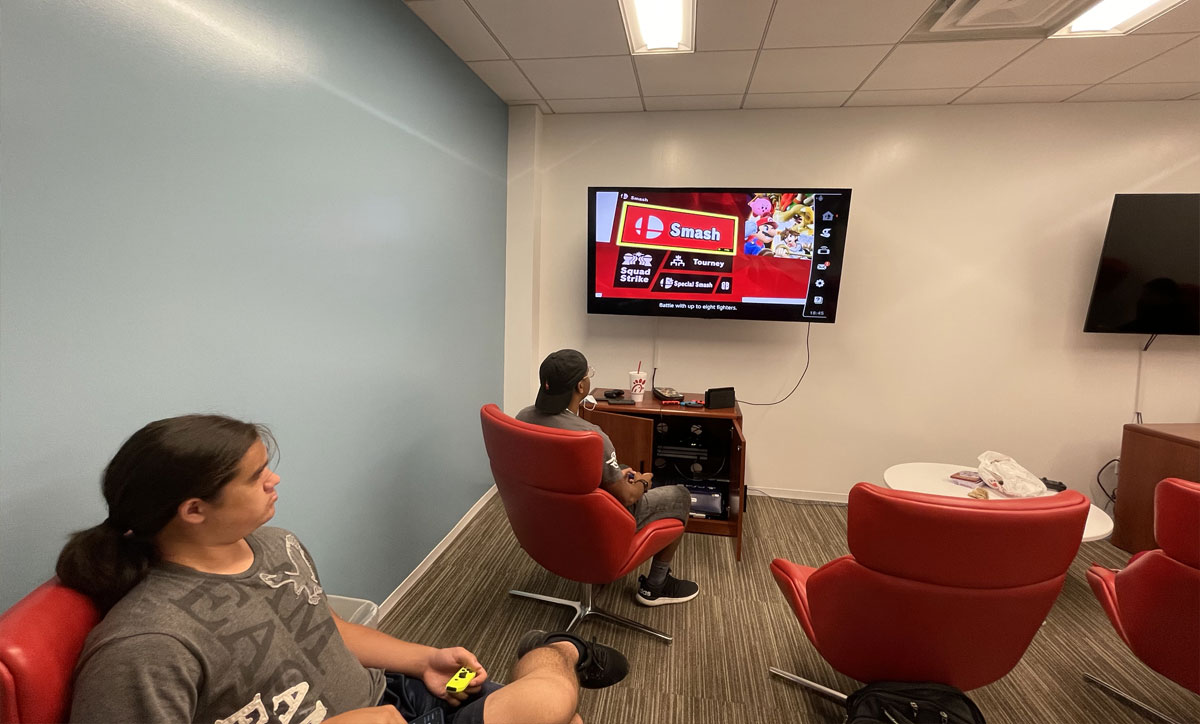 Students play a game of "Super Smash Bros" Oct. 4 at one of the gaming stations in the Setzer Student Center game room located in Willow Marsh 144. UP photo by Tim Cohrs.
Dean of Students Hector Flores spoke to the UP about projects underway to improve the Sheila Umphrey Recreational Sports Center and the Setzer Student Center including a new patio, gameroom, movie room, table tennis courts and other improvements.
For the full story, click here.
Gusher repaired after freeze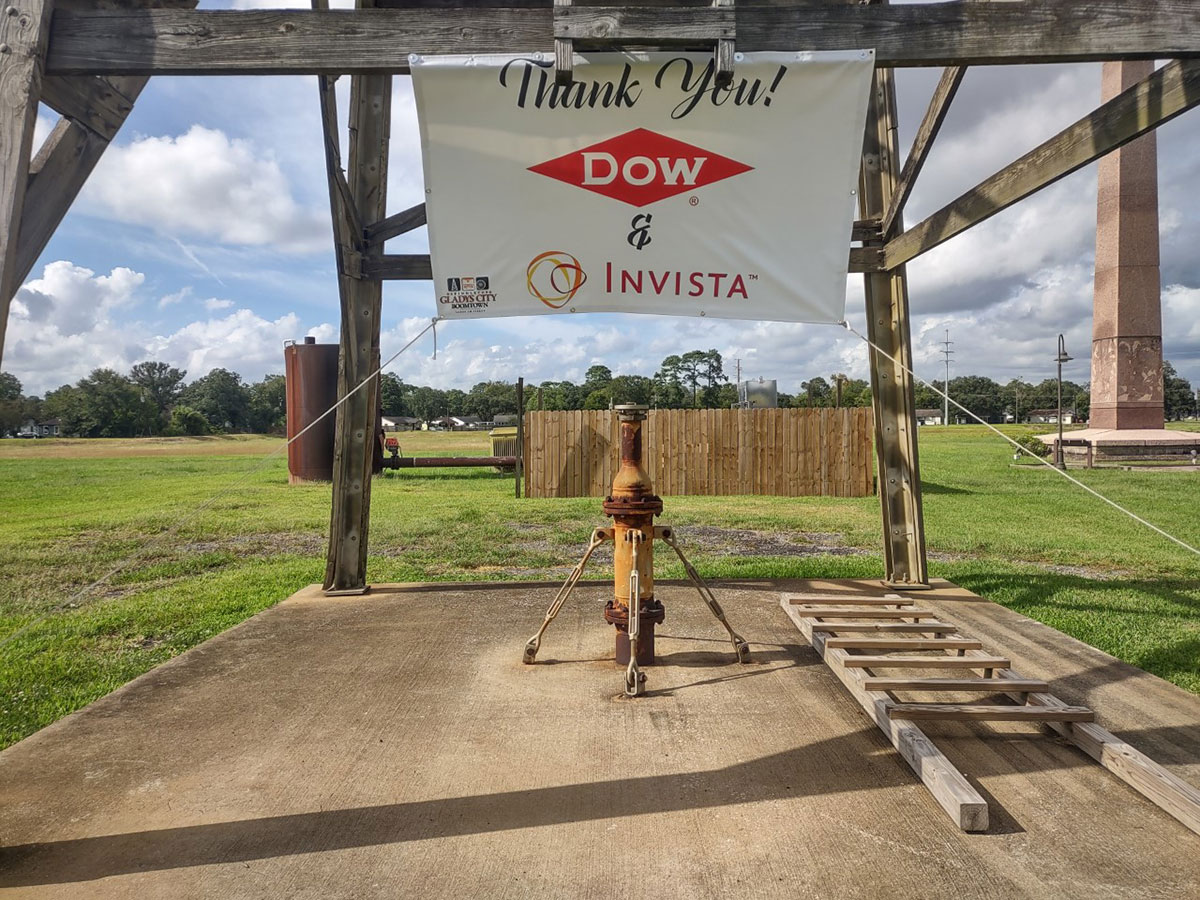 Lucas Gusher at Spindletop-Gladys City Boomtown Museum has been repaired by Dow Chemical after damages caused by the freeze in February.
On Oct. 7, the Lucas Gusher shot water high in the air for a tour. Repairs cost an estimated bill of $40,000, museum director Troy Gray said.
When the gusher was damages, Mike McGreevy, a "living historian" who reenacts historical scenes and retiree of Dow Chemical, contacted the plant hoping they might be able to help. The plant provided the museum with not only a repair, but also an upgrade. The Lucas Gusher is now equipped with a weatherproof box and a modern control circuitry board.
For the full story, click here.
Black Voters Matter visits LU, Oct. 25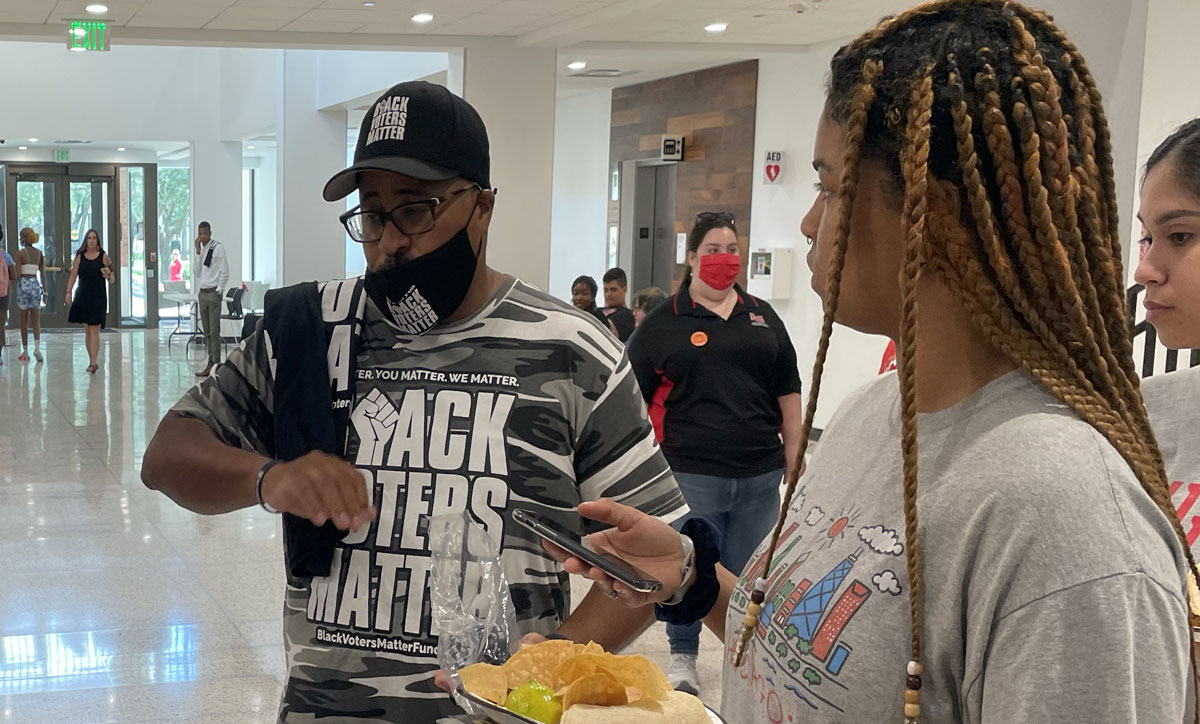 Black Voters Matter organization made a stop on its national tour, Oct. 25, at Lamar University's Setzer Student Center. They provided information regarding voter registration and distributed free T-shirts.
For the full story, click here.
LU student media wins 34 awards at press club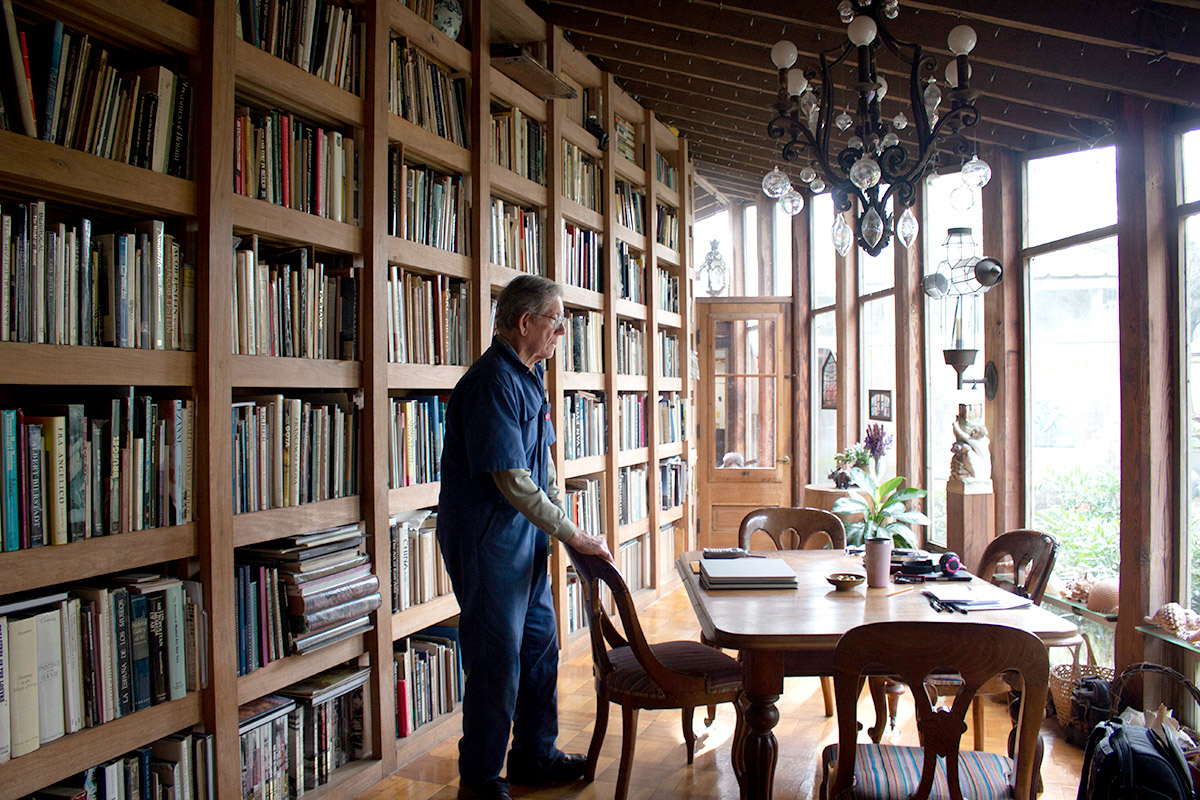 The University Press earned six first-places among its 24 awards, including being named best newspaper in the non-daily category, and LUTV earned four first-place awards.
Recognizing 'hidden secret'
Taylor aims to raise LU's profile, campus spirit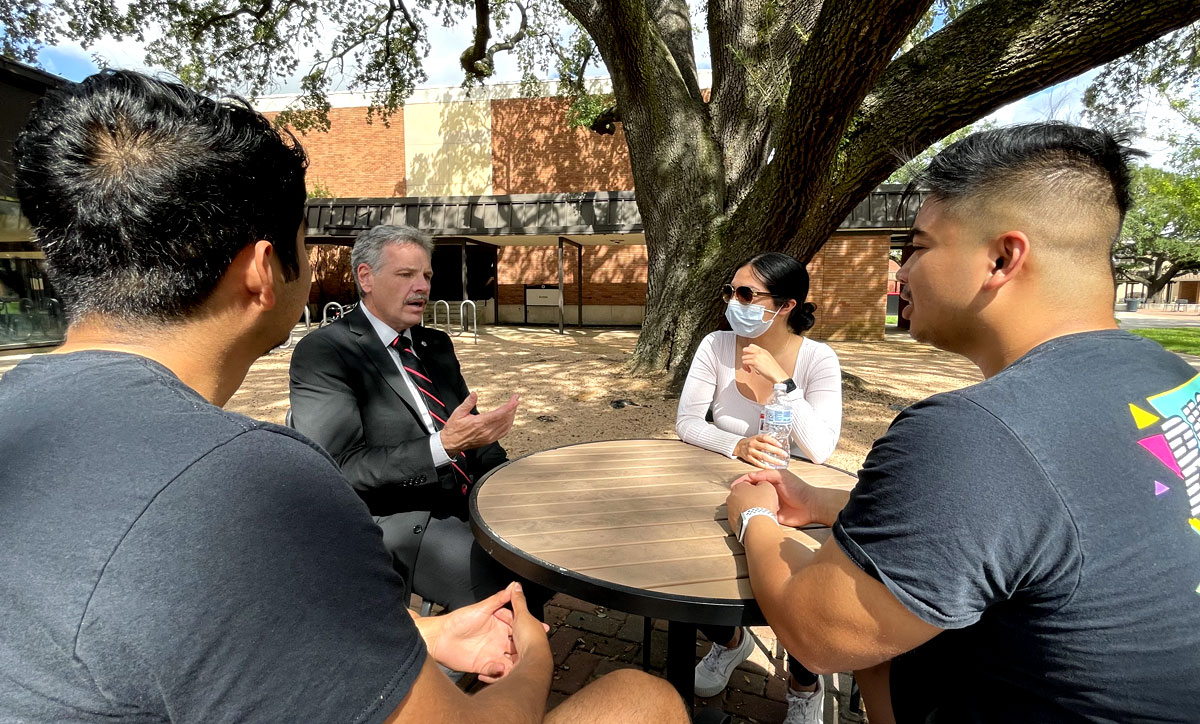 When Jaime Taylor looks out of the window of Lamar University's president's residence, he can see across campus — and he sees a campus full of possibilities.
For the full feature about LU president Jaime Taylor, click here.
November 2021
Taylor invested as 16th LU president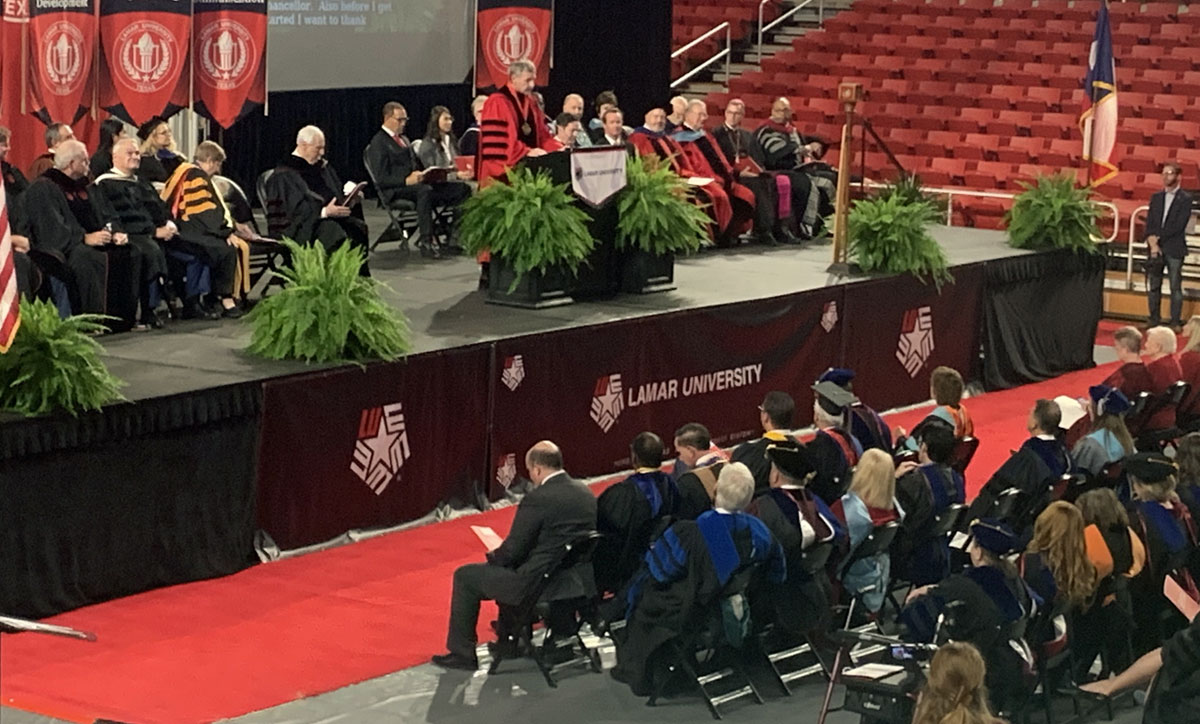 Lamar University held a formal investiture ceremony for President Jaime Taylor, Nov. 11, in the Montagne Center as a conclusion to the "Cardinalpalooza" homecoming events.
Texas State University Chancellor Brian McCall, President Emeritus Jimmy Simmons, Texas Speaker of the House Dade Phelan, Beaumont councilman Audwin Samuels, and other university and TSUS administrators were present at the event.
McCall presented Taylor with the presidential robe which Taylor will now wear to formal events, such as convocation. Simmons presented Taylor with a medal and the presidential mace.
In his first speech after being formally invested as the 16th president of Lamar University, Taylor spoke about the university's dedication to inclusion, diversity, and student engagement.
He also spoke about the Mary and John Gray Library renovation, a project that was started at the end of previous President Kenneth Evans' tenure. Taylor said he envisions the library serving as an learning and research hub on campus.
For the full and original story, click here.
December 2021
LU Cardinal Lights signal start of holidays
Lamar University kicked off the holiday season when President Jaime Taylor turned on the Cardinal Lights, Dec. 2, at the Reaud Honors College Building. Dec. 2.
For the full story, click here.
New lights enhance safety, aesthetic at LU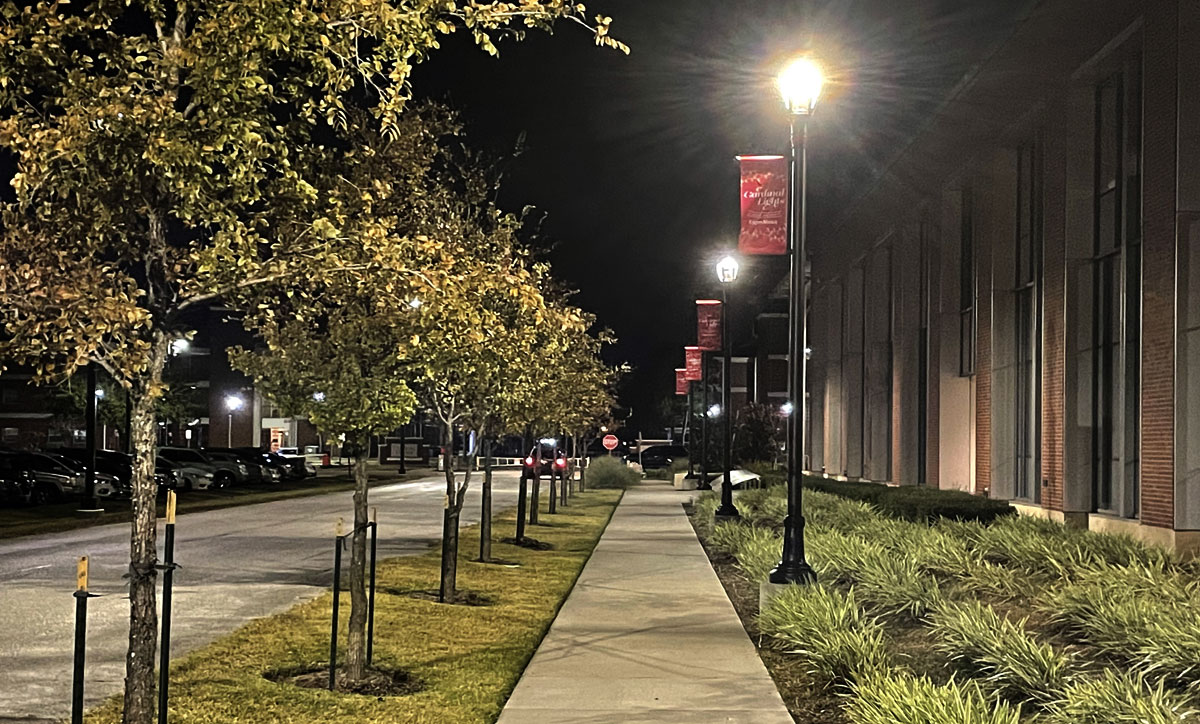 The Lamar University planning and construction department recently began installing light posts in walkways that are currently missing lights or do not currently have adequate lighting.
The light posts were first introduced in 2016 with the Reaud Administration and Honors Building project.
For the full story, click here.
Spindletop becomes City in Lights for holiday season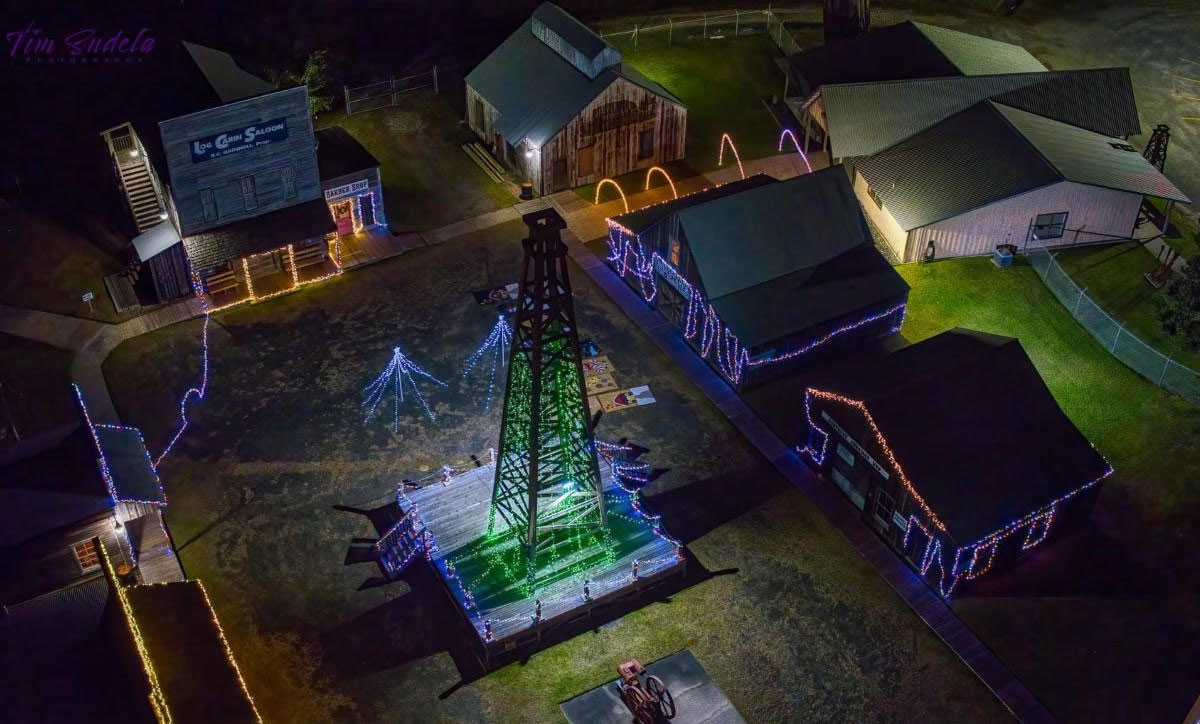 Throughout the month of December, the Spindletop-Gladys museum in Spindletop Gladys City
Boomtown on 5550 Jimmy Simmons Blvd hosted several festivities until Jan 2.
For the full story, click here.