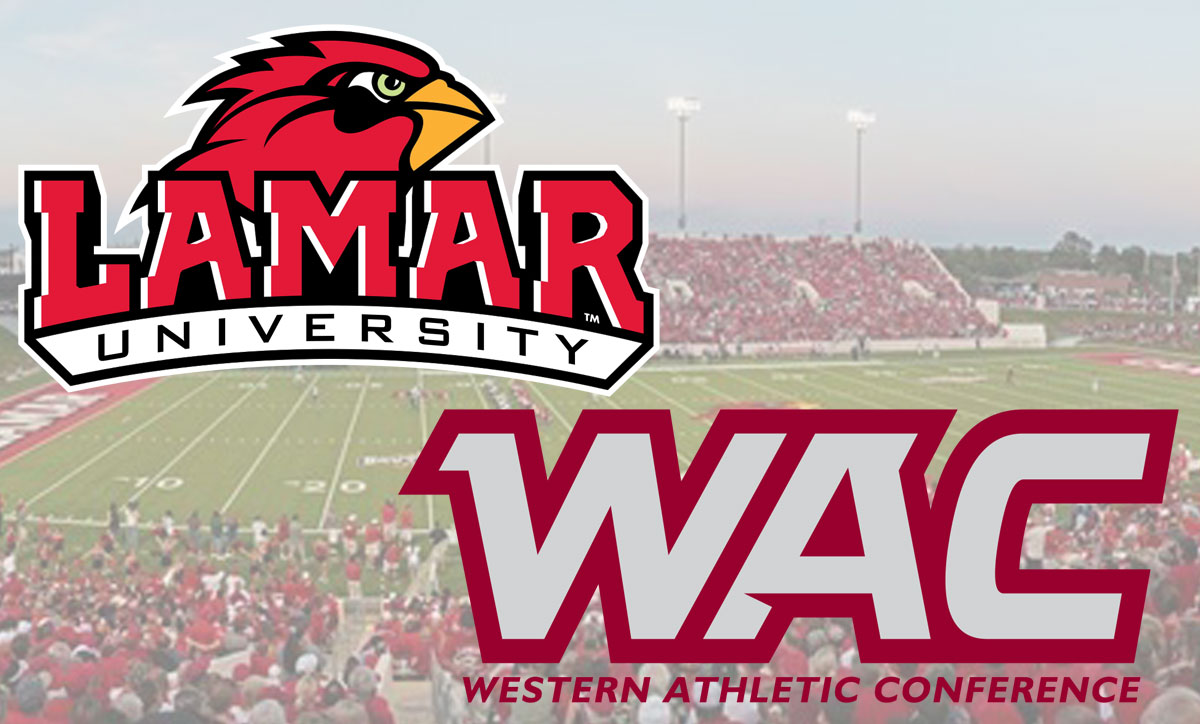 Lamar Cardinals will leave the Southland Conference and joining the Western Athletic Conference on July 1, LU President Kenneth Evans announced, Jan. 21.
Lamar University will move in unison with Stephen F. Austin State University, Sam Houston State University and Abilene Christian University. The WAC plans to combine these schools with current members Tarleton State University and University of Texas Rio Grande Valley to form a Southwest division. These six Texas schools are expected to form strong rivalries across the state, according to a WAC release. Seven other schools, California Baptist, Dixie State, Grand Canyon, New Mexico State, Utah Valley and newcomer Southern Utah will form a West division.
The WAC, which was founded in 1962, has featured numerous notable schools throughout its history.
"The WAC has a terrific brand," Marco Born, LU athletic director, said. "From that time when they had FBS football — if you think about Boise State going to the Fiesta Bowl and beating Oklahoma — to all the different great institutions that they had, Hawaii, Louisiana Tech, UT-San Antonio, you name it."
Born said name recognition of the WAC and the presence of its schools in Texas, Utah, and Arizona were some of the reasons behind the move.
"This is going to put us in a different peer group for you as a student of Lamar, and, hopefully, graduate of Lamar very soon," he said. "This should elevate your degree."
The average enrollment of current schools in the WAC is roughly twice that of the remaining Southland schools, and the average size of the four schools that are moving is directly between the two.
"We're now playing with big boys," Born said. "We're going to have to compete with larger enrollments. We're going to have to compete with larger budgets. We're going to have to compete with better competition."
Born said the WAC is a challenge and an opportunity.
"We've got to step up our game, not just our coaches and student athletes and staff, but at the same time, our institution, our donors, our alumni," he said.
Lamar alumni covered a $300,000 penalty to allow Lamar to leave the Southland without two years notice, according to the Beaumont Enterprise.
However, Born said he is certain the investment will pay off.
"There's such an upside on the WAC when it comes to the potential for revenue generation," he said. "Quite frankly, the brand of the WAC in general is generating a lot more revenue for the league which will, in turn, be distributed to the institutions."
Born specifically mentioned a stronger basketball program, a larger audience and a larger television presence as sources of increased revenue. He said he also expects travel costs to be smaller.
The move was originally announced on Jan. 14 to be scheduled for the summer of 2022. However, the Southland Conference voted to release the four schools one year earlier than originally planned, and the WAC Board of Directors voted unanimously to allow the schools to join the WAC in July 2021.
"The WAC was very gracious as a board to make the decision to allow all of us to come in early in the summer," Born said.
Southern Utah, which is leaving the Big Sky Conference, will still not join the WAC until July 1, 2022.