Viral video of coach awarding scholarship gets 20m views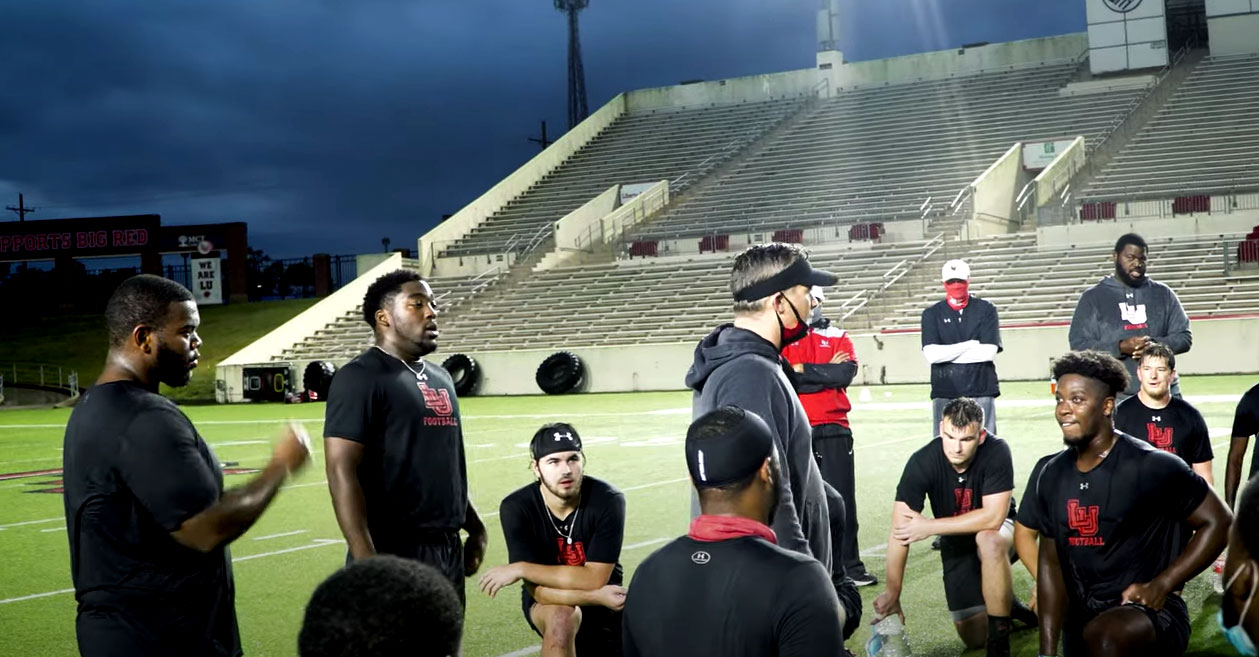 When two members of the Lamar University football team opened their Tik Tok, Feb. 11, they discovered they were global celebrities. Instead of game highlights, they found a video of new head coach Blaine Morgan surprising the walk-ons — senior tight end Dawud Shorts and freshman defensive lineman Caleb Williams — with scholarships at the end of a practice.
The video had received 20.6 million views, 4.3 million likes and 42,200 comments, including famous accounts such as Dr. Phil, Buffalo Wild Wings and Billy VSCO. The video was subsequently reposted on ESPN's SportsCenter and the social media account "House of Highlights."
 The original video was posted on the Lamar Cardinals YouTube channel, Nov. 25, 2020, and had garnered 25,240 views, 381 likes and 24 comments.
The video begins with the team gathered together. Morgan calls up the two players, asking, "How late did you work last night?" Shorts replies, "I got off at 11." Morgan then says, "He got off at 11 last night working at BW3s. Who else in here worked until 11 last night? Nobody else right? 'Cause the rest of you guys are on scholarship. But he's got a smile on his face, he's paying for school guys, but he's happy to be here." Morgan paused before announcing, "Both these guys are going on scholarship."
The team rest of the team immediately mobs their fellow teammates.
Williams started at Lamar his freshman year as a walk-on redshirt, and the change in coaching staff presented him with a new opportunity. He said the scholarship will help him and his family with college and expenses.
"It helped my parents and my money situation," he said. "(His parents) were paying for my school and everything — the dorms. By Coach Morgan doing that, he really helped me with my books, my education — it helped me get my books for my classes and everything. My bill wasn't as high as it usually is."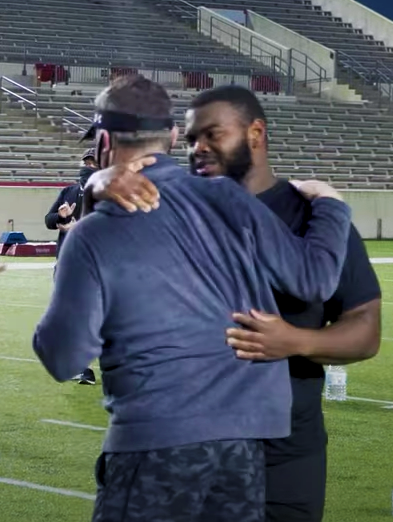 Shorts had a longer wait for his scholarship, and the change in coaching staff also renewed his hope of getting a scholarship. He said he was on the verge of transferring as he was losing hope.
"One thing I started to realize, when you work hard, just do the right thing, live life the right way, good things can come your way," he said. "Things you work for, you tend to get. So, I came into Lamar. I didn't have any scholarship offers out of high school. I was originally set to play at a Division III school in Marshall, Texas, called East Texas Baptist. A week or two or three or four weeks before fall camp, what would have been my freshman season, I got a call from a coach at Lamar and they offered me a walk-on spot. I took a visit a week later, ended up going to Lamar — I played as a true freshman on special teams.
"My sophomore year, I had a bigger role in the offense. And then my junior year came around, and I wasn't playing as much. That was just because I had two guys in front of me who were all-conference-type players, they were really good players. Honestly, I felt like I did everything I needed to do to get put on scholarship. I was working hard, I was doing my work in the weight room, my grades were good and everything, and they still wouldn't put me on scholarship."
Shorts said he decided to look at other schools.
"At one point, my junior year, I decided that I wanted to transfer, try find somewhere else to play," he said. "God has a plan for everything. The way stuff is still working out, we have a new coach, an opportunity for a clean slate. Everyone's new to them. That was my opportunity to show the coaches what I got, what I'm doing, what I can do."
Shorts said that with no scholarship, he had to work all through his time at Lamar, fitting it in between studying and practicing.
"Anytime we weren't like in season, I was working," he said. "Summers and spring semesters, I was working. Coach Morgan and the new coaching staff came in and I talked to him, maybe their first month, about how I felt like I needed to be put on scholarship. He said, continue to work hard and keep doing what you are doing — if we can, we will help you out. The more we started to practice and play, it started to show that I was the person on this team that can help us to win football games. (Coach) said to keep your grades right and we will take care of you."
Shorts said the night before he was put on scholarship, he asked his manager at Buffalo Wild Wings to be let off early, at 11 instead of his scheduled time at midnight, as he had to leave for practice at 5:30 the next morning. Luckily for him, the manager agreed.
Practice that morning was cold and rainy, but the players worked hard regardless. When it was over, Morgan called the team together. When he started casually asking Shorts and Williams about work, Shorts said he knew what was about to happen.
Both players said the scholarship helped them a lot, and they received a lot of attention as a result of the video.
"The scholarship video blowing up and giving recognition to this great university, is a plus on top of everything," Shorts said.
Williams said he received a lot of congratulations as a result of the video.
"I had a lot of people texted my phone and they said it was a revelation," Williams said.