Capitol intern shaken by Jan. 6 event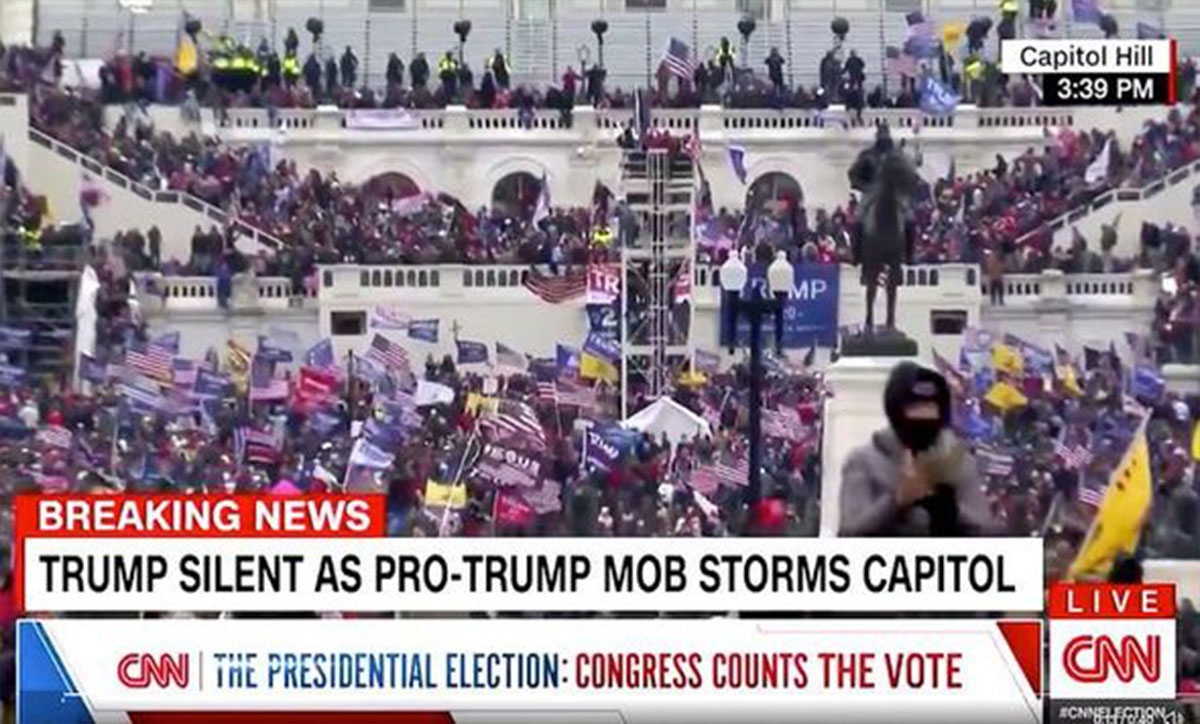 Pro-Trump protestors stormed the U.S. Capitol, Jan. 6, damaging offices and hallways, and stealing lecterns, flags and government laptops, resulting in the death of a Capitol police officer and four rioters.
The rampage occurred as the House and Senate gathered to certify the election of Joe Biden as president with a count of the Electoral College votes, traditionally a ceremonial event. This year, Donald Trump had tweeted that his supporters should strongly protest the count.
Nicole Wright, from Spring, a student at George Washington University, became an intern at the US Senate two days before the event and said she was shocked by the events that unfolded. She had been told to stay home that day.
"I had just started a new internship in the Senate only two days before, but when they told me to stay home on Wednesday, I honestly wasn't surprised," Wright said. "I had worked in the House of Representatives last semester, and they asked us to stay home the week of the election as a precaution as well, and nothing had happened. So, when I heard people had stormed the Capitol, I honestly didn't believe it and thought it was a joke. I had walked those same halls doing errands for my job less than 24 hours before. It was honestly jarring to think if my boss had told me to come in that day that I could have been in direct danger."
Wright said seeing the events unfold hurt her emotionally.
"On a different level, I was incredibly sad," she said. "You learn working in the Capitol to respect everything that happens inside of it- it is a sacred place where critical laws are made, and history was made. To think people were trampling on this was nuts. My heart was incredibly heavy and continues to be."
Wright said she felt something was going to happen that morning.
"I remember walking to CVS that morning and seeing people dressed in Proud Boys "uniforms" and Trump regalia, and already feeling slightly uneasy — like something big was going to happen," she said. "The mayor put in a curfew beginning at 6 p.m. that night, so I had to cancel dinner plans and remain inside."
While she did not see what happened firsthand, she felt the effects.
"As for what I saw, I honestly didn't leave my apartment that day, even before I knew what was going on, so I didn't see anything firsthand — and I'm OK with that," she said. "I remember I got a text from a club I'm involved in that the protests were getting unruly and everyone should go inside. This wasn't a surprise to me because pro-Trump protesters had come to the city twice before and had clashed with BLM protesters, which had ended violently. It was only when someone said they had entered the Capitol and sent me tweets that I realized how it had become a riot.
"I honestly didn't believe it, I thought it was a joke. I watched the news for over four hours that day just watching people vandalize the Capitol and members of Congress/reporters putting on their gas masks. I had given many tours in the House of Representatives before and I've never heard of an instance where they've used the gas masks.
"The only thing I saw firsthand were some people walking past my apartment, without a mask, to the metro station by my apartment after curfew. Before that night I wouldn't have had a reaction to it, but my stomach dropped."
Wright said the atmosphere in the city that evening was subdued.
"I live next to a busy metro station and it was eerily quiet that night," she said. "Many people I know would say they were very uneasy and felt unsafe, but I made a decision to not leave my apartment for two days after the event, especially at night, just to make sure. I felt safe inside my apartment, but I was only a 20-minute drive from the Capitol.
"I'm nervous to return to my internship on Monday because the city is under a state of emergency for the next 30 days. They've put up a huge fence around the Capitol complex and I'm sure it'll be much more difficult to enter my building.
"I'd say people are definitely on edge — and we're nervous about threats to complete a similar event again on or around Inauguration Day."