Evans reminisces on time at LU as presidency ends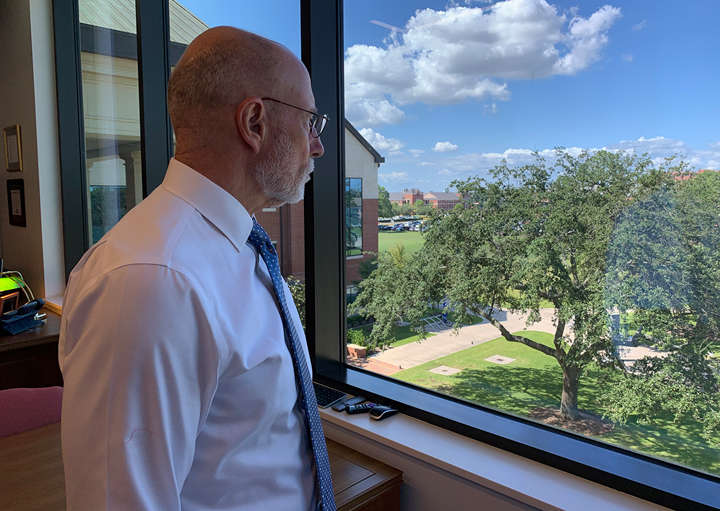 Lamar University President Kenneth Evans announced in January that he would retire at the end of June after almost eight years in the top job.
In March, Evans was named president of Oklahoma City University, ending his retirement plans and returning to a familiar community closer to his family.
As his time at Lamar draws to a close, Evans said he will miss the students the most.
"That's why I got into the business," he said.
Evans said his interactions with students has been hampered in the past year because of the COVID-19 pandemic, which might make it easier to leave.
"I didn't really have close ties with a lot of the students that I was working with because I didn't see them for the last year," he said. "Parting is always hard. There's always a piece of you that you leave behind."
There are several accomplishments Evans said he is proud were achieved during his tenure, namely building and updating several facilities across campus.
"The Setzer Center desperately needed attention," he said. "The previous biology building was in horrible shape, so having the science and technology building provides them the support they need.
"(That) was already on the books when I arrived here — I had design impact on it because we actually changed the design. Once I arrived, it went to a different structure. The (Center for Innovation, Commercialization and Entrepreneurship) was also in the process of being built."
Evans said the recently opened Welcome Center was the hardest building of all to complete, even though it is the smallest, because of the difficulty removing the concrete plant from the lot, as well as negotiations with the Texas Department of Transportation to get freeway ingress and egress.
"It took a long time to get that done, but I'm proud of the way that turned out," he said. "It's a nice entry to campus."
In addition to campus construction, Evans said he's also proud of the improvements made to several programs on campus, such as the Disability Resource Center.
"The Disability Resource Center has gone from really a very meager presence on campus to now really giving students the license to, if they need help, feel comfortable asking for it," he said. "There was an inherent resistance, understandably, for people to come forward and say, 'I've got a learning disability,' or, 'I have something where I need special attention to help me with testing processes,' or whatever.
"Kyle (Mutz) and his team have done an amazing job. I'm proud of what he's done."
The Division of Global Diversity, Inclusion and Intercultural Affairs has advanced the campus' attention to issues surrounding diversity, equity and inclusion, and is an important addition to the campus base, Evans said. He also noted the advancements the undergraduate research program has made and its positive reception from students and faculty.
Evans said he's proud of the accomplishments of his late wife, Nancy, that furthered Lamar's presence in the Southeast Texas community through the Greater South Park Neighborhoods Partnership, and the Navigating Excellence Success and Triumphs program, which aims to provide an engaging learning environment for children K-5 interested in STEAM fields in the Beaumont Independent School District.
"The NEST program she started has been transformed and we'll probably have all 11 K-5 BISD schools with a NEST setting, at least committed, in the next maybe 30 to 60 days," he said.
Nancy was also a lover of art, which spread into her work on campus, Evans said.
"It has been very meaningful in terms of how the campus presents itself," he said. "It's also a great educational opportunity for students, so they see more of how art is a part of our cultural milieu and I think that's important."
Evans said after Nancy's passing in 2018, he knew it was time to move on from Lamar, but he didn't want to leave right away.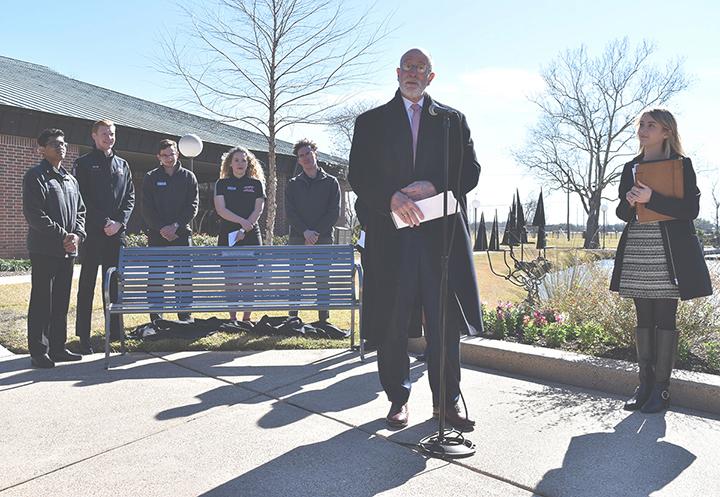 "I kind of said in my own mind that I wouldn't, I just couldn't, remain here much past three years after she passed away," he said. "I think you need to be looked after, after somebody that's important to you passes away.
"The second year, we had a number of projects underway and then, of course, the pandemic hit — it wasn't a good time to be making that decision. But the timing's right now."
After overseeing thousands of students through Tropical Storms Harvey and Imelda, and now the COVID-19 pandemic, Evans said not only has his perspective on leadership and education changed, but so has he.
"I'm more compassionate," he said. "We're unfortunately really good at managing crises — not necessarily wanting to have that education — but nonetheless it came to us."
There is no place on the planet with a community as resilient as that of Southeast Texas, and the incoming president should never forget that, Evans said.
"Our students, to the extent that they're willing to receive it, gain as much an education from what it takes to rally as a community, and as a humanity to take care of one another during periods of crisis, as they do from whatever they get in the classroom," he said. "I would argue that the value that our students offer wherever they go, is infinitely greater because of how complete they are as human beings."
Evans said he is excited to tackle new challenges in Oklahoma City, but he's still going to keep tabs on Lamar and the Southeast Texas community.
As for Evans' legacy, he said he'll leave it to others to write down.
"For Nancy and me, it was always about making sure that this campus was an integral part of this community," he said. "At the end of the day, it's as much what you're able to give as what you take.
"And I would argue that the legacy is more about what we gave and less about what we received."