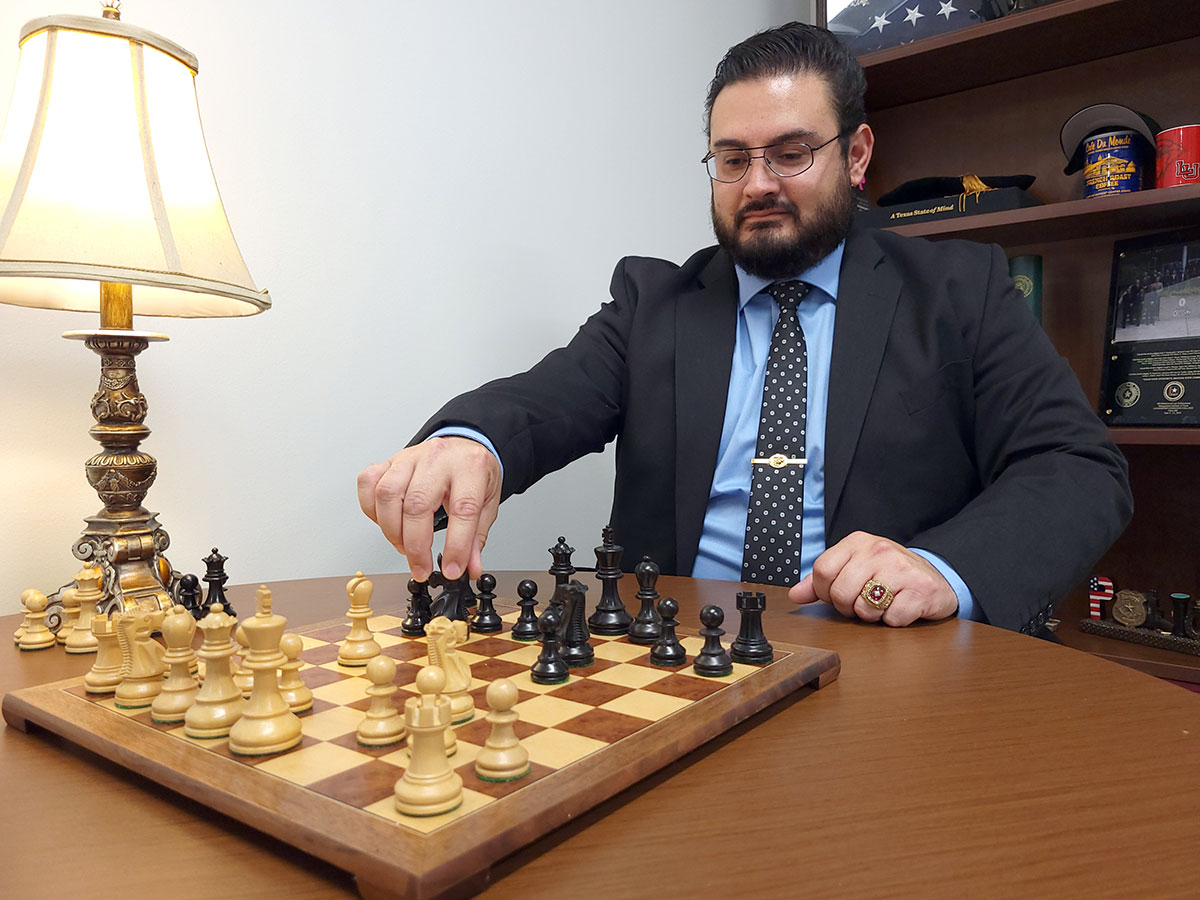 Hector Flores, LU's chief of police, was named the new dean of students and associate vice president, April 5.
While his position may change, Flores does not forget his roots, and a collection of old police memorabilia decorates his new office in the Setzer Student Center.
Flores, the son of immigrants, said he dreamt of working in law enforcement and helping people from an early age.
"My dad's from mexico and my mom's from El Salvador" he said. "When they immigrated to Texas, I was born and raised here. I know sometimes the immigrant community has some fear with law enforcement, but I wanted to make a difference in my community and help people. So, I've always wanted to be a police officer since I was young. And I did it because I wanted to really help people make a difference."
Flores sees his new position as an extension of that philosophy.
"I've seen a lot as a law enforcement officer — I can bring those experiences and share those stories with students before they get into something that's a little bit problematic for their future," he said. "I can cut them off and, educate, and guide them a little bit better as the Dean of Students."
After being active in ROTC in high school, Flores joined the United States Marine Corps so he could pay for college, eventually making sergeant.
Flores served for four years, during which he traveled the world and experienced different things he said he would not have been able to otherwise. Flores earned a Combat Action Ribbon, Iraqi Campaign medal, Global War on Terrorism medal and other awards during his service.
Flores took a job as  Lamar University assistant police chief in 2014, and became Chief of Police in November 2014.
As chief, he was responsible for establishing the Incident Command System that assisted LU in dealing with hurricanes Harvey, Imelda and Laura, and with the evacuation of LU students to Texas State University.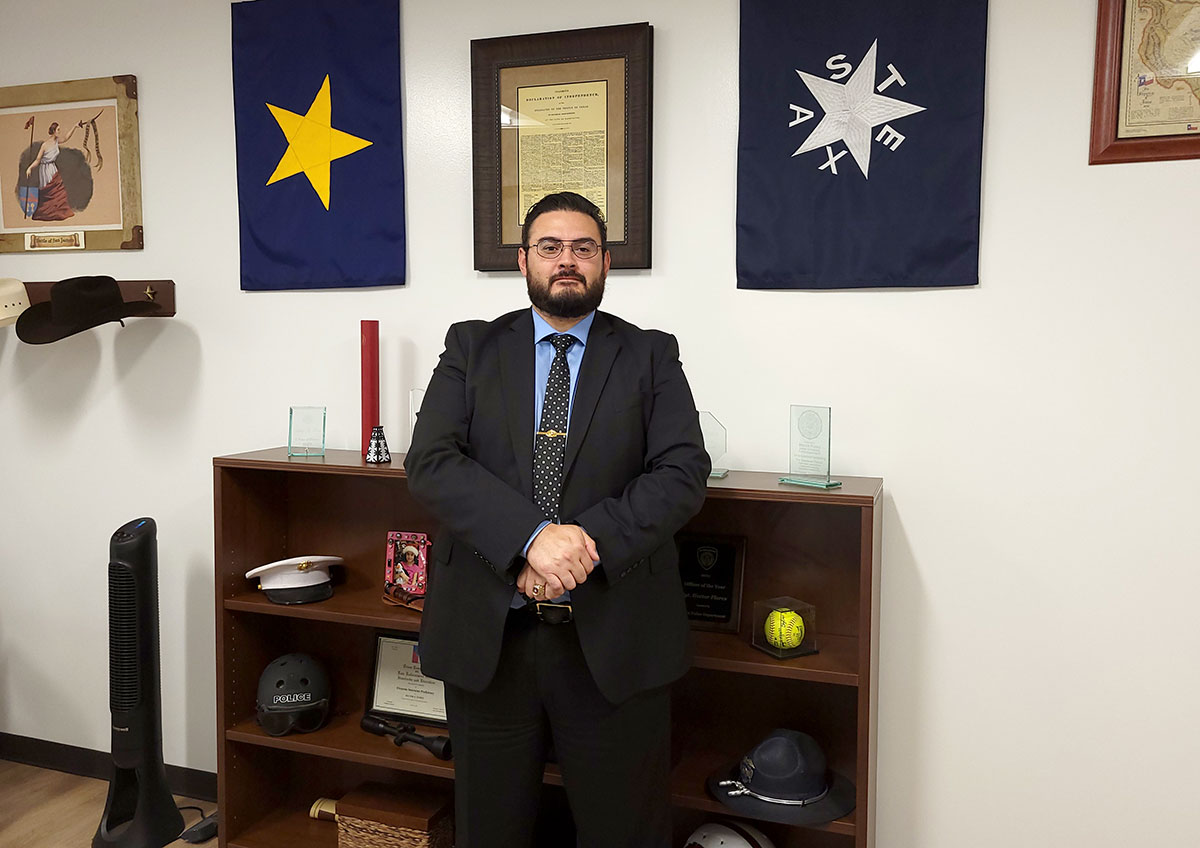 While Flores said he is looking forward to new challenges, there are some things he will miss.
"I'll still be connected with the organization, the police department," he said. "I think I'll miss talking daily with the officers, listening to them and how their day went, the things they did, and helping people out. I think it's a good transition, because I'll still be helping people, just kind of on the other side of things. So, I'm looking forward to that."
Flores said he hopes to continue his mission of serving and supporting students.
"In that role (chief of police), just like this role, we've focused on serving the student body, making sure that we provide a safe and secure atmosphere for learning," he said. "As the Dean of Students, I want to cover an aspect of serving the student so we can provide a holistic support system for all our students.
Flores is a member of the American Society for Public Administration, Texas Police Chiefs' Association, LIT Regional Police Academy Advisory Board and Greater South Park Neighborhoods Partnership Committee.
As well as his old police artifacts, Flores' office has a chess board on a table in the corner of his office. Flores invites students to come and join him in a game.
"I love playing chess, I've been playing chess since I was a little kid," he said. "I have two daughters, and both of them I taught how to play chess since they were in pre-K. The oldest used to compete a lot. She made it all the way to state and national — she has really big trophies in her room. We'll both still play at home.
"Anybody that wants to come and play a game of chess during lunchtime, come on over and we'll play a game. I really like playing. I mean, I'm not the greatest at it, but I hold my own."
As Dean, Flores said he plans on making Lamar a supportive and efficient environment, and he wants to be approachable to students who have an issue or concern about the university.
"I want to let them know that they can come to me to talk about whatever kind of issues they're having as students," he said.
Flores said social media will be an important tool.
"I believe in going to where the students are and engaging them there," he said. "That's a big part of my job. I know they're on social media, more so on Instagram and Twitter than on Facebook, but I'm trying to be accessible on each platform. I know parents are probably a little bit more inclined to be on Facebook, and the students are more inclined to be on Instagram. (I'll) just let them know that I'm there to support them.
"I am involved. I do like seeing them succeed — trying new things. That's big for me. I want to encourage them and let them know that I support them in what they're doing. So, if I 'like' your stuff, (it's) because I really support what you're doing."
Flores said students are welcomed to talk to anyone in the student engagement department if they need anything.
"When things get tough when you feel that you're alone — (if) you don't have the support, you can come to us," he said. "There's a whole team of people in the Division of Student Engagement from the Health Center, the Rec Center, the Dean of Students, the vice president of the division, we're all really geared in here to make your experience amazing. Even the police department's part of the division. They're geared and focused towards community engagement and we're focused towards student engagement. That's what we're passionate about, and that's what we want y'all to know.
"So, if there's ever a time where you feel alone or you need somebody to talk to, feel free to stop by and talk to us, because we're here for you."
For more information — or to arrange a game of chess — contact @deanhflores1 on Twitter and Instagram, call 880-8458, or email deanofstudents@lamar.edu.