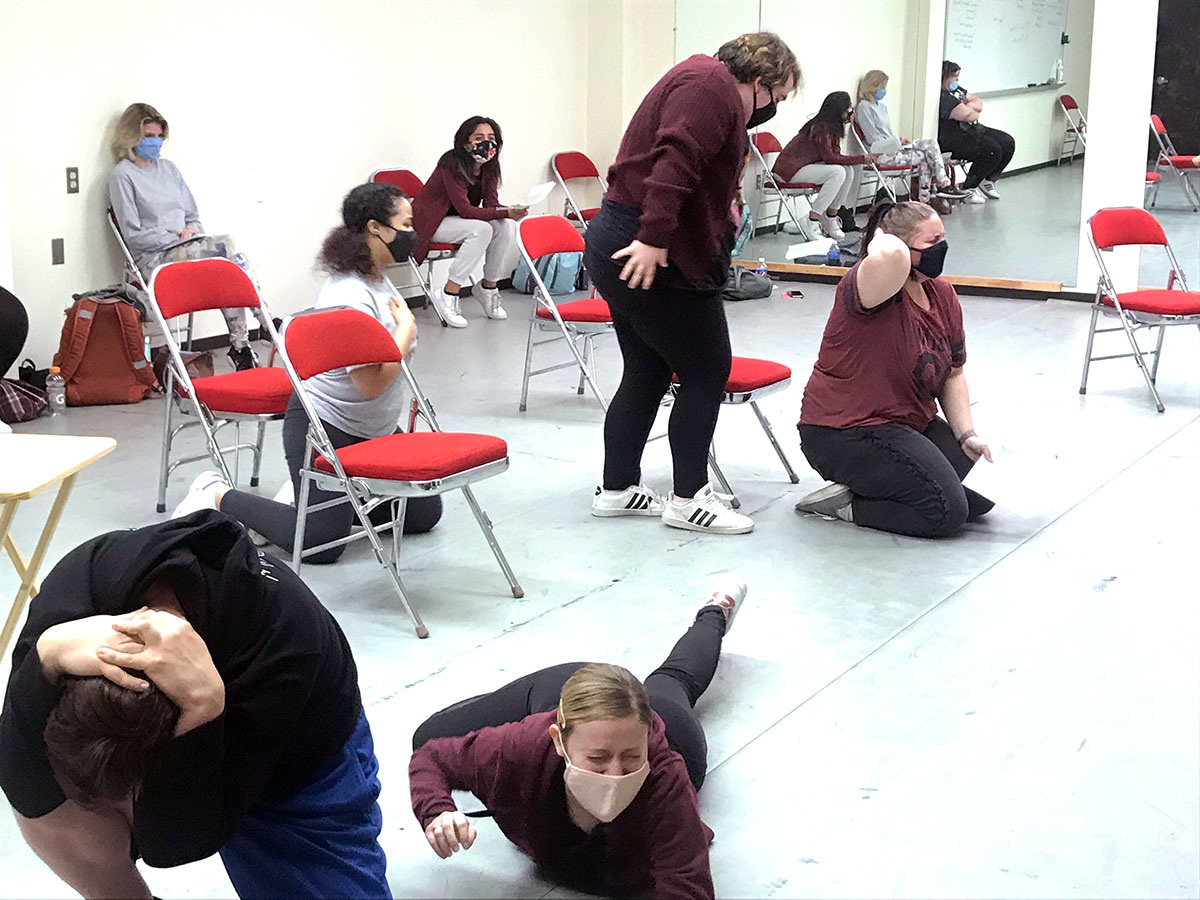 "Being able to sit down in our theatre six feet from others and still be able to laugh, cry and learn is a treat after the tough transition we've all had to take," Reece Smithhart said.
Smithhart plays the narrator in Lamar University's production of the "The Good Doctor," Feb 26-Feb 28. Directed by Joel Grothe, associate professor of theatre, it is the first LU production since the start of the COVID-19 pandemic.
"'The Good Doctor' is a play that was written by Neil Simon in the 1960s-1970s, and it's sort of a series of scenes put together," Grothe said." It's not like a conventional play. It isn't one continuous storyline, but it's based on a handful of short stories by a man named Anton Chekhov, who is a very famous playwright that also wrote a lot of short stories.
"So, the assignment took some of his short stories and dramatized them, and made them into short plays put together. There are not too many plays that are structured this way where it is one play contained under one title, but, yet, it's almost as if they stand alone on their own each episode."
The selection of such a unique play format is primarily for the benefit of students, Grothe said. As the first live performance in almost a year, "The Good Doctor" is a great opportunity for theatre and dance students to obtain experience.
"A lot of these students are new to Lamar, so many of them had their (high school) one-act play canceled last year," Grothe said. "For a lot of them, this is the first time that they're performing live in about a year. When I'm picking a play, it's always about the students. And it's going to be appropriate, at least at Lamar, for our student actors and our student designers, to help train them to be professionals.
"Beyond that, we want to pick stuff that's good for our student audience and for our audience at large. This fits all of those, but it's really more important than anything that the students are getting an opportunity to perform and work on their craft."
"The Good Doctor" shows the perseverance of the department throughout the pandemic, Grothe said.
"We've actually been the only program on campus that has kept all of our majors' classes in person," he said. "And we're very pleased that, to this point, we have only had a few cases in our department. But like the rest of the university, we haven't had any tracing back to the classroom, meaning that the cases have been isolated. So, we've managed to keep things going.
"Last spring was really tough, teaching acting classes and directing classes online for the second half of the semester. But I think that in theatre and dance we're pretty good creative problem solvers. We figure out a way to make things work, and make sure that everybody's on the same page and everybody's in it together. It has certainly been a challenge."
The production will adhere to COVID-19 precautions, both on stage and in the audience.
"When students are performing, they are allowed to take their masks off," Grothe said. "Basically, if a scene is set inside a public place, everybody's wearing a mask. If the scene is set outside or in someone's home, they don't have to wear it.
"In addition to this, the audience will be physically distanced. For various reasons, we chose to do this in the studio theatre instead of the larger theatre, which means we only are going to probably have an audience of about 30 people for each performance. But that's better than not having an audience at all."
Smithhart said he is confident the show will bring audience members together in a way they may have been missing since the beginning of quarantine.
"'The Good Doctor,' as with any other fine arts this day in age, is a way to keep us tethered to other humans," he said. "Many have found over this past year that they miss many things that they never worried about missing in the first place. Art, in some manner, is one of the few things that COVID has been unable to take from us."
"The Good Doctor" will be performed Feb 26 at 7:30 p.m., and at 2 p.m., Feb 27-28 in the Studio Theatre. The show was postponed from its original dates, Feb. 19-21, as a result of the ice storm.
Tickets are $7 for Lamar and LIT students with valid ID, $10 for faculty, staff, seniors and students, and $15 general admission. 
For reservations, visit lamar.edu/theatre.