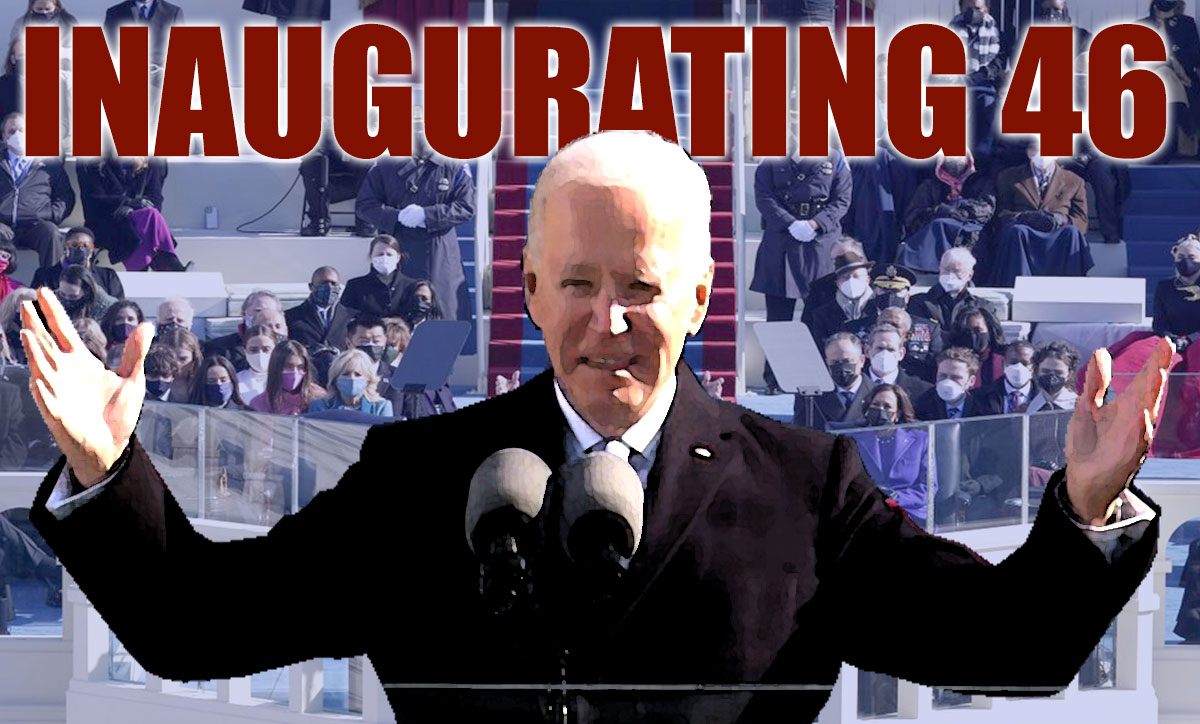 Biden sworn in as 46th president
Under a blanket of security, and with a sparse crowd due to the coronavirus pandemic, Joseph R. Biden Jr. was sworn in as the United States' 46th president, Jan. 20. Biden and Vice President Kamala Harris were sworn in at the west front of the Capitol in Washington, D.C.
Following the oath of office, administered by Chief Justice John Roberts, Biden's inaugural address called for unity.
"This is America's day," he said. "This is democracy's day, a day of history and hope, of renewal and resolve through a crucible for the ages."
Biden's victory in the presidential election was met with countless challenges from his predecessor Donald Trump and his allies, culminating in a deadly riot, Jan. 6, when insurrectionists stormed into the Capitol building.
Biden addressed the attack on the democratic process.
"Today, we celebrate the triumph not of a candidate but of a cause, the cause of democracy," he said. "The people, the will of the people has been heard and the will of the people has been heeded. We've learned again that democracy is precious. Democracy is fragile. And at this hour, my friends, democracy has prevailed," he said.
"Few people in our nation's history have been more challenged or found the time more challenging or difficult than the time we're in now."
Biden has taken office in an unprecedented time where he faces issues, including the coronavirus pandemic which has left more than 400,000 Americans dead, as well as an economic recession, racial injustices and a deeply divided nation.
"To overcome these challenges, to restore the soul and secure the future of America, requires so much more than words. It requires the most elusive of all things in a democracy: Unity," Biden said.
Unity was a fundamental aspect of his presidential campaign as he made clear in his speech.
"My whole soul is in it," he said. "Today, on this January day, my whole soul is in this. Bringing America together, uniting our people, uniting our nation.
"We can join forces, stop the shouting and lower the temperature. For without unity there is no peace, only bitterness and fury. No progress, only exhausting outrage. No nation, only a state of chaos. This is our historic moment of crisis and challenge, and unity is the path forward. And we must meet this moment as the United States of America."
Biden said he will fight for all Americans, not only those who voted for and supported him. He asked for a moment of silence and prayer for those who have lost their lives battling coronavirus. 
"My fellow Americans, I close today where I began, with the sacred oath before God and all of you: I give you my word. I will always level with you. I will defend the Constitution. I'll defend our democracy. I'll defend America…not of personal interest but the public good," Biden said.
The 59th inaugural ceremony was vastly different than preceding ceremonies due to heightened security threats and the coronavirus pandemic. Attendance was limited to 1,000 guests — which mainly consisted of members of Congress — seats were socially distanced, and the public was encouraged to stay home and watch the event virtually.
Breaking from tradition, Donald Trump did not attend the inauguration. Instead, he boarded Marine One and left Washington early that morning. However, outgoing Vice President Michael Pence and outgoing second lady Karen Pence were present.
Former presidents William Clinton, George W. Bush and Barack Obama, along with former first ladies Hillary Clinton, Laura Bush and Michelle Obama, were in attendance, along with Biden's and Harris' families.
The event began with a speech from Senator Amy Klobuchar, followed by a speech from Senator Roy Blunt who introduced Father Leo Jeremiah O'Donovan III — a long-time friend of the Biden family — who led the invocation.
The demonstration of the national colors was presented by the Armed Forces Color Guard and the national anthem was performed by Lady Gaga. Fire captain Andrea Hall, Fire and Rescue Department president of the International Association of Firefighters local 3920 South Fulton, Georgia, recited the pledge of allegiance both verbally and through American Sign Language.
Klobuchar introduced Supreme Court justice Sonia Sotomayor to administer the oath of office to Harris, who made history by becoming the first female, first African-American and first Asian-American to hold the office of vice president. Harris' husband, Douglas Emhoff, held the Bible as she took her oath.
Afterwards, Jennifer Lopez performed "This Land is Your Land" and "America the Beautiful" to the audience, with music provided by the president's marine band.
Following the performance, Klobuchar introduced Supreme Court chief justice John Roberts to administer the oath of office to Biden. Biden's wife, Jill, held the Bible as he took his oath.
After Biden's address, country singer Garth Brooks performed "Amazing Grace."
Following the performance, Blunt introduced Amanda Gorman, the youngest person to deliver a poem at a presidential inauguration and America's first national youth poet laureate.
Gorman's six-minute poem, "The Hill We Climb," addressed the adversities our nation faces.
In calling for unity and defending democracy, Gorman said, "We are striving to forge a union with purpose. To compose a country committed to all cultures, colors, characters and conditions of man.
"We close the divide because we know to put our future first, we must first put our differences aside. We lay down our arms so we can reach out our arms to one another…but while democracy can be periodically delayed, it can never be permanently defeated."
After Gorman's poem, a benediction was led by Rev. Silvester Beaman, at pastor at the Bethel African Methodist Episcopal Church in Wilmington, Delaware, and a Biden friend for 30 years.
The inauguration concluded with the Armed Forces color guard retiring our national colors.
The inauguration was held under tight security following the Jan. 6 attack, but the event was held without incident.