LU announces cardinal cabanas, beer garden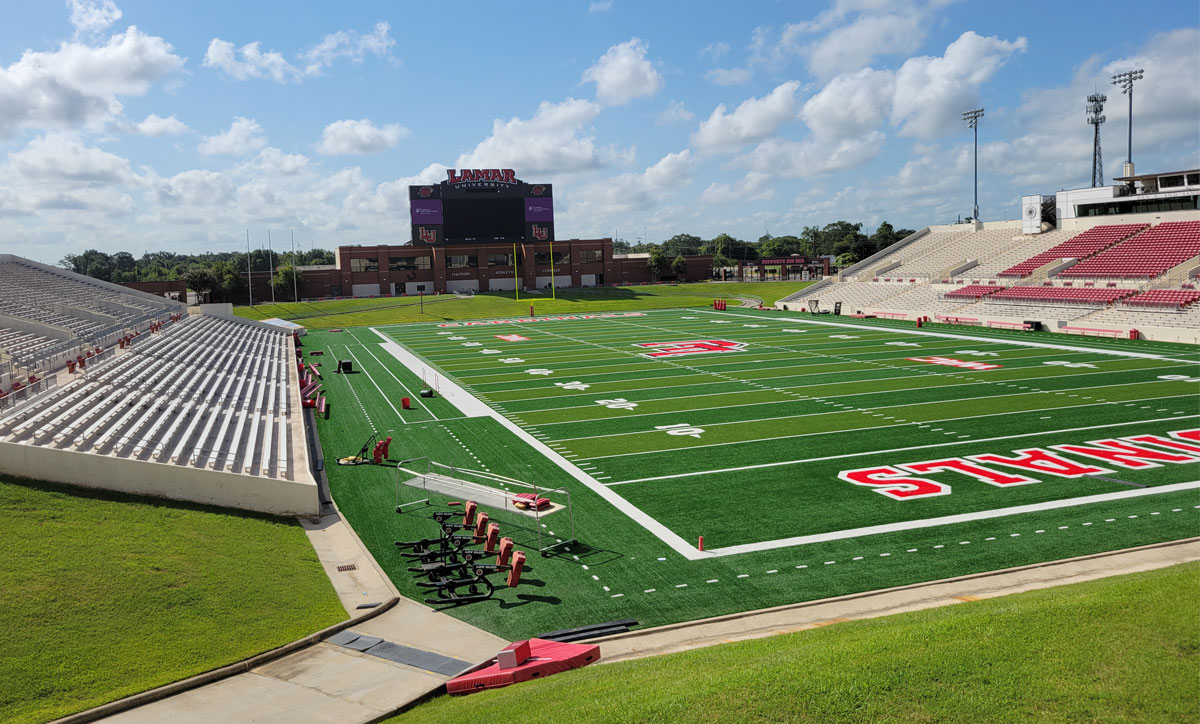 Lamar University joined the Western Athletic Conference, July 1, and a new conference brings new opportunities to grow the LU football brand and enhance the gameday experience, athletic director Marco Born said.
Born's first order of business was to re-turf the field. 
"The turf was a needed thing anyway, with the turf being 11- to 12-years old — that's about an eight- to 10-year lifespan," he said. "We needed to replace the turf regardless and then joining the WAC, obviously, we had to put that logo on there, too, so it was kind of the perfect storm.  (The turf) has turned out really nice, and looks real nice and plays real nice. That's certainly a great thing for our student athletes and the football team, to have that." 
Born said he was glad donors showed their support by funding the returfing project 100 percent. 
A beer garden has been added in the south end zone. Fans will have the option to purchase a ticket for $35 that includes two drink vouchers and access to free lawn games. The beer garden will feature beers from Giglio Distributing. The beer garden will have artificial turf, umbrellas, tables and chairs.
The south end zone will also feature six Cardinal Cabanas. The cabanas either a 13 by 13-feet tent or a 10 by 10-feet tent. Each tent includes a 50-inch 4K TV, a six-foot LU branded table, a high-top table, a case of beer, access to the Beer Gardens, mini cornhole game and access to power for charging phones.
A kids zone will be available inside Provost Umphrey Stadium for young Cardinals to play in during the game.
Born said the game-day enhancements have been in the works for a while and the response has been terrific so far. 
With regard to COVID, Born said he expects a return to normal. 
"We will have tailgating back at full swing with Cardinal Lane and the band, and everything out there," he said. "The plan is to be back to what it was before COVID, but we're certainly keeping an eye on what's happening around us."
Born said he is excited to have a real fall football season this year, in contrast to last year's COVID-impacted spring season, and he believes the team has grown and is prepared to compete in the new conference. 
"College football should be played in the fall," he said. "(I'm) excited with what Coach Morgan and his staff have done from a recruiting standpoint. Having a real offseason in the summer with summer workouts, which we didn't have last year, he was able to prepare (the team) as best as they can. I'm excited to see progress.
"I think we made a lot of progress in the spring. We started a little rough, but I think once you looked at the season with the progress we made from game one to game six, I think it's a completely different team. Specifically, I'm excited to see how we can compete in the fall and in a new league with some familiar faces and some new faces."