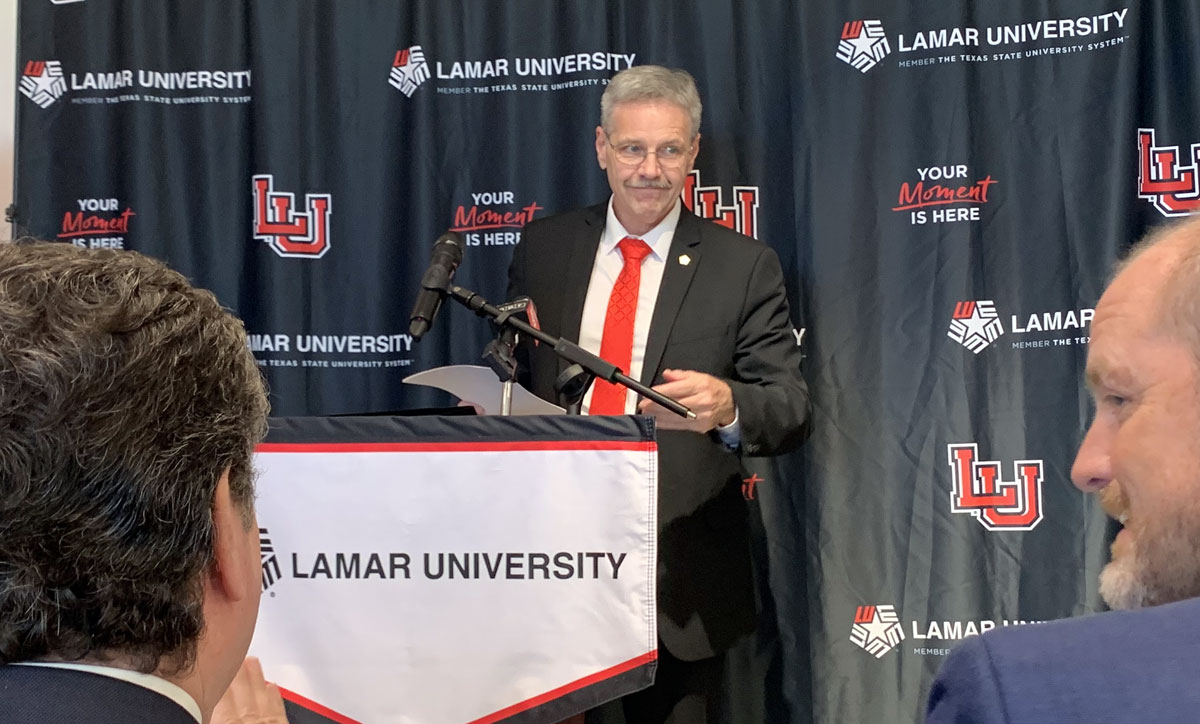 Lamar University President Jaime Taylor announced Sept. 23 at a press conference that the school will receive $17 million in "equity funding" and millions more in formula funding and maintenance dollars from the state budget that was approved in May.
Taylor announced the funding with Speaker of the Texas House of Representatives Dade Phelan, a Beaumont native who also represents Orange County and part of Jefferson County in District 21.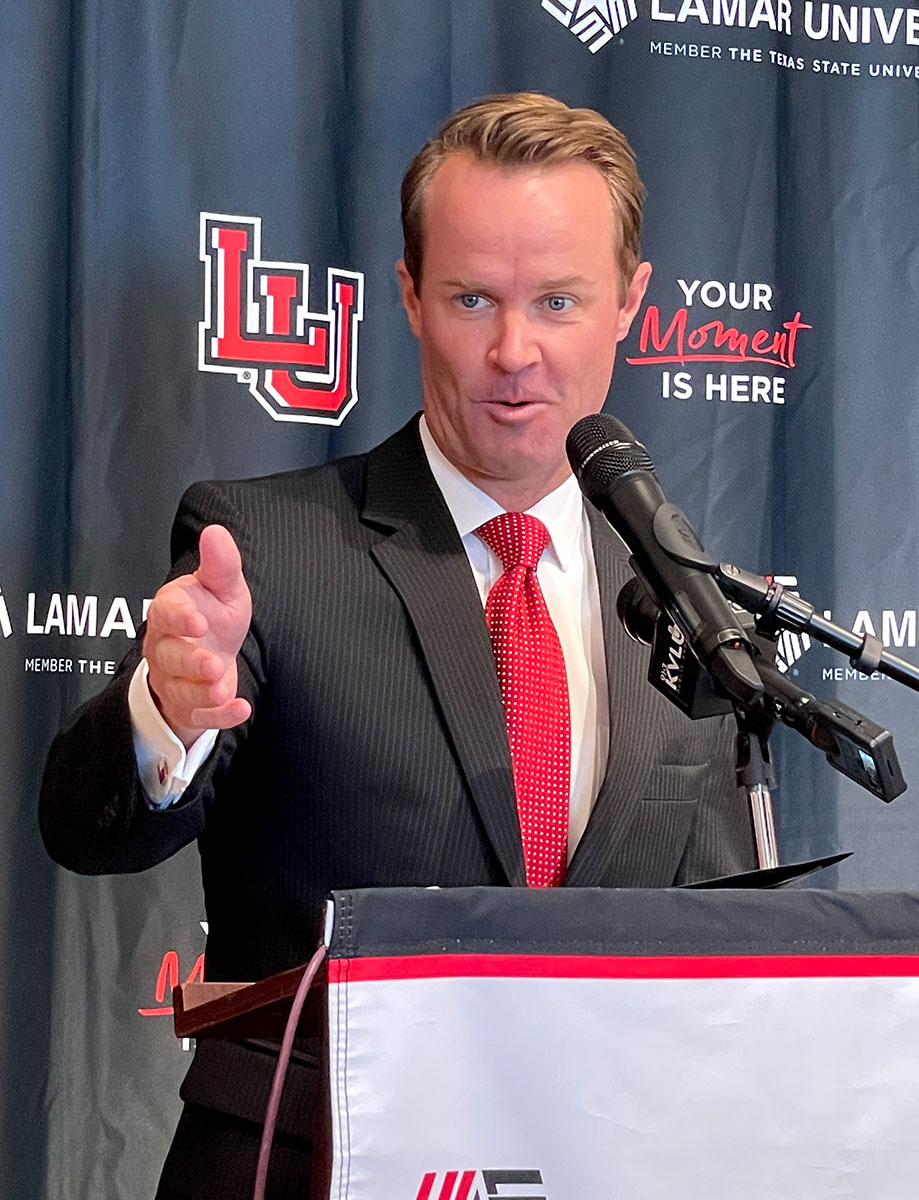 Lamar will also receive $13.8 million in formula funding, which is how public higher education institutions equally allot funding from the state, in addition to a one-time $5.7 million to aid in tropical storm-related repairs on campus.
The $17 million in equity funding will bring the university's non-formula funding up to par with peer institutions, Taylor said.
"This type of funding may not seem glamorous, but it's the type of funding that's worth talking about," he said. "I can't emphasize enough what a game changer this is for Lamar University. The equity funding provided in the state budget is ongoing, not just for the current biennium, and allows the university to invest in current programs as well as fund future growth initiatives.
Taylor said the additional funds will allow the university "to be strategic instead of reactive."
Brian McCall, Chancellor of the Texas State University System, said that the body approached Phelan last year and requested he help increase per-student funding at Lamar to level it with peer institutions.
"There's no rationale in the state of Texas for a student in Nacogdoches to be more valuable in the eyes of the state than a student in Beaumont," McCall said. "There's no rationale why the state should value a student in Corpus Christi more than a student in Jefferson County. But that's the way the formula was written."
McCall said Phelan's initiative changed circumstances for Lamar University students for every biennium to come, not just the current one.
"That means the largest gift that Lamar University has gotten is not just the $17 million we're getting now, but it's the $17 million from now on we'll get every two years," he said. "How can that not change lives significantly, immediately and powerfully?"
Phelan, who has been a Texas House Representative since 2015, said one of his early campaign goals was to decrease the "brain-drain" in Southeast Texas.
"Our best and brightest were finding other opportunities in other communities, not just in Texas, but beyond," he said. "A lot of it was lack of funding. We had a great product, it was just costing more. Over the last four, six years, we have been able to drop those costs down."
Phelan's initiative also helped out Lamar State Colleges — Lamar Institute of Technology, Lamar State College Orange and Lamar State College Port Arthur. Through an influx of funds, the colleges were about to reduce their tuitions by almost 50 percent.
The funds Lamar University is receiving will not immediately reduce tuition, Taylor said. But it will allow the university to make several repairs across campus, many of which are from recent natural disasters.
Taylor said for the last couple of years, the university has been operating in deficit. Because of that, the university was using money set aside for maintenance on operating costs, meaning that some campus improvement projects — anything from repainting classrooms to replacing dormitory roofs — could not be accomplished.
"What we can now do with the new funding is not use maintenance funding," Taylor said. "We've got about six- or seven-years' worth of maintenance that needs to be done. We really have to get those places fixed, to create that positive environment for the students."
The immediate impact students will see on campus because of the funding will be big campus improvement projects, such as working on various roofs and refacing the Social and Behavioral Sciences Building, Taylor said.
Jeremy Alltop, LU vice president for finance and operations, said that the university is in need of "hundreds of millions of dollars" in repairs, stemming from storms and wear and tear.
"We're doing a lot of projects now," he said. "(Some) due to COVID — some of the federal money that we received (is for) air handlers, HVACs, to keep the air moving, in some of our older buildings where they're at the end of their life."
Alltop said the university is also looking to update outdated furnishes like carpets and paint. Infrastructure and landscaping are other maintenance areas that this funding will go to, he said.
"While we always have some funds to do that with every year, this will allow us to make more investments there and catching up on some of those areas," he said.
The $5.7 million one-time payment for storm repairs will help the university reface the front of the Social and Behavioral Sciences building which, due to recent storms, is susceptible to getting water between the building and the brick surrounding it, trapping it inside.
A similar project was recently completed for the Geology building.
The repairs will also harden some buildings for future storms, potentially preventing higher repair costs in the future.
"We're so blessed to have these institutions in Southeast Texas," Phelan said. "The opportunities we have here are tremendous and it is my pleasure — my honor — to make sure the rest of the state of Texas acknowledges that."