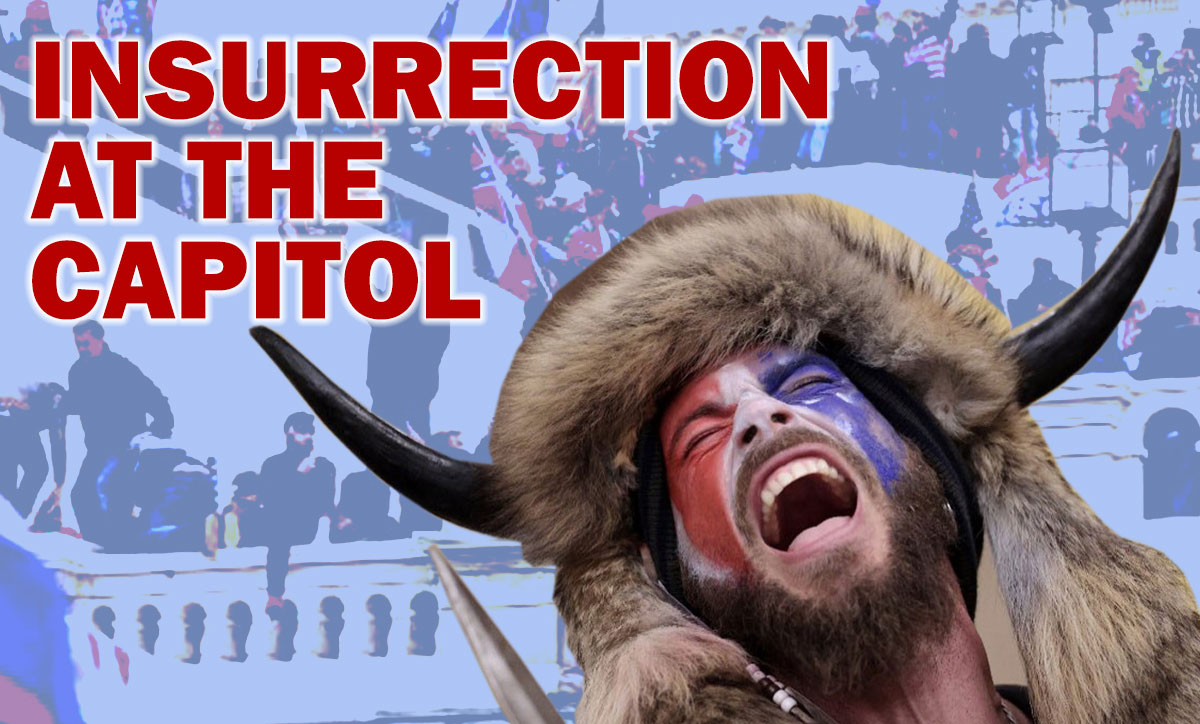 Senate Democratic leader Chuck Schumer described Jan. 6 as a day that has put a stain on democracy and will live forever in infamy. The actions that took place in Washington, D.C. were disgraceful and humiliating, but not at all surprising.
House and Senate members met in a joint session to formally count the votes of the electoral college and debate objections to the results before officially announcing a winner. Under the Constitution this is the final step to take after a presidential election.
As the count began, pro-Trump rioters clashed with police officers as they broke through the Capitol's windows and breached the building, forcing lawmakers to evacuate the chamber and find shelter in offices and rooms.
While waving "Make America Great Again" and Confederate flags, the rioters entered House and Senate chambers along with numerous lawmakers' offices, and damaged them.  This act of domestic terrorism left five people dead and dozens injured.
Hypocritically, these rioters were not met with the deadly force Black Lives Matter protesters encountered last summer — from the same police officers — when they were demanding justice for Black people who were wrongfully killed by law enforcement.
BLM demonstrators were hit with rubber bullets, tear gassed, beaten with batons and arrested as they peacefully marched against racial injustice. Pro-Trump rioters assaulted police officers as they stormed into the Capitol and destroyed it, yet the majority walked away unharmed. This is the embodiment of white privilege in our nation.
The insurrection was influenced by two actions: first, the objection of Arizona's electoral college votes by some senate Republicans on the grounds of unjustified assertions; second, President Trump's incitement of violence and repetitive denial of the election results.
It is a Constitutional responsibility for Congress to meet after a presidential election to certify the votes from the electoral college. Texas senator Ted Cruz used this as an opportunity to gather a dozen Republican senators to challenge the electoral college votes from Arizona, inaccurately citing the occurrence of fraud. Multiple state recounts, investigations and unsuccessful lawsuits have failed to show any evidence of significant fraud taking place during the election that would change the outcome of any state's election results.
In subverting this constitutional duty, the attempted sedition led by Cruz and fellow GOP lawmakers inspired these domestic terrorists to attack the Capitol.
It was announced in November that Joe Biden and Kamala Harris won the election. Rather than conceding, Trump baselessly claimed time and time again that the election was fraudulent and stolen from him. He described the election as "rigged" in 48 tweets since the election. After filing numerous unsuccessful lawsuits and providing no evidence to support his allegations, he urged his supporters to go to D.C. and protest the outcome of the election.
In a tweet from Dec. 19, Trump said, "Statistically impossible to have lost the 2020 election. Big protest in D.C. on January 6. Be there, will be wild!"
Trump held a "Save America" rally shortly before the attack where he spoke to his fanbase and told them to "stop the steal" — meaning to prevent Congress from performing its constitutional duty in confirming the electoral college votes.
He further told his audience they will "never take back our country with weakness" and that they have to "show strength and be strong."
Trump's personal attorney, Rudy Giuliani, also spoke to Trump's supporters during the rally and suggested that they should settle the dispute over the election via "trial by combat" — which is exactly what they did.
Trump's response to the assault on the Capitol was anything but surprising. In a video addressing the pro-Trump insurrectionists who charged at police officers, shattered the building's windows, spray-painted graffiti on the walls and demolished lawmakers' offices, he said, "We love you. You're very special. Go Home."
This is nothing a person fit to serve the most powerful job in the world would say, which is why many have rightfully called for his impeachment or the invocation of the 25th amendment following the assault.
Keeping Trump in office until the end of his term sets up a dangerous precedent in our country. Although his tenure is over on Jan. 20, removing him beforehand will show our citizens that anyone, even the president of the United States, will face necessary consequences for inciting an insurrection against our government.