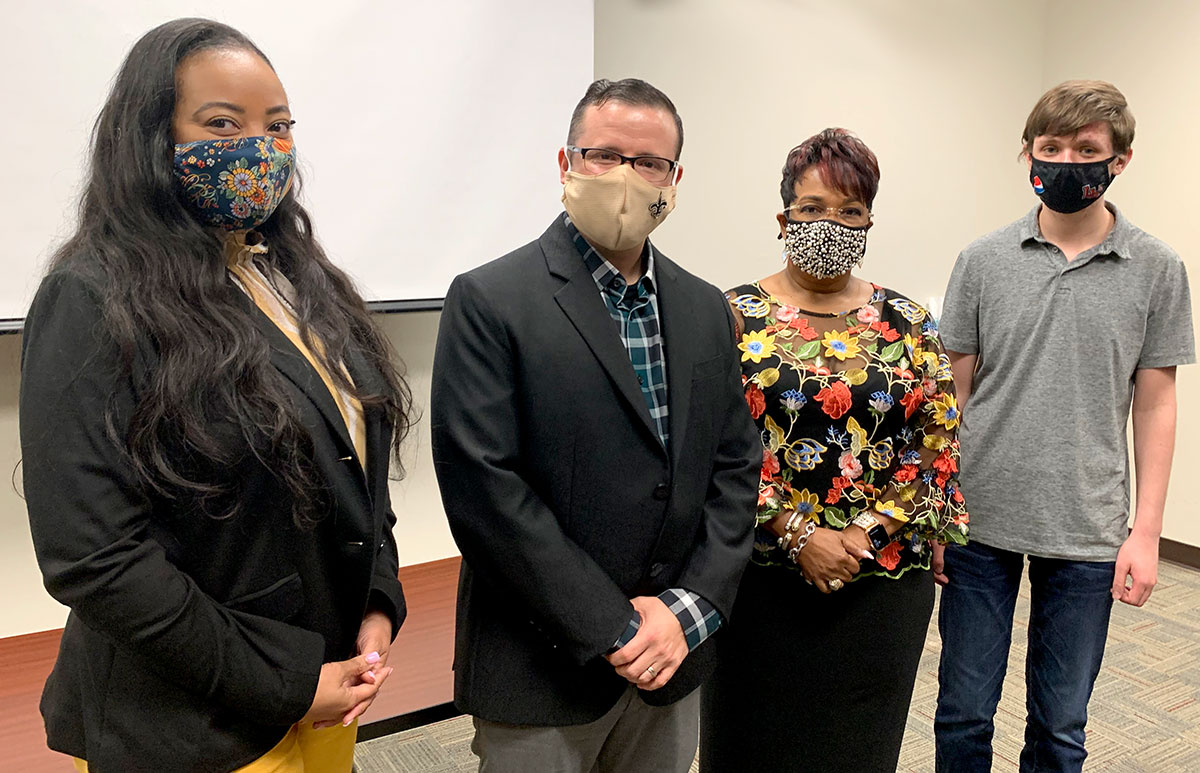 The Port Arthur News, in collaboration with the Lamar University Department of Communication and Media and the University Press, hosted a virtual town hall, March 10. The topic was a proposition by the Port Arthur City Council to divert a portion of the City of Port Arthur's sales tax funds into upgrading Rose Hill Park and Adams Park. The proposition will be on the ballot, May 1.
Charlotte Moses, Port Arthur councilwoman and Mayor Pro Tem, and Chandra Alpough, director of parks and recreation at the City of Port Arthur, were on hand to answer questions about the proposition. Stephen Hemelt, publisher of the Port Arthur News, moderated the event.
Moses is a former board member of the Economic Development Corporation, from which the money for the project will be reallocated.
"(The EDC) is a 4a Economic Development Corporation here in Port Arthur designed to help a project — industrial economic development," she said. "We can help to enhance businesses. We assist them with funding which helps to bring business here.
"It's an amazing tool for Port Arthur to have. It's based on the sales tax that comes in from restaurants and from shopping. All of that sales tax money goes to the Economic Development Corporation for distribution to incubate businesses that come into our city for funding and for assistance."
Alpough said the EDC partnership is crucial, as using the money to upgrade parks will attract more people and businesses to the community.
One comment that was posted during the town hall questioned whether there was a plan in place in case the park project goes over budget. Alpough said it will not be a concern with proper planning, and it will be within budget and of the highest quality.
"That's the purpose of planning," Alpough said. "Number one, our contingency plan, we are going to try to leverage these funds. We are going to look at other grants. This is not the only pot of money we are trying to allocate and put toward where it needs to go. We are going out for it all. We want all the money we can possibly find to be able to do whatever it is that we have to do.
"We have to be very careful that we don't go over budget. Once the budget is set, that budget is set, so we will only get whatever our budget allows to do. We are going to make sure whatever element, whatever amenity, whatever baseball field, whatever it is we are going to do, it is going to be of high quality."
Some community members took the opportunity to raise questions about other city projects.  The Lakeview splash project is not part of the upcoming election, but one person questioned its status. Alpough said the project is still a priority.
"It's definitely an active project," Alpough said. "It's not forgotten about. We are still working on it. We did plans, we took even more comments from citizens — we definitely are still going to do that project."
The livestreamed event garnered a reaction from the community with more than 45 viewers attending with 1,200 views and 55 comments the morning after. Viewers were able to submit questions and comments that were addressed by Moses and Alpough. After the event, Alpough, Moses and Hemelt said civic engagement programs are something they will continue in the future.
The event is the result of months of planning which began in December 2020. The project began as part Lamar's submission to the University of Missouri's Reynolds Journalism Institute 2021 Student Innovation Competition.
This town hall is part of an ongoing project to boost civic engagement both at Lamar and Southeast Texas.
To watch a video of the livestreamed event, click here.