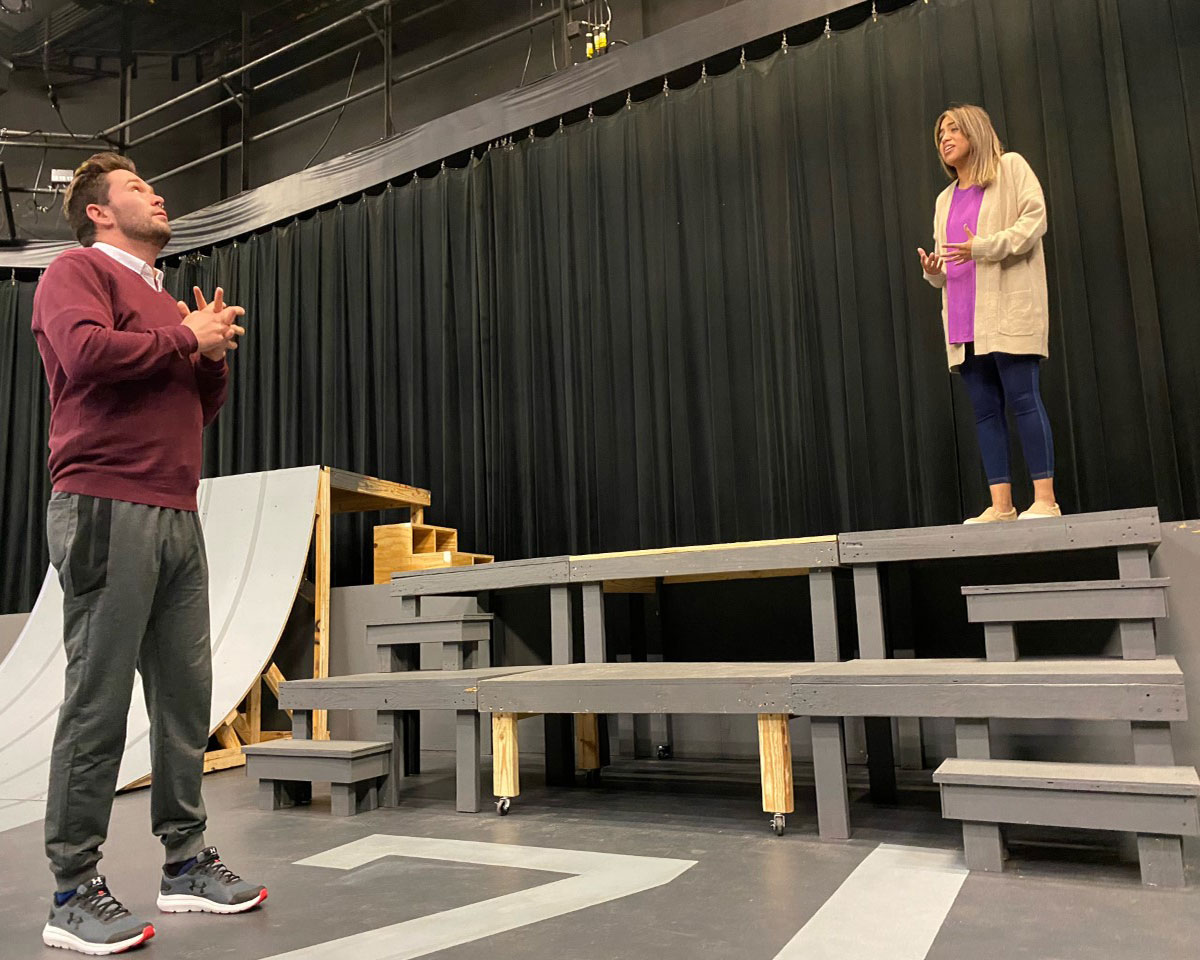 Lamar University's department of theatre and dance will present "Split," written by Allison Moore and directed by Alan Brincks, April 7-10, in the Studio Theatre.
The play focuses on six characters — an elite runner, his sister, her skater friend, a single mother who believes her daughter is destined for greatness on the track, as well as two coaches. The play features stylized movement that represents a relay race, which symbolizes our daily struggles as we try to outrun time. 
"One of the things about this story is that we get to see these characters and what they're doing in their lives, and what they're doing with the time that they have in their lives," Brincks said. "Over the last couple of years, that sense of what we are doing with our time is something that we can all relate to, with the pandemic and everything else that's happening."
Brinks said the play's sense of time and the rhythm of life is something to which audiences can relate.
"There's a sense of a family with this as well," he said. "I think that's another thing that's become apparent in the last few years."
During the pandemic, many families connected as the dangers of the coronavirus hovered over everyone, Brincks said.
Brianna Cobos plays Lisa Johnson, a single mother who dreams of her daughters' future as a track star.
"My character means so much to me, because she reminds me of my own mom by doing anything for her kid to be successful," Cobos said. "It's really fun to turn the tables around."
The playwright has given space for directors to create their own movement within the production, Brinks said.  
"I thought that was an interesting challenge for our students, to work in more of that workshop process, of coming up with something that hasn't been gifted to us by the playwright," he said.
The actors have choreographed the stylized sequences themselves, Brinks said. It gives opportunities for the actors to get a sense of giving the direction rather than just receiving it, which is something one might find in New York or large cities, but is not often found in Beaumont.
Ginger Mouton plays Kit, a character who is assertive, selfless and family oriented.
"I'm truly in awe of my character's passion for those around her," she said. "If I have learned anything from Kit, it is to do everything in love."
"Split" is a reminder that our goals and aspirations are all on the time clock, and sometimes that clock runs out before one would like it to end, Brinks said.
"We're all going to die eventually," he said. "But what are you doing with that time that's been given to you? Are you able to accomplish those goals in the time that's been given to you, and what happens if you don't?
"I think there's something with that interplay of goals and time. That is important to me, and to all of us, really."
Brinks said he would like the audience to see themselves in the characters.
"I'd like to invite the audience to use their imagination, and as they get pulled into this production, I'd love the audience to approach it with an open mind," he said ."But really, "How do you see yourself in these characters?" is the question I would pose to the audience members."
Showtimes for "SPLIT" are 7:30 p.m. April 7-9, and at 2 p.m., April 10.
Tickets are $7 for Lamar and LIT students with ID, $10 for faculty, staff, seniors and other students, and $15 general admission. Tickets may be purchased in advance at lamar.edu/lutdtix or at the box office.