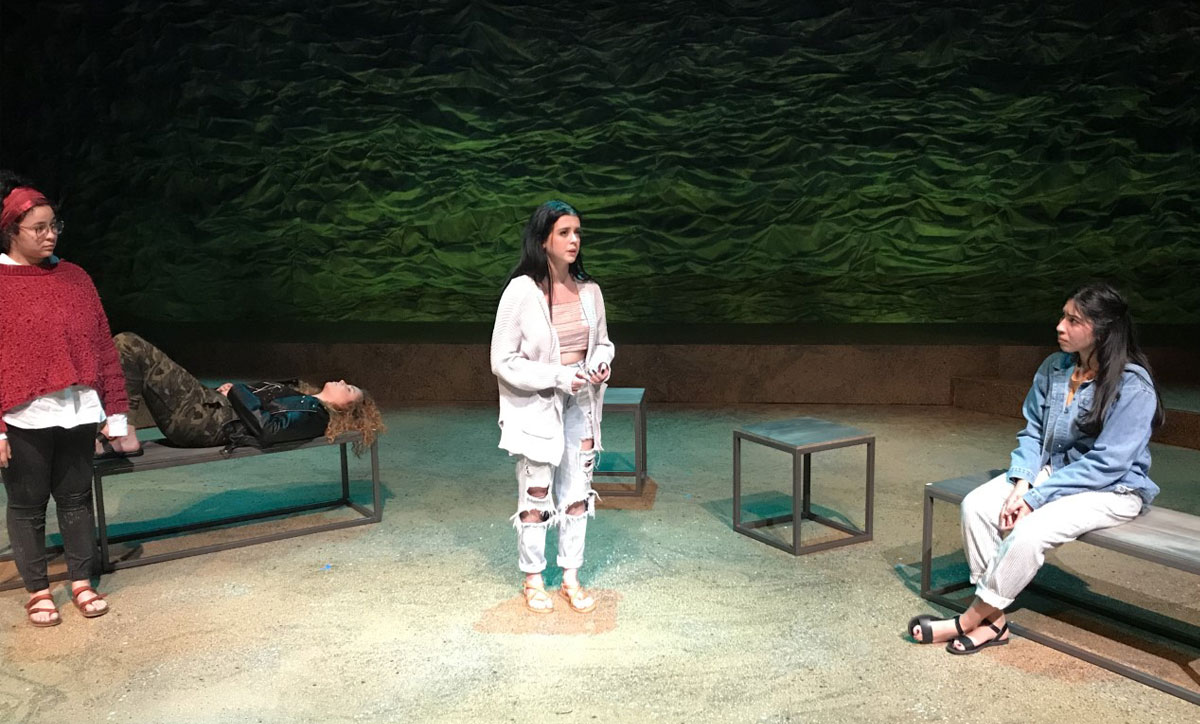 The Lamar University department of theatre and dance will present, "Whale Music," Feb. 17-20, in the Studio Theatre.
The play is by Anthony Minghella, who is best known as a filmmaker and screenwriter, including "The English Patient," which won the Best Picture Oscar.
"I didn't know he'd written plays, but he started out his career in the '80s writing plays," Grothe said. "There was a collection of four and they're all excellent scripts. This one seemed appropriate. It's an all-female cast and it is something that suited our student body."
Grothe said all-female plays are under-represented, and are therefore overdone. Often, they feature women doing monologues about their experience or their story.
"So, this is one, in some ways, it's a bit of a lost play," he said. "I don't think it has been produced a lot."
The play depicts a group of seven women and is centered around Caroline, who gets pregnant and decides that she's not going to keep the baby, but eventually she wants to have it, Grothe said.
"So, she goes back to her childhood home as a place that she remembers fondly, and decides that's where she wants to have the baby," he said.
"There are a lot of themes that are relevant, prevalent in this day and age, obviously surrounding an issue like that, particularly in the state of Texas."
Junior Dominique Roman plays Kate, who she describes as the kind of person who will speak her mind and get the answer she needs, even if it isn't what she wants to hear.
"Playing this role shows the audience the real hardships of being in a same-sex relationship that we may not consider all the time — seeing things from another perspective and, hopefully, respecting that," she said/
"Being in an all-female cast feels empowering, and it is cool to have a space that is not only showing women's talents, but also women's viewpoints in a story that is being seen and heard is really important to me."
Grothe said the play is thought provoking and interesting.
"It's really the most important thing," he said. "You hope that it's something, maybe (that) provokes discussion."
Mainly, Grothe said, the audience will see the work Lamar's talented young actors are doing.
"As a director, you want to tell a story," he said. "You want to provide an experience. It's always interesting how the audience does respond. I like to sit at the back of the audience usually once or twice, or I'll sit up in the catwalk because it's a different play with an audience. And audiences are smart, they respond to what they see at face value. It's always interesting. It's different things than you expect when an audience responds."
Show times are 7:30 p.m., Feb. 17, 18, 19, with a matinee at 2 p.m., Feb. 20.
Tickets are $7 for Lamar and LIT students with ID, $10 for faculty, staff, seniors and other students, and $15 general admission. Tickets may be purchased in advance at lamar.edu/lutdtix or at the box office.