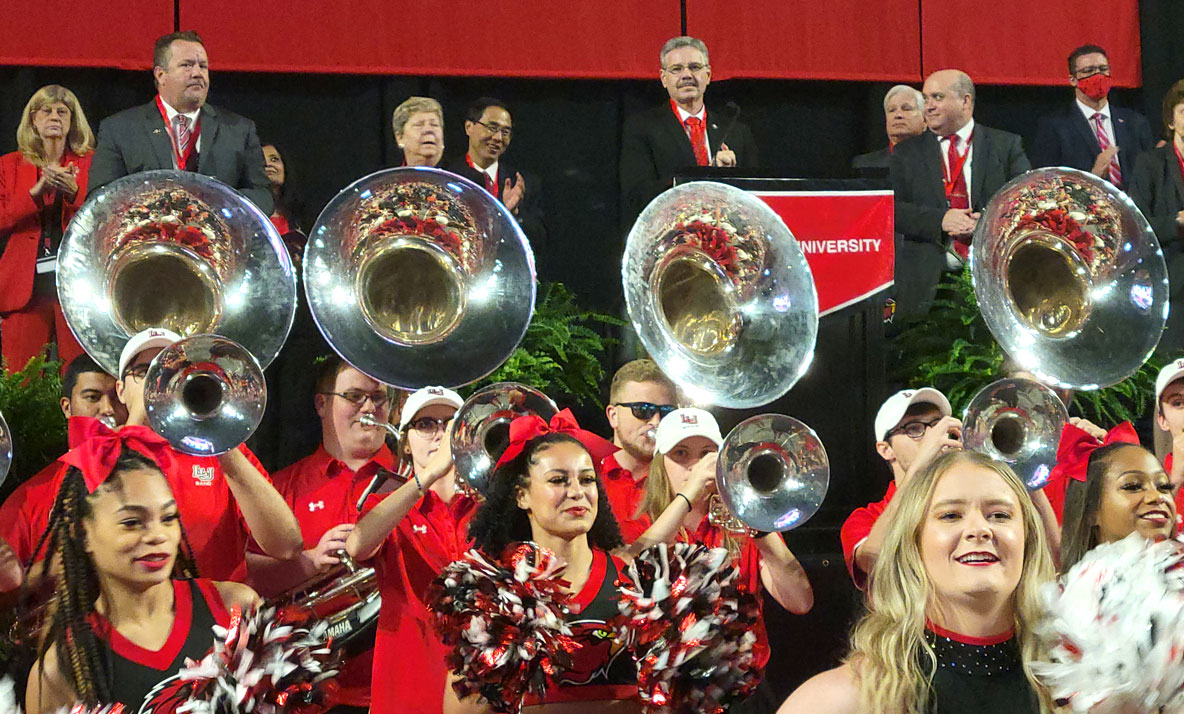 Citing a desire to grow the culture of the university, new LU President Jaime Taylor delivered the annual convocation address, Aug. 17, in the Montagne Center. The convocation was held simultaneously online and in person for the second year in a row. This year's theme incorporated the "LU Stronger Together" campaign. 
Taylor began by thanking the LU community for their hospitality and encouraged those who have yet to meet him to introduce themselves whenever they see him.
Taylor said he is impressed with the endurance of the campus through natural disasters and the COVID-19 pandemic.
"Without question, everyone at Lamar University has given new meaning to the word perseverance," he said, citing challenges from Hurricane Harvey and Tropical Storm Imelda to Hurricanes Laura and Delta last year, along with the pandemic. 
"What you faced together in such a short period of time has forced you to innovate quickly and strategically," he said. "It has also required you to tap into enormous stores of empathy and patience. As a result, the university is very well positioned to take advantage of opportunities we might not have imagined, even a few months ago." 
Lamar fared well in the last legislative session, resulting in funding increases, Taylor said.
"I think the biggest news is that we were able to secure equity funding of $8.5 million annually," he said. "Lamar University was the only institution in the state of Texas to receive an equity adjustment of this sort, correcting a long-standing statewide structural appropriations imbalance and bringing our budget for general operations more in line with our peer institutions. Lamar University also secured an additional annual increase of $5.1 million, based on Texas formula funding."
The formula funding was the result of increase in student credit hour production generated by the online master's degree programs LU offers. Lamar will receive a combined equity and formula funding increase of 13.6 million in fiscal year 2023 as well.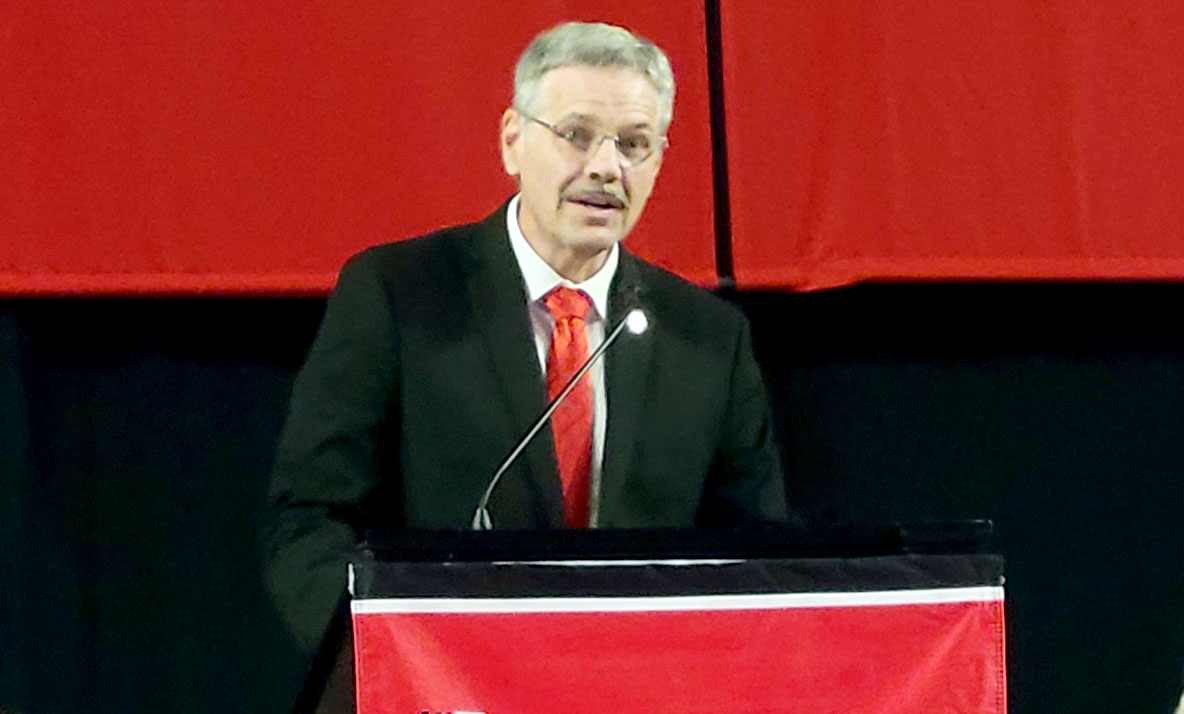 Taylor announced the establishment of a new LU Center for Resiliency, a networking and data collaborative center that provides service outreach and education to improve multi disaster resiliency in the Gulf Coast region. The center has been allocated $2.5 million annually. Additionally, the State has allocated an additional $5.7 million for disaster relief.
Taylor announced a three-percent pay raise, and an $11 an hour minimum wage for full-time employees. Taylor says he will continue to work to enhance compensation and rewards for all.
"We'll be making increased investments in our faculty and staff tuition assistance program," he said. "These investments in each of you are important and strategic. Our goal has to be to continue to attract, retain and reward high quality staff and faculty in order to improve our university and the lives of our students. 
"I can't take credit for the fact that Lamar University is in this position. These raises are possible due to the work all you have done to grow enrollment in our online master's degree programs, which in turn have led to an increase in funding and our funding formula. Online programs will continue to be an important strategic area for us to develop."
The funding increase will stop the university's reliance on cash reserves for operations.
"For a significant period of time, Lamar University has used cash reserves to meet the operating expenses of the University," Taylor said. "National higher education benchmarks recommend that institutions have cash on hand to cover five months of expenses, and each of the Texas State University institutions do, except for Lamar University. Our university finished the year with cash reserves for approximately one month. 
"Equity funding will now allow Lamar University to stop using cash reserves and funds from our auxiliary services that should have been going to maintenance to cover our annual operating expenses. Over time, we'll be able to restore our reserves to healthy levels, undertake many deferred maintenance projects, continue to modernize our facilities and strategically invest in physical plant infrastructure.
"Our state funding increase will also provide for a budget to support emergency situations. Lamar University has been hit by numerous hurricanes over the past several years. We know this will happen again and we will need to be financially prepared. Insurance and FEMA reimbursements are sometimes available, but these funds take years to obtain and do not always cover all the costs. "
Taylor announced the creation of a Strategic Investment Fund to develop new programs and aid the growth of the University.
"In order for the university to become more competitive in the state, and at the national level, we need the cash flexibility to selectively invest in new degree programs for which there's a growing market," he said. "I have experience in this area and find it to be a winning strategy for academic growth. Some academic programs have enormous startup costs, but within just a few years, to bring in tuition revenues that far exceed instructional and other expenses, making reimbursements to the strategic investment fund from the net revenues. These newer programs will allow us to replenish the fund and invest in the next targeted area of growth. This is just one possibility for a strategic investment fund from our university."
Part of Taylor's strategy as president will be to not only grow the number of new students, but also to focus on existing students and their success. 
"I believe additional students will choose Lamar University, as we market current and develop new and innovative programs," he said. "We must also focus on the success of our students who are already in classrooms as they continue their enrollment, and it will be key to our future fiscal outcomes."
Taylor said that his number one priority is to grow the campus culture.
"If we create a campus culture where we truly value each other, communicate with each other to better understand our roles in the organization, and we support and value the work each of us is doing, I promise you that amazing things are going to happen," he said.
Taylor said his second priority is to foster an open environment where individuals feel comfortable asking questions about what they are doing and why they are doing it. He wants the LU community to feel comfortable asking questions, even the hard questions, he said.
Taylor wrapped up convocation by letting the LU community know he is dedicated to increasing both residential enrollment and retention and improving the campus culture to make Lamar University and the community that embodies it no longer "a well-kept secret."