UP, LUTV staff earn 31 awards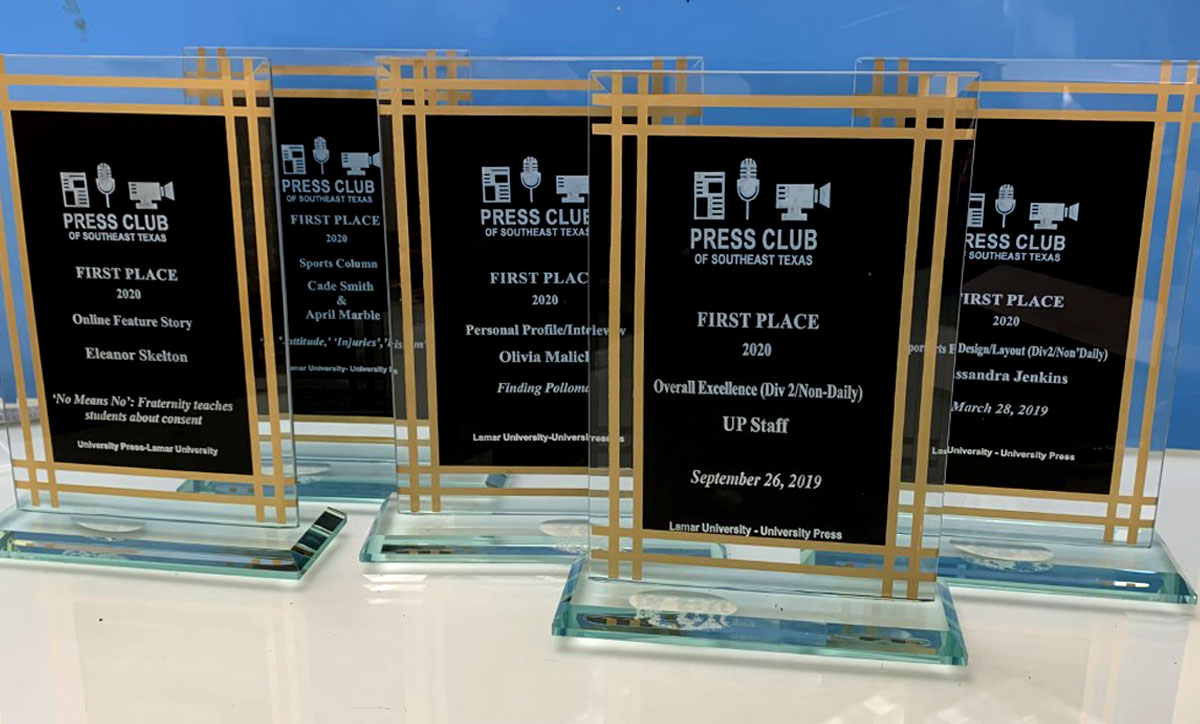 Lamar University students from the University Press and LUTV earned 31 awards at the Press Club of Southeast Texas Excellence in Media awards, presented virtually Nov. 14.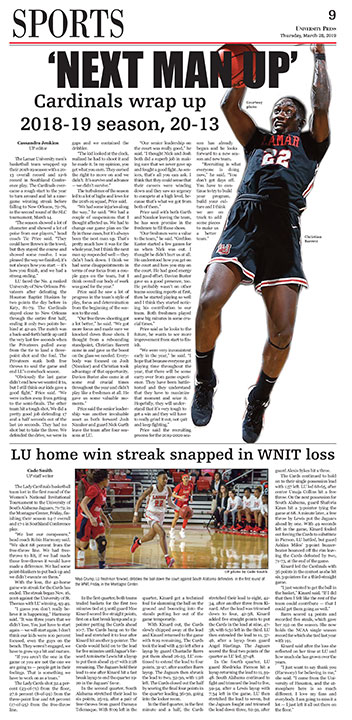 The University Press earned 10 first-place awards, including being named best newspaper in Division 2 (non-daily) category.
"I'm very excited by the UP's performance this year at the Press Club awards," Olivia Malick, UP editor, said. "Everyone has worked so hard to produce the best content possible, and it's always gratifying to see that hard work rewarded.
"Every award given to a student journalist is an affirmation of the meaningful job we serve on our campus, and a testament to the quality education and guidance we receive."
Malick was also named the recipient of the Press Club Scholarship. The awards banquet raises funds to contribute to the student scholarship. This year's donation was raised through sponsorships.
Malick earned first place in the Magazine Profile category for "Finding Polloman," her story about LU student Gonzalo Alvarez. Malick also earned first place in the Graphic/Cartoon/Illustration category for "Economic impacts of domestic violence."
Former UP editor Cassandra Jenkins won first place in the Newspaper Feature Page Design category for "Vincent Comes Alive," and for Newspaper Sports Page Design in the March 28, 2019 issue.
Former sports editor Cade Smith won first place in the Sports News Division 2 (Non-Daily) category for
"LU soccer edges UIW, 3-2,"
and shared first place with UP contributor April Marble in the Newspaper Sports Column for their submissions, "Bad attitude," "Injuries," "Racism."
Former UP photo editor Noah Dawlearn earned a first-place award in the Photo Story category for his essay, "Life in lights."
Former staff writer Eleanor Skelton won first place in the Newspaper News Photo category for her photo "Flooding at Towne Oaks Apartments during Tropical Storm Imelda," as well as first in the Online Feature Story category for "'No Means No': Fraternity teaches students about consent."
Second-place awards went to Malick in the Fine Arts Review category, and Claire Robertson in the Division 2 News Story category.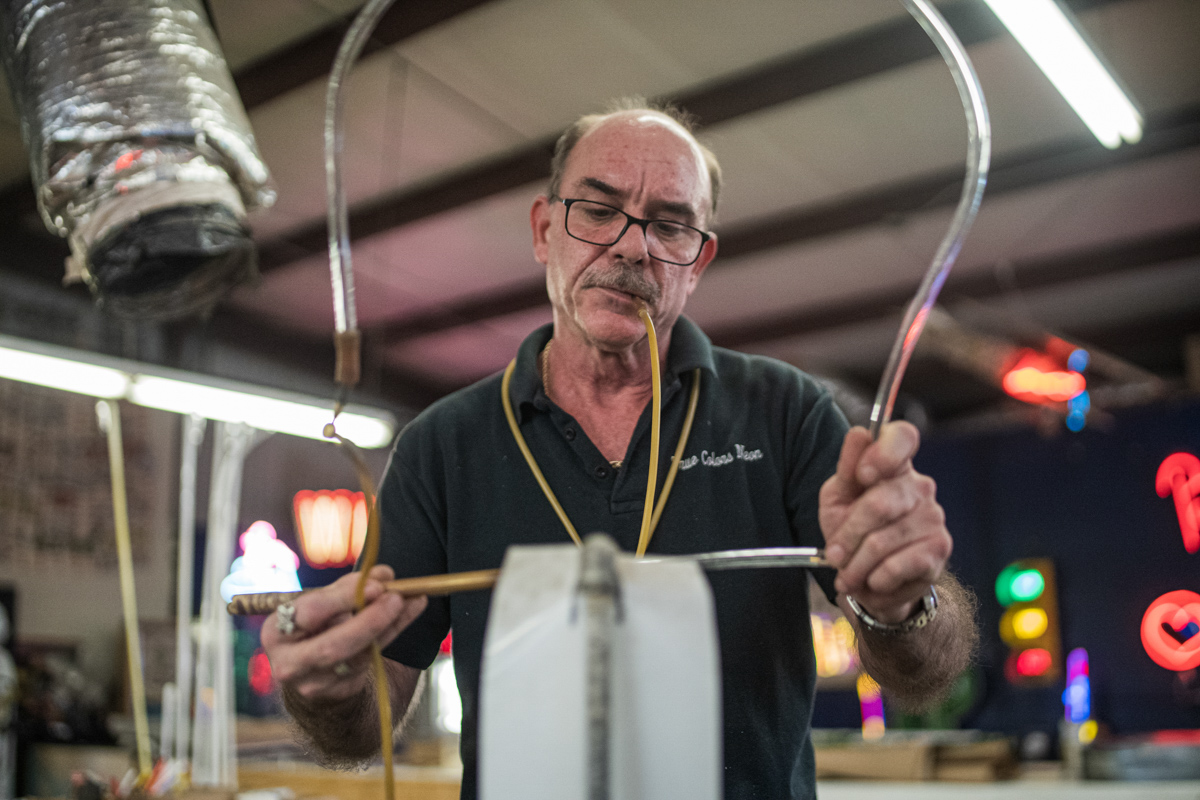 Third place was awarded to Malick for Feature Page Design/Layout, Editorial/Commentary and Graphic/Cartoon/Illustration. Third place also went to Skelton for News Photo.
Honorable mentions went to Malick for Writing Portfolio, Jenkins for Personal Profile/Interview, Robertson for Editorial/Commentary, for News Photo, and UP contributor Crystal Tirawan for Graphic/Cartoon/Illustration.
The UP staff won swept the Division 2 Overall Excellence category for their Sept. 26, 2019 issue, second place for their Nov. 21, 2019 issue and third place for their Feb. 28, 2019 issue. The UP staff also received an honorable mention in the Overall Excellence Magazine category for the November 2019 UPbeat.
LUTV staff earned seven awards in the Television category, including staff awards for second and third place for their Sports Show.
Emily Sterling won second place in the Sports Story category, and Antonio Del Rio earned second place in the Documentary category.
Derrick Thomas won third place in the Sports Story category, and Sterling also received an honorable mention in the same category.
Chandler Smith received honorable mention in the Feature category.
Jenkins and Skelton also won multiple awards for their professional work after graduation. Jenkins for her work with the Port Arthur News and Skelton at KBMT Channel-12.
"The awards were nicely spread around many students in a variety of disciplines," Andy Coughlan, LU director of student publications, said. "There are no student categories, so the students are competing against professional media. These honors show the work produced is of a high quality. These students will be able to show prospective employers that they have learned the necessary skills to be well-rounded employees.
"Student media is an important training ground for the next generation of media professionals."
Lamar University student Satchel Smith was named 2019 Newsmaker of the Year after after Tropical Storm Imelda dropped torrential rain on Southeast Texas isolating Smith and the guests in the Homewood Suites Hotel where he worked. A complete story on the Newsmaker nominees can be found here.
The awards were presented for work published in 2019. The awards banquet is traditionally held in June but was postponed due to the COVID-19 pandemic.
The Press Club draws its membership from Jefferson, Orange, Hardin, Liberty, Chambers, Jasper, Tyler, Polk and Newton counties. Press Club members are professionals in media, public relations, academia, public affairs, and corporate communication and public information.