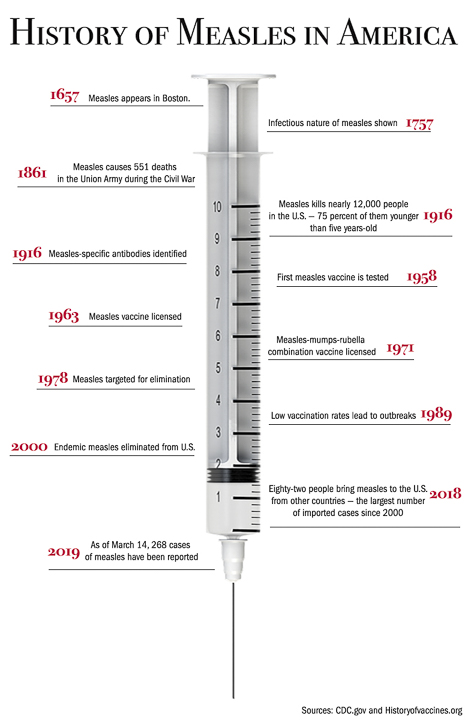 Measles, a disease that as recently as 2000 was declared completely eliminated in America, is back.
On March 8, the Texas Department of Health Services confirmed 11 cases this year. Four other states have reported outbreaks in 2019. An outbreak is defined as three or more cases of a disease. On March 12, New York City reported 158 confirmed cases in Brooklyn and Queens, according to the Centers for Disease Control and Prevention. Washington state reported 73 cases by March 14.
"Measles is a serious respiratory disease that is very contagious and can be deadly to infants and young children," Shawn Gray, director of the Lamar University Student Health Center, said in an email interview. "It can lead to pneumonia, life-long brain damage, deafness and death."
Before 1963, measles was the leading killer of children in the world. Approximately 500,000 cases in the U.S. were reported to the CDC annually. In 1963, the measles vaccine was licensed, lowering cases in the U.S. by more than 99 percent, according to the U.S. Dept. of Health and Human Services. Between 2000 and 2016, reported cases of measles continued to drop 87 percent, preventing 20.4 million deaths worldwide according to the CDC.
Since 2000, reported cases of measles in the U.S. ranged from 37 to a high of 667, due to the highly contagious disease being spread by international travel. Outbreaks are likely to happen in areas with unvaccinated communities.
The year 2018 saw 17 reported outbreaks of the measles, affecting roughly 300 people. Most of these cases were concentrated in New York and New Jersey, primarily in unvaccinated Orthodox Jewish communities where travelers brought the disease from Israel — 82 travelers to the U.S., according to the CDC. This was more than triple the cases from the previous year.
However, 268 cases of the measles have been reported to the CDC in the first 10 weeks of 2019.
Measles is highly contagious. It is an airborne disease that can linger in an area for up to two hours after an infected person has left. Nine out of 10 people exposed and are not immune will contract the disease.
Once contracted, a person can be infected for seven to 18 days. There is no treatment for a measles infection, although patients can take fever reducers to alleviate some discomfort.
The most effective way to avoid contracting measles is immunizations. The Measles-Mumps-Rubella vaccine is delivered in two doses when a child is 12 to 15 months and four to six years old.
"Vaccines have side effects," Gray said. "But most are mild such as redness, swelling or soreness at the injection site. Allergic reactions are rare." 
The CDC reported only 33 cases of allergic reactions from nearly 70 million doses of the measles vaccine since data collection started in 1990.
Risks of the vaccine can be found online at vaccines.org. Risks are also communicated at the time of vaccination by a printed pamphlet.
"Children with serious medical conditions, like cancer or diseases that suppress the immune system, are reasons not to vaccinate," Gray said. "Prior serious allergic reactions to a vaccine would also be a reason.
Gray said herd immunity occurs when a large percentage of the population has been vaccinated against a disease. It protects those who are not vaccinated or who have compromised immune systems, like children younger than one, pregnant women and people with cancer, HIV, AIDS, and other diseases.
"Less disease means less transmission," she said.
Some parents still choose to not vaccinate their children.
Savannah Palk is a certified pharmacy technician and homemaker in Lumberton. Her daughter, Estelle, is three-years old and unvaccinated. Palk has an autoimmune disorder and eczema. Her daughter also has eczema and is considered immunocompromised.
Palk became concerned with having a "clean" lifestyle when she was pregnant with Estelle.
"(Clean) means almost all organic, fresh veggies and fruit, and grass-fed organic beef," Palk said. "Sometimes, I make my own natural soap and I use natural cleaning products as often as possible. Our skin is our biggest organ, so I'm researching all these lotions and reading ingredients, and when it came to vaccines, I was like, 'OK, let me read these ingredients and how many have been tested on children.'"
Palk said she is concerned with vaccine ingredients like thimerosal.
"Thimerosal is a preservative in vaccines given to infants that might be a cause of autism," Gray said. "Those studies were very small and basically inconclusive to a direct causal link."
A study published by the Annals of Internal Medicine in March, researched whether the MMR vaccine increased the risk of autism in 657,461 children. The study found that MMR vaccination does not increase the risk of autism in children. The study is available online, for free.
Palk said she has an ethical aversion to vaccines.
According to the Children's Hospital of Philadelphia, some vaccines, such as chickenpox, rubella (included in the MMR vaccine that protects against measles), and hepatitis A are made using fetal embryo fibroblast cells. These cells are needed to hold together connective tissue. The cells were first obtained from elective termination of two pregnancies in the 1960s. There is no need for a further source of fetal cells beyond these.
Palk said she is opposed to abortion for religious reasons, therefore Estelle would have a philosophical exemption for the MMR vaccine.
In 2018, a study published by the Public Library of Science, found that non-medical exemptions weaken herd immunity, arguing that measles outbreaks have increased with growing public opposition to vaccines. Philosophical belief exemptions have risen in 12 states, including Texas, which has "hotspot" areas of measles infections in Fort Worth, Plano, Houston and Austin.
In place of vaccinations, Palk uses alternative medicine, including seeing a holistic doctor, and supporting the immune system with vitamin C and Elderberry syrup.
"The measles is not that big of a deal," she said. "My parents had it. Once you get it, you have lifelong immunity. I just think that there are more kids that have more of a chance of reaction from the vaccine than from the disease itself."
Palk said she has been criticized for her choice to not vaccinate Estelle.
"I've been very open about being pro-educated choice," Palk said. "Some people have been very ugly and said we need to go live in another community or, 'I hope your child gets it and dies.' It's very hurtful."
One pediatrician refuses to keep Estelle as a patient without vaccination, and Palk said she has lost friends because of her choice.
"I'm not a mom-shamer," Palk said. "We're all trying to be the best we can be. If a mom feels it is the best choice for her family, then go for it — as long as you tried to make an educated choice."
Gray said there is little information available on the safety and effectiveness of integrative therapies for the prevention and treatment of MMR.
"Holistic practices use essential oils etc. to boost the immune system in order to fight off diseases," she said. "If your immune system is immature or compromised, then it is difficult to fight disease if you don't have the foundation to start with."
In the last few weeks, Facebook announced it will no longer recommend groups or pages that spread vaccine misinformation identified as false by the World Health Organization, although it will not remove content from personal pages. In February, Amazon removed anti-vaccine documentaries from Prime Video and YouTube disabled advertisements on anti-vaccine videos.
For information about measles and vaccines, the CDC and World Health Organization are reputable resources, Gray said. The CDC updates information weekly about reported measles cases.