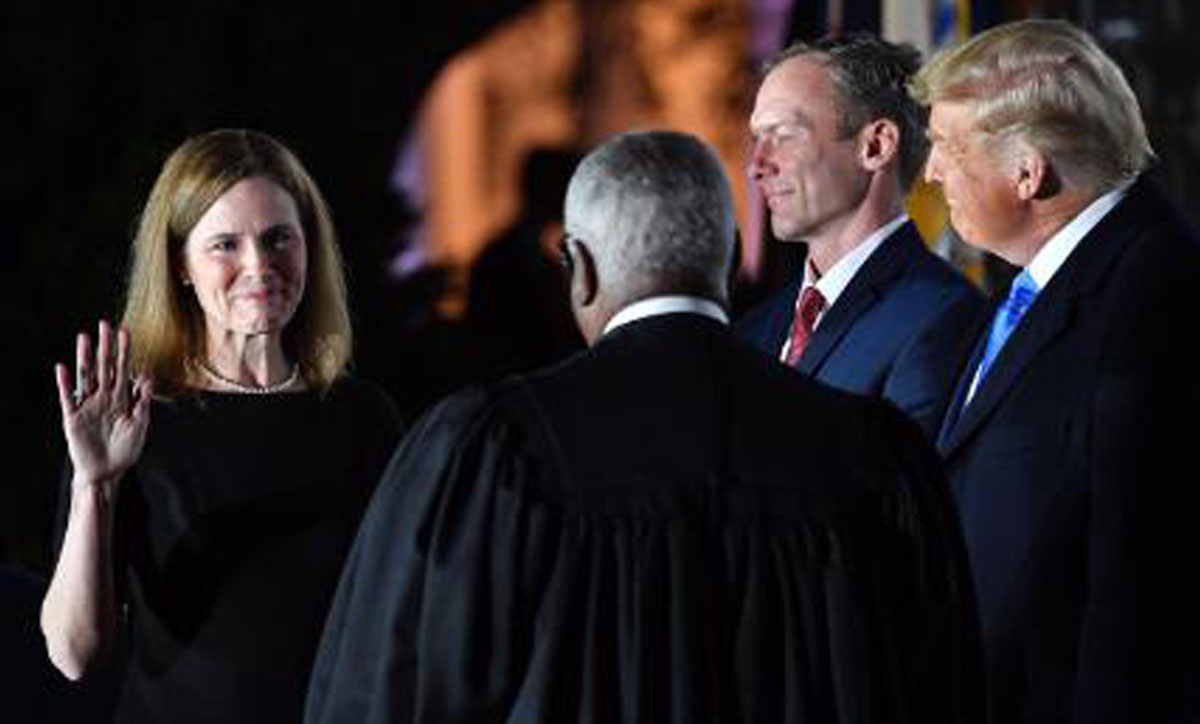 The Senate voted to confirm the nomination of Judge Amy Coney Barrett to the Supreme Court, Oct. 26 with 52 Senators voting yea while 48 Senators voted nay, thus paving the way for her spot as an associate justice on the highest court in the land. 
Barrett was sworn in with her Constitutional Oath by Justice Clarence Thomas at the White House, alongside President Donald J. Trump and her husband Jesse Barrett. This comes just 30 days after Trump had nominated Barrett to the seat, his third nomination and appointment during his first term.
Barrett replaces late Justice Ruth Bader Ginsburg, who died Sept. 18 at the age of 87 from pancreatic cancer-related complications. Barrett joins conservative justices John Roberts, Thomas, Samuel Alito, Neil Gorsuch and Brett Kavanaugh, creating a 6-3 conservative majority, along with liberal justices Elena Kagan, Stephen Breyer and Sonya Sotomayor.
Barrett's controversial path to a spot on the court was met with criticisms from Democrats who argued that her hearings should be delayed until after the election. They charged Senate majority leader Mitch McConnell with hypocrisy after he refused hearings for former president Barack Obama's nominee, Merrick Garland, in 2016 because it was eight months before the election.  
Democrats tried different political tactics in an attempt to slow down the confirmation process. However, the reality is Republicans hold the majority in the Senate which essentially guaranteed her nomination, regardless of the challenges that took place.
Barrett is the first nominee to be confirmed with no supporting votes from opposition parties in 150 years, with all Democrats voting against her nomination, as well as Maine Republican Susan Collins.
Questions have also been raised about Barrett's qualifications for the court. Stephanie Mencimer, writing in Mother Jones, argues that Barrett is the least qualified nominee in 30 years. Barrett has mainly worked in academia and has little experience practicing law. Until Trump nominated her to the 7th Circuit Court of Appeals in 2017, she had never been a judge. She has not worked in the government as a prosecutor, defense attorney, solicitor general, attorney general, or served as counsel to any legislative body — the usual professional channels that Supreme Court nominees tend to hail from. She has also never argued before the Supreme Court.
With the nature of the speedy appointment this appointment, especially with regards to the Garland nomination, some are speculating about various court reforms that will take place if Joe Biden is elected president.
In an interview with "60 Minutes," Biden said he would consult a bipartisan group of constitutional scholars that would make recommendations to reform the court system. This comes after Biden failed to answer a question during first presidential debate on whether he would "pack" the court ­— expand the number of sitting justices — if elected.
Barrett was sworn in to the Supreme Court by Chief Justice John Roberts, Oct. 27.