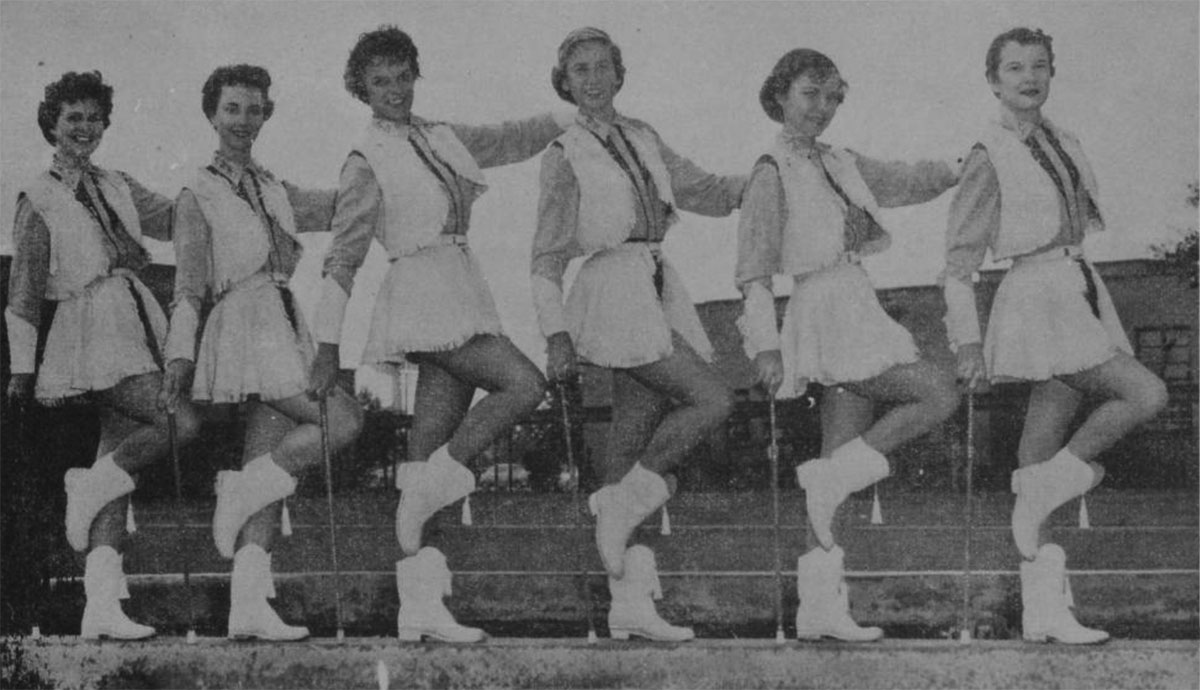 Tech Band, Majorettes Schedule Busy Season
October 1, 1954
Spectators at the Lamar-Northwestern Louisiana game were not only thrilled by the fine football played that night but also by the precision marching and drills displayed by the Tech band and majorettes.
Many fans were held in utter dismay, others speechless and some who could only eke out the word 'wow.' The reason for this, in case you haven't guessed, were those beauties of the campus, the majorettes. These highstepping damsels captivated a near capacity crowd with their prancing and twirling of two batons.
Headtwirler for these curvaceous young girls is Evelyn Sweat of Nederland, with Kathy Norton of Warren and Pat Halfin of Beaumont, the other two returnees. Newcomers to their troop are Virginia Smith of Longview, Jo Ann Ruff of Beaumont and Mary Gordon of Houston.
Charles "Pete" Wiley, director of the band, announced this week as Band Week as Lamar. At the game this week, eight area high school bands will perform as a unit to commemorate the occasion.
Mr. Wiley also disclosed plans for the trips the band will take this year. The band plans to accompany the football team to Nacadoches October 9. An overnight stay in San Antonio will climax their trip to San Marcos and the Lamar-Southwestern game. Also on this year's docket is a tour with the YMBL, which will take place October 5-6.
Compiled from the archives by Ja'Leigh Cerf.