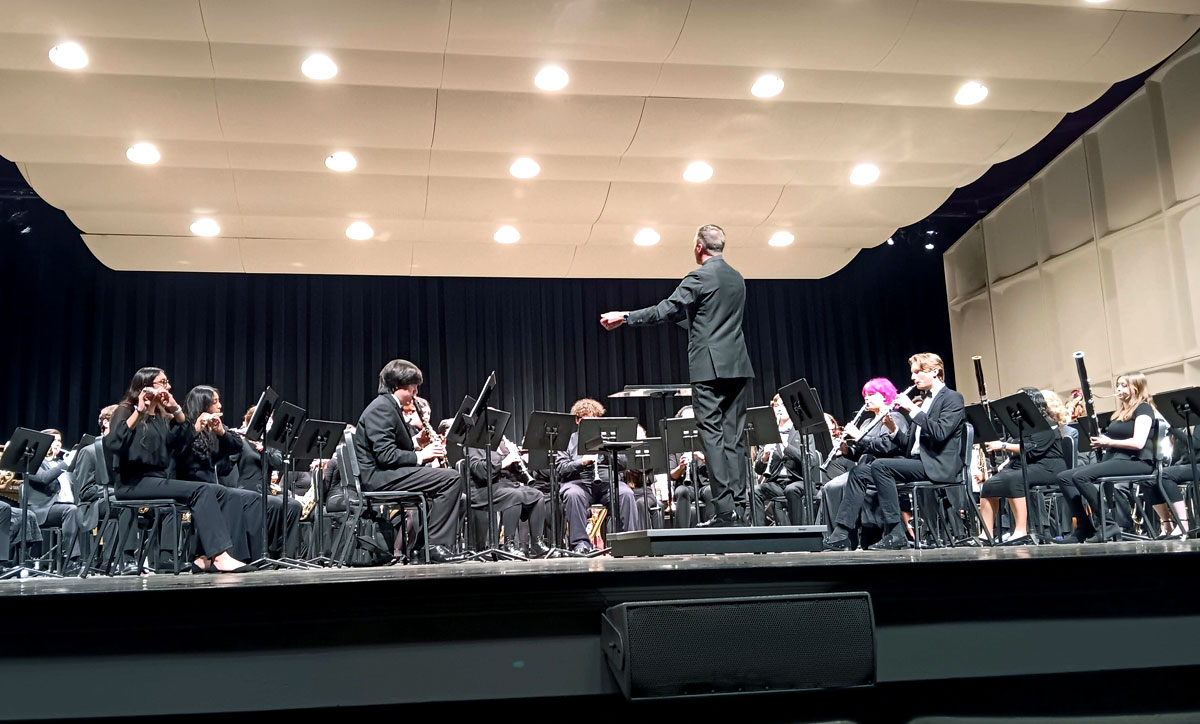 Lamar University's Symphonic Band and Wind Ensemble performed their final show of the semester, Nov. 14, in the Julie Rogers Theatre in Beaumont.
Eric Shannon, associate professor of music, conducted the Symphonic Band during the first of two sections of the concert.
"There's not a theme, I really just selected music that would expose our students to a range of styles and expose our audience to the range of styles," Shannon said.
Although Shannon was the conductor, he turned the baton over to senior Emmanuel Rodriquez-Zarate for the first piece, "H.M. Jollies March" by Kenneth J. Alford.
"It's the kind of song that the military use to march with," clarinetist Seth Cummings said.
The second piece was "O Magnum Mysterium" by Morten Lauritsen. Originally a choral work, H. Robert Reynolds transcribed the work for bands.
"It's a great challenge because we're trying to play our band instruments like the voice, as if we're singing," Shannon said.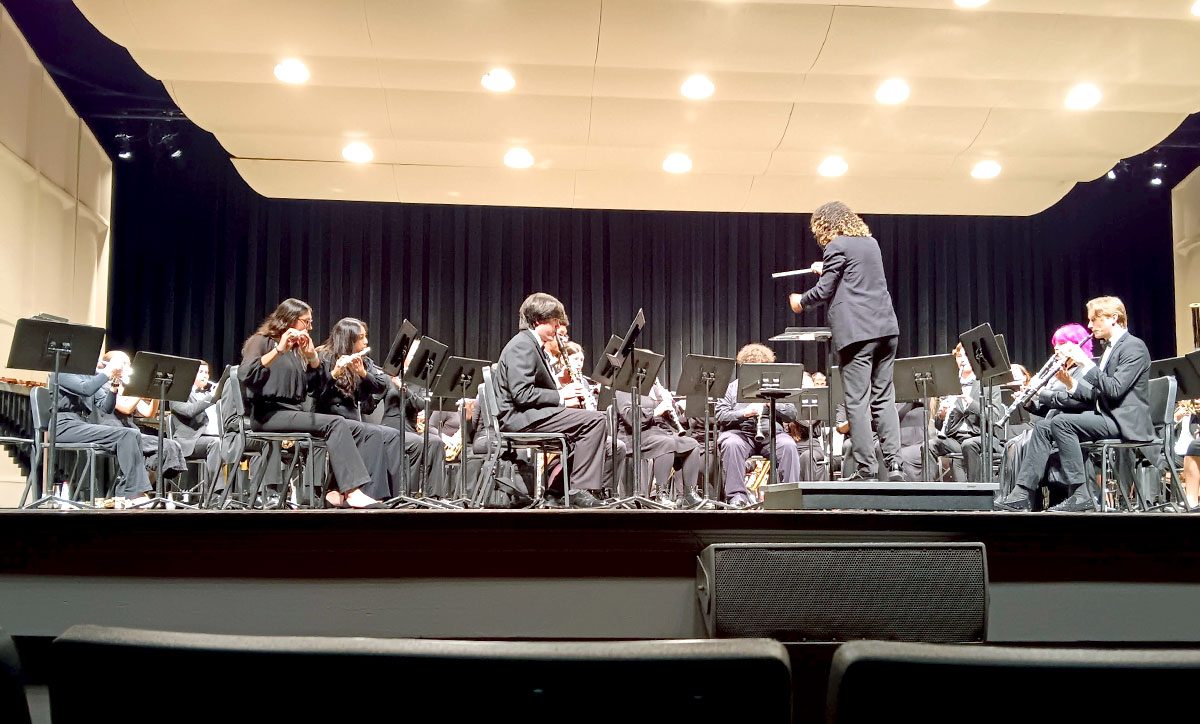 The third piece is titled 'Melodious Thunk' by David Biedenbender.
"That piece is a play on the early 20th century jazz musician Thelonious Monk, then also mixed it with some big booms — so, it's a 'Melodious Thunk,'" Shannon said.
The Symphonic Band's section of the concert concluded with Pas Redoublé by Camille Saint-Saëns.
"The hardest piece we played was Pas Redouble, which is just a really fast piece," flautist Clara Schreck said.
Shannon described the Symphonic Band show as a composition of different elements varying in volume and speed.
"I think when people come through any concert, they've given you something very, very precious and that is their time," Shannon said. "When you build a concert, you try to think of the whole thing and the journey that the listener takes. So, you have to take that really seriously and pick things that you think will help the greatest number of people. And when I say help, I just mostly mean enjoy. If they come to the concert and they leave being refreshed, having really enjoyed their time that they gave to us. then then we did a good job."
Associate professor of music Andrew McMahan conducted Wind Ensemble section of the concert, performing "Valdres," "Carmina Burana," and "Magnolia Star."
"The concept of the Lamar Centennial has been heavy on my mind," McMahan said. "I have been thinking about music that's a little older than maybe I normally would do."
McMahon said the pieces capture both entertainment and instruction.
"My audience is not just the folks who are out listening, but also the students that are on the stage because they are students," he said, "They're here to learn and to learn through performance."
"Valdres," by Johannes Hanssen, is a European march which tends to contrast American marches in speed, McMahan said.
"It's just a very happy Norwegian March," he said, "It doesn't sound like what a lot of people will think of as a march. It's just got a different vibe than an American march by Sousa or something like that. The Europeans tend to have a more slower vibe when it comes to marches and it's just nice."
"Carmina Burana," by Carl Orff and arranged by John Krance, is made up of 13 movements, or sections of compositions. Traditionally, longer works are performed in the spring when students have had longer to rehearse, McMahon said.
"It's a long, big piece and we don't often do big works in the fall because it's so early in the school year," McMahon said. "We just save that stuff until a little bit later in the spring. or us to perform a 20-minute piece of music in November is actually a pretty big accomplishment. So, I'm proud of that accomplishment.
The concert ended with "Magnolia Star," by Steve Danyew, which is a fun piece about a train, McMahan said.
"I do consider (music) art," McMahan said. "The primary thing I want is for everyone to leave feeling good and feeling like they experienced art, that they experienced a moving concert that really made them think, that made them visualize music in a way, perhaps, they hadn't done before."
Clarinetist Seth Cummings music is a powerful resource to help with one's emotions.
"It can help you through a lot of things, and it can help you accomplish things and especially the pieces we played," he said. "Some of them can help you get through homework, some of them are just stuff that you listen to that's very beautiful and melodic. Music is more than just music, it's more than just something you listen to. If you really listen to something you can really feel a story."
For more on LU music concerts, visit lamar.edu/music.