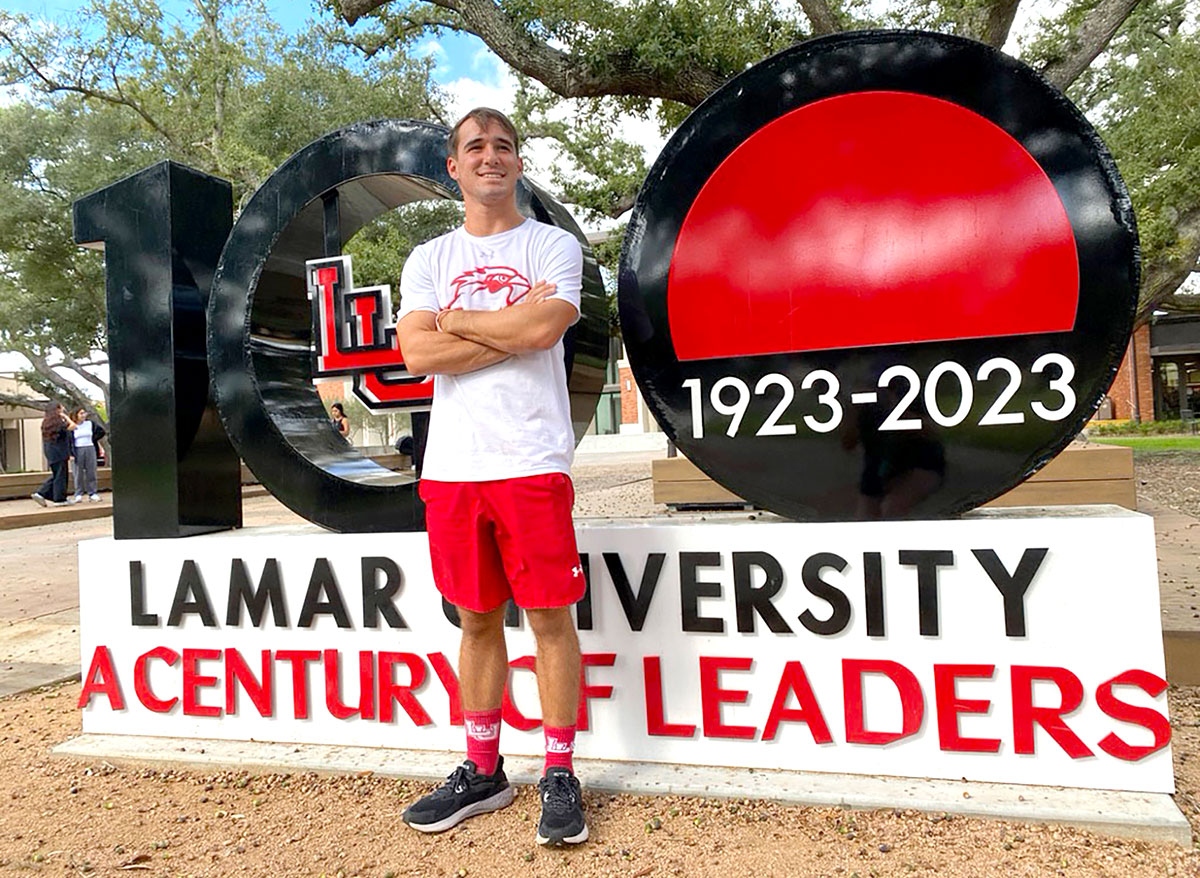 Jonah Smith wants to give students a voice on campus. As Student Government Association president, Smith is in the perfect position to channel that voice.
The Port Neches senior assumed the presidency, June 1, after an election where he ran on a platform of advocating for better communication between students and administration.
"I would like to bring more student engagement to the university, whether that be through implementing a big event every semester, like a concert, or something fun that we could consistently do to keep students engaged on campus," he said.
Smith, along with the other SGA officers, has been working on different projects for the 2023-24 academic year.
"Our executive cabin is working on getting feminine product dispensers installed in all university bathrooms for our female students," he said. "We're also trying to implement a Cardinal Closet on campus where students can donate their old clothes. So, if students don't have clothes, they could go and get some, like the Cardinals Food Pantry."
Smith said SGA senators are planning on addressing the parking issue on campus, particular in the Nursing Building, he said. Additionally, they want to implement a textbook library in the College of Engineering as a way for students to get textbooks for free. They also want students to have free accessibility to online resources and getting study material in Gray Library to make the study life of students easier and more convenient. 
"What we've done so far, notably, is created a co-sponsorship, which is something that student organizations use to get funds from other student organizations," he said. "We've added an option for them to select volunteer travel expenses, so if they have a service project around the area, they could get transportation provided to them. We also added a tailgate option, if they want to get money to (set up a booth), they can. And that's just to promote student involvement and hopefully help them have more fun.
"We've created a Title Nine committee as well, trying to advocate for issues such as sexual assault victims, because that's something that's always a big, big concern for students. We have a full functioning SGA, so it's looking to be good in the future."
Even though this is Smith's first semester as president, it isn't his first time in a leadership role. He started out as an orientation leader which opened a lot of doors, he said.
"Afterwards, I became a student orientation coordinator, which is one step above," he said. "That was my first supervising experience here, which really helped me with (SGA). Then I became a resident assistant with the housing department. I've been an officer of the National Honor Society for two years now.
Smith is also a member of the LU tennis team.
"When I first came to Lamar, I was thinking, (SGA president) is the one thing I actually don't want to do. But after three years, I was looking back and thought, 'I've been every single student you can think of — a commuter student, an on-campus student, a student athlete, a student leader, a student-student. I've been pretty much everything except for a transfer or an international student.
"So, I thought I would be a great representative for the student body. And with all my leadership experience, I think that I could hopefully make a change."
For more information, visit lamar.edu/sga.