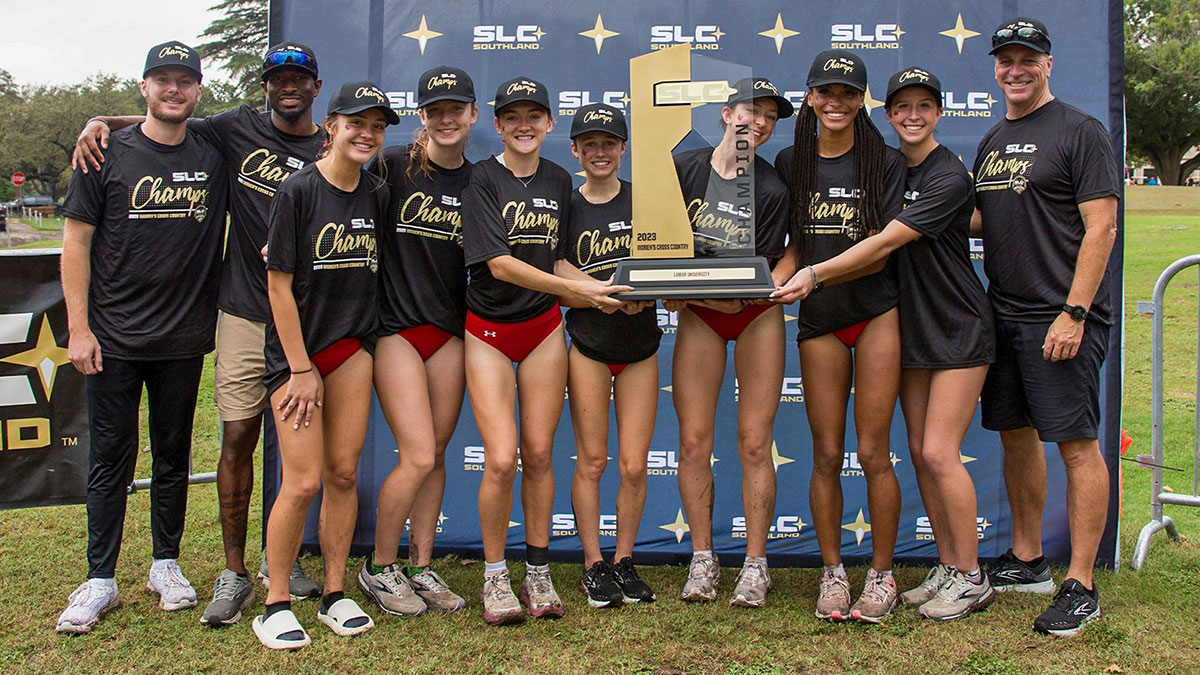 The rain may have come down on the Southland Conference Championship meet, but none of that would have an effect on the Lamar University women's cross country team as they claimed their first conference championship since 2014, behind three top-10 finishes, winning with 45 points, a four point margin over second place New Orleans (49).
Nia Clatworthy led the team as she was crowned the individual champion of the meet.
The women opened things up with the 6k at 8:30 a.m. The second the gun fired to start the race the heavens opened up and the rain started falling. Unfazed by the weather, Clatworthy, a native of Porthcawl, Wales, found herself in the top four at the halfway mark at 11:47. But she would turn it up and increase her lead to three seconds, which was more than enough to give her the title as she crossed the line at 21:12.9. This set a new personal mark by almost 11 seconds in the 6k.
"My plan was to go behind the leaders, see how they went and do what they do and then do my own thing," Clatworthy said. "Then with a mile-and-a-half to go, I felt good. So I just took it and backed my fitness and went from there."
Head coach Andrew Sweeney was named SLC Coach of the Year. Clatworthy said the rain was a benefit.
"I definitely think it helps me because I'm Welsh and I'm used to it," she said. "I think it could've affected a lot of people, but it was good for me. I guess."
Sweeney said Clatworthy's title was a year in the making.
"She's one of the most hardworking athletes I've ever coached, and is truly a student of the sport," he said. "She can seem quiet and timid to those who don't know her, but those who do can see how intense of a competitor she is.
"Ever since her 10th place finish at this meet last fall, she's had the ambition of rising to the top of the conference this year, and podium finishes in the 5k indoors and 10k outdoors only validated what we knew she was capable of.
"Even with an injury limiting her training in the weeks leading up to the meet, she never doubted herself for a moment, and today she went out and made it happen. I'm happy that she now gets the hardware to match what I get to see on a daily basis at practice."
Clatworthy finished as one of two SLC first teamers for LU along with Cara Inch, who ran her race in fifth place at 21:56.8. LU's third top-10 finisher and lone SLC second teamer was Annabel Hobday, who placed eighth at 22:13.1.
In addition, Clatworthy was tabbed as the Women's SLC Athlete of the Year while Inch was selected as the Women's SLC. Newcomer of the Year.
Two more Cardinal runners would crack the top 20 with Ashto Rainey's (22:33.5) 13th place and Mykayla Mims' (22:44.4) 18th place finishes. Kylee Phillips (32nd; 23:59.9) and Natalee Bergeron (47th; 25:23.0) rounded out the meet for LU to seal their conference title.
"Our women spent the entire season visualizing this happening and came into the race with an extremely detailed race plan that they executed flawlessly," Sweeney said. "I'm so proud of the way they trusted each other and stayed tough mentally when adverse conditions were thrown our way. We had injuries to key runners as well as illnesses, but they didn't come with excuses because they came in with a purpose. It's moments like these that make this job so special, and it's a privilege to get to be around these amazing ladies each day."
The men would later compete and would finish in seventh place with 176 points.
The Cardinals will turn their attention to the NCAA South Central regionals, which will take place in two weeks in Fayetteville, Ark.