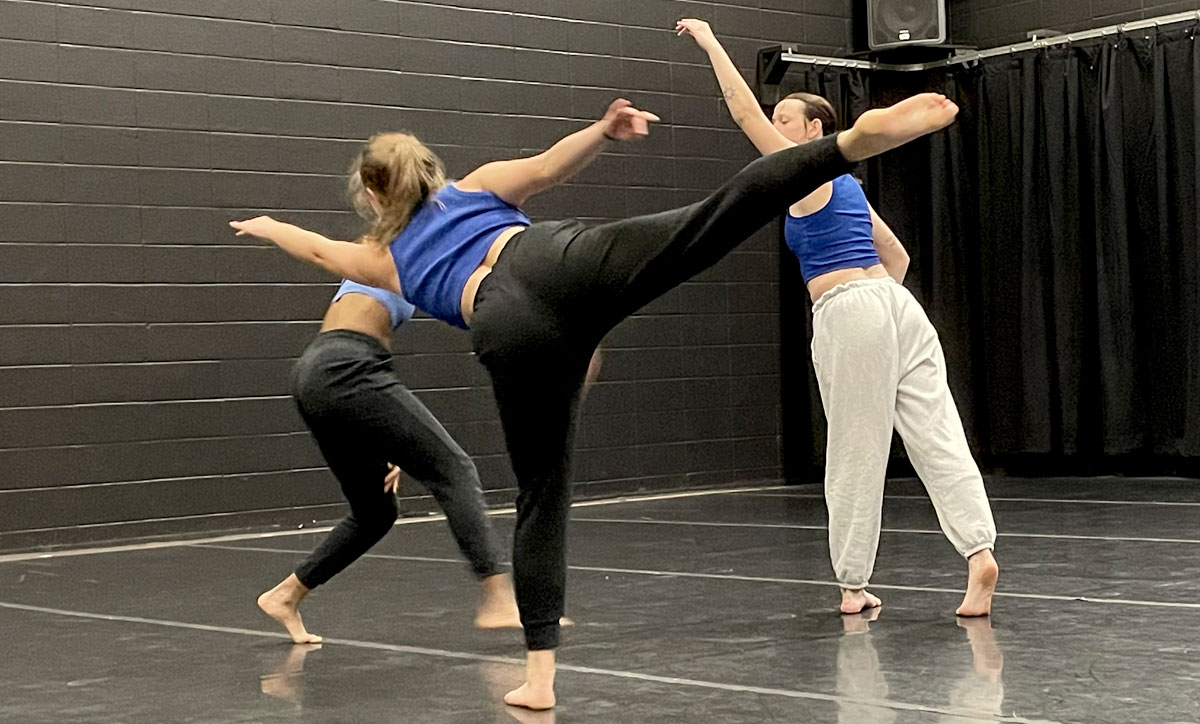 Lamar University's department of theatre & dance will host the annual "Fall &Recovery" faculty dance concert, Nov. 10-11, in the University Theatre.
"Fall & Recovery" is a showcase of seven pieces choreographed by professors Amy Elizabeth, Lou Arrington, Amy A. Wright and Golden Wright, as well as guest choreographer Jesus Acosta. The concert will be held at 7:30 p.m., Nov. 10-11, and 2 p.m., Nov. 11.
One of Elizabeth's two contemporary dance pieces, "Camellia," is a reflection on a memory she has and the surreal nature of it, she said.
'It feels like a meditation," Elizabeth said. "It feels like standing in a meadow with the wind blowing through your hair."
Her other work, "Re:Rosas!," is a reimagining of an existing dance piece by choreographer Anne Teresa De Keersmaeker. Elizabeth's rendition will be included in the online "Re:Rosas!" collaborative project, which now includes more than 600 different interpretations of the original dance by different choreographers.
"Ana Teresa said, 'There is no such thing as new movement and movement belongs to all of us,' which is something we talk about in dance theory a lot," Elizabeth said. "So, she created the original work called 'Rosas,' and created a project called 'Re: Rosas!' and gave the movement to the world."
The concert is not just a showcase for faculty choreography, but also for student performance, including two graduating seniors in the dance department, Jasmine Warner and Brittany Gonzales.
"The students in the department work year-round for these shows," Warner said. "We put a lot of work in, about 12 hours a week."
Warner and Gonzales are performing in three and four pieces respectively, including Amy Wright's "Bring What You Can Carry," which is an expression of Wright's experience moving across the country and experiencing different changes in her life.
"You decide what you want to take with you and what you want to leave behind," Wright said. "Whatever you bring is what you rebuild on."
On top of choreography and dance performance, Elizabeth also highlighted the importance of technical directors, lighting designers, costume designers, and other workers involved behind the scenes in organizing "Fall & Recovery."
"There's just a village of people who are coming together produce this," she said. "There's just so much time, energy, effort, and artistic expression."
Wright says "Fall & Recovery" is not just a showcase of faculty, student, and technical talent, but also a celebration of the arts as a whole.
"It's a reflection of the importance of what we do, and the value of the arts in the community," Wright said. "It's about the value of using dance as our voice and using it to express our beliefs and the things that bring us joy."
Elizabeth said the concert is a chance for community members to connect with the performers.
"That's what art is, to experience and to connect, and I feel that's what this show does," she said.
Tickets are available for $7-15 at lamar.edu/lutdtix.