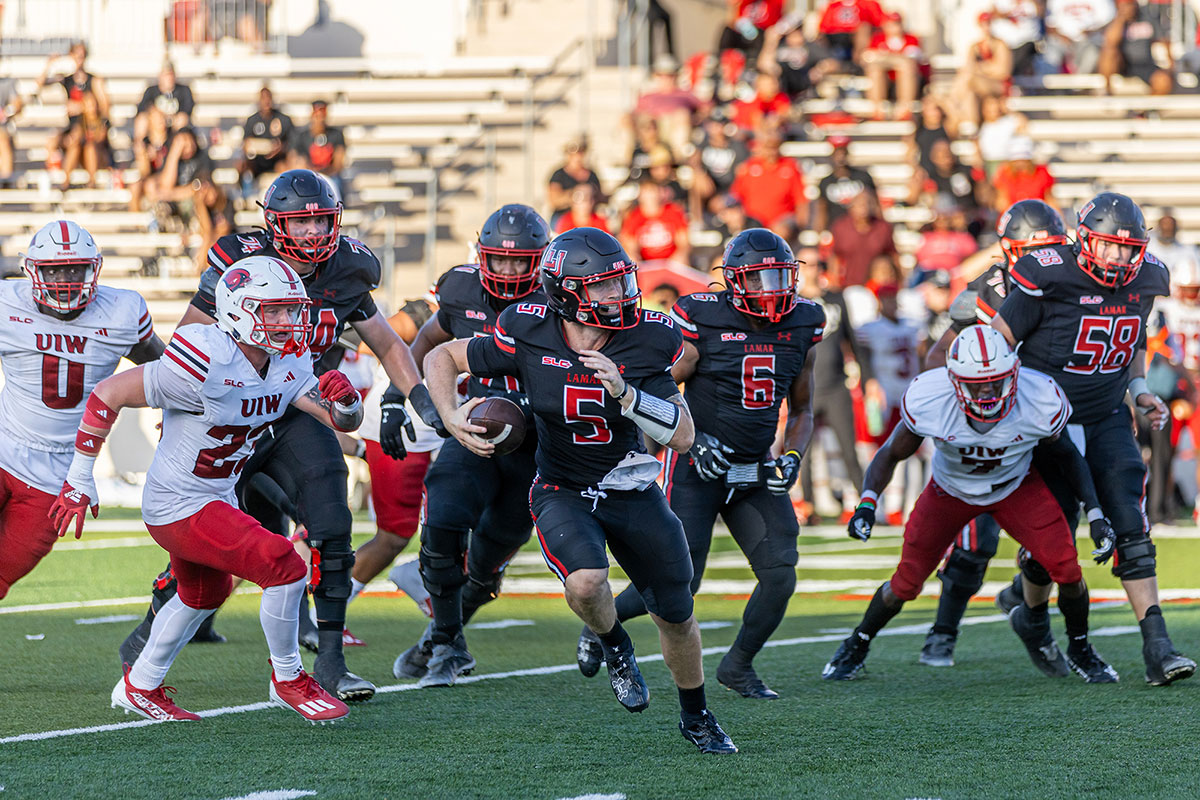 Homecoming week has arrived in Beaumont and there's no better way to conclude the week's festivities than with Lamar Cardinal football as they take on the Texas A&M-Commerce Lions this weekend.
The Cardinals look like a rejuvenated program having won four of their last five games, including three wins in Southland Conference play. The lone loss in that span came last week when Lamar fell to nationally-ranked SLC rival Incarnate Word, 17-7.
If there's one lesson to be learned from the season thus far, it's that this LU squad can compete with anyone. While A&M-Commerce is just 1-3 in the Southland and 1-7 on the year, beating them still won't be a cakewalk.
Getting the offense rolling again will absolutely be priority number one for the Cardinals. The unit totaled just 248 yards last week and scored just once with a trick play which worked flawlessly, but can't be consistently relied on.
Granted, some of Lamar's offensive woes could probably be attributed to the talent level they were playing against. Regardless, the O will need to get back on the same page before playing Commerce.
While the Lions' defensive stats may not pop off the page, they're a capable unit that plays solid team defense. They allow an average of 20.5 points a game in conference play and have also averaged three sacks a game during that span.
That pass rush may be an issue for the Cardinals' offensive line. Injuries have prevented Lamar from finding a consistent group of starters up front, so they'll need to be on their A-game to open up running lanes and keep a clean pocket for quarterback Rob Coleman.
Making secure tackles will be another key to victory against Commerce. Lamar's defense struggled to bring ball carriers down on first contact against UIW, which ultimately cost them in the end. Hopefully, there will be a renewed focus on fundamentals throughout practice and come game time.
A benefit of better tackling is that it creates chances for a second defender to punch the ball out — and win the turnover battle, which will be another main goal for the Cardinals. Lamar's defense has forced a fumble or intercepted a pass in five of their eight games. They've also forced multiple turnovers in three of those five.
Those extra possessions are often the difference between winning and losing. Lamar needs to create some extra opportunities on that end of the ball, especially if the offense takes a while to settle in and get things moving.
The Cardinals' defense is the team's strong suit, though, and they've already held their own against much better offenses than Commerce.
Their offense is run mainly via the rushing attack as their backfield trio averages 120.6 yards a game. At quarterback is Josh Magana, who has completed just under 60% of his passes for 1,053 yards, eight touchdowns and five interceptions on the year. Keith Miller leads the Lions with 253 receiving yards and four touchdowns.
Commerce has eclipsed 20 points just twice this season and scored 11, 7, and 13 points in their last three games. Another 41-point outburst as seen in their Southland opener isn't out of the question, but it remains unlikely.
For those keeping track of Lamar's playoff chances, the Cardinals will almost surely need to win all three of their remaining games — meaning this one is a must-win contest. Homecoming is just extra motivation on top of their playoff hopes.
Kickoff is scheduled for 3 p.m. Saturday at Provost Umphrey Stadium in Beaumont. The game will be live-streamed on ESPN+ and air via radio on 560 KLVI.