LU wraps up SLC regular season on Senior Night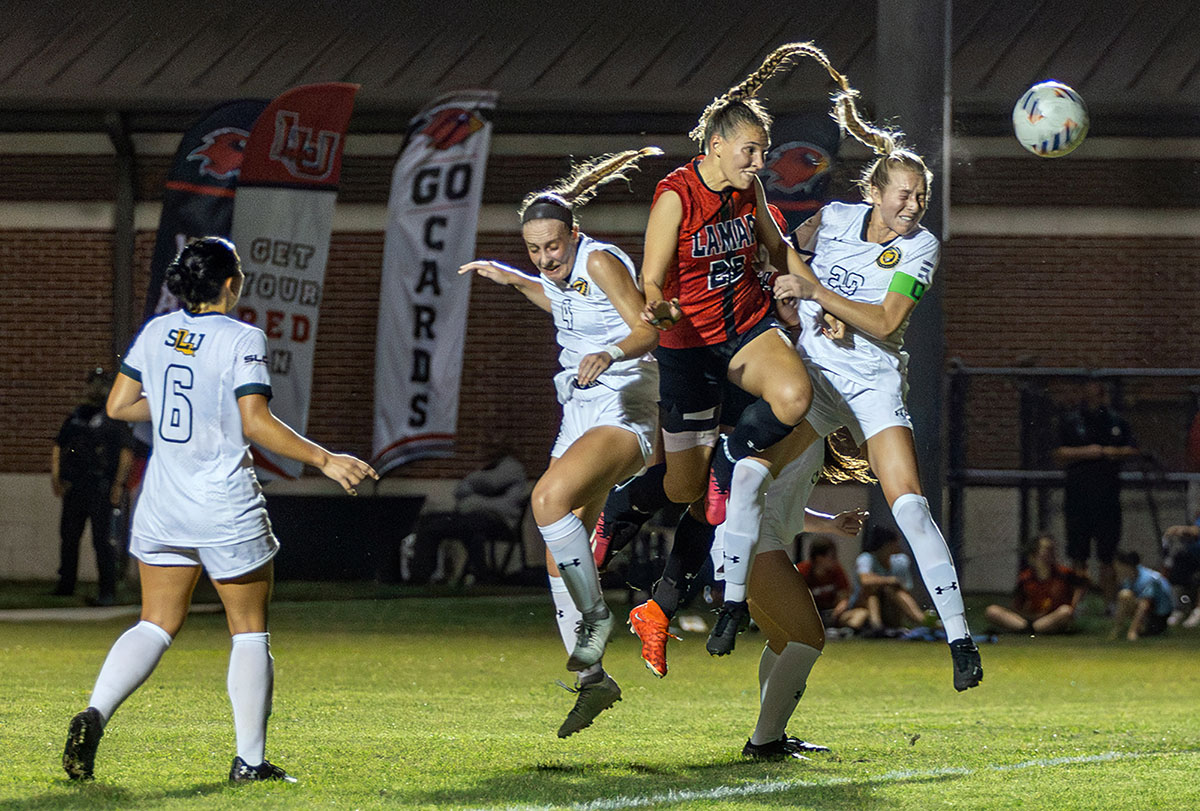 Lamar University's women's soccer team honored six players on senior night and defeated Southeastern Louisiana, 4-1, Oct. 27, at the Lamar University Soccer Complex.
The Lady Cardinals started off strong with senior Cariel Ellis scoring twice in the first five minutes. Ellis scored 27 seconds into the match assisted by Trinity Clark. Around four minutes later, Ellis scored again, this time assisted by Hollie Massey.
"I was just playing for my team, I saw it open and I just hit it," Ellis said. "I wanted to show out for senior night. I just wanted to be there for my team and keep a positive attitude through everything I do."
In the 32nd minute, Isela Ramirez hit a shot into the goal off the crossbar to make it 3-0. Ellis supplied the assist. The Lady Cardinals applied pressure throughout the first half, holding the Lions scoreless. With a. minute left in the half, the Cardinals were awarded a free kick and Eva Karen provided an assist to Kaisa Juvonen who scored her first goal of the season with a header. The Cardinals went into halftime with a 4-0 lead.
"I think we just wanted it, I think we're a team of moments and we saw a big moment out there," head coach Nathan Kogut said. "We've got a team that's really, really good, and they were hungry today. It was nice to put a couple of good goals by, and it kind of allowed us to get through the emotion of senior day."
Southeastern Louisiana finally scored in the 66th minute off a corner kick, but the Lady Cardinals defense stayed strong throughout the end of the match, closing out the regular season with a 4-1 win.
The Cardinals finished the regular season 14-2-2 overall, going undefeated in Southland Conference play with a 9-0-1 record.
Lamar received the Southland Conference regular season trophy from the SLC commissioner Chris Grant. The Cardinals got to lift the trophy and celebrate in front of their fans as they won their second-straight regular season championship.
The team will now turn its sights on retaining the Southland Conference tournament crown they won last year.
"It's about rest and recovery these next few days," Kogut said. "Give them the weekend off and we don't find out until Wednesday who we will play on Friday. It's about making sure we take care of us, because it really doesn't matter who we play at this point, we just have to be ready to roll on Friday afternoon."
Lamar received a bye in the first round and will face off against the winner of Northwestern State and Texas A&M-Corpus Christi, Nov. 3, in Corpus Christi.