Lamar University is celebrating its 100th anniversary. It is a time to look to the future. But sometimes, it's fun to look at the past. A search through the University Press archives turns up some interesting features that maybe we wouldn't think of doing today.
In the early to mid-1950s, college girls seemed to be interested in more than just an education. And boys were interested in more than a girl's education. Photographer Frank Cricchio earned a degree from what was then Lamar State College in 1957. While here, he practiced his craft by shooting pin-ups for The Redbird, the school's student newspaper.
Cricchio, who died in 2021, went on to be an internationally recognized portrait photographer, even being recognized by the United Nations. But he got his start by turning his lens on his female classmates. And they were happy to model for him.
Let's step back to the '50s and check out some of Cricchio's pin-up features:
February 18, 1953
Jeanette Greer, Pin Up Shoots it Up for W.W.
By Frank Cricchio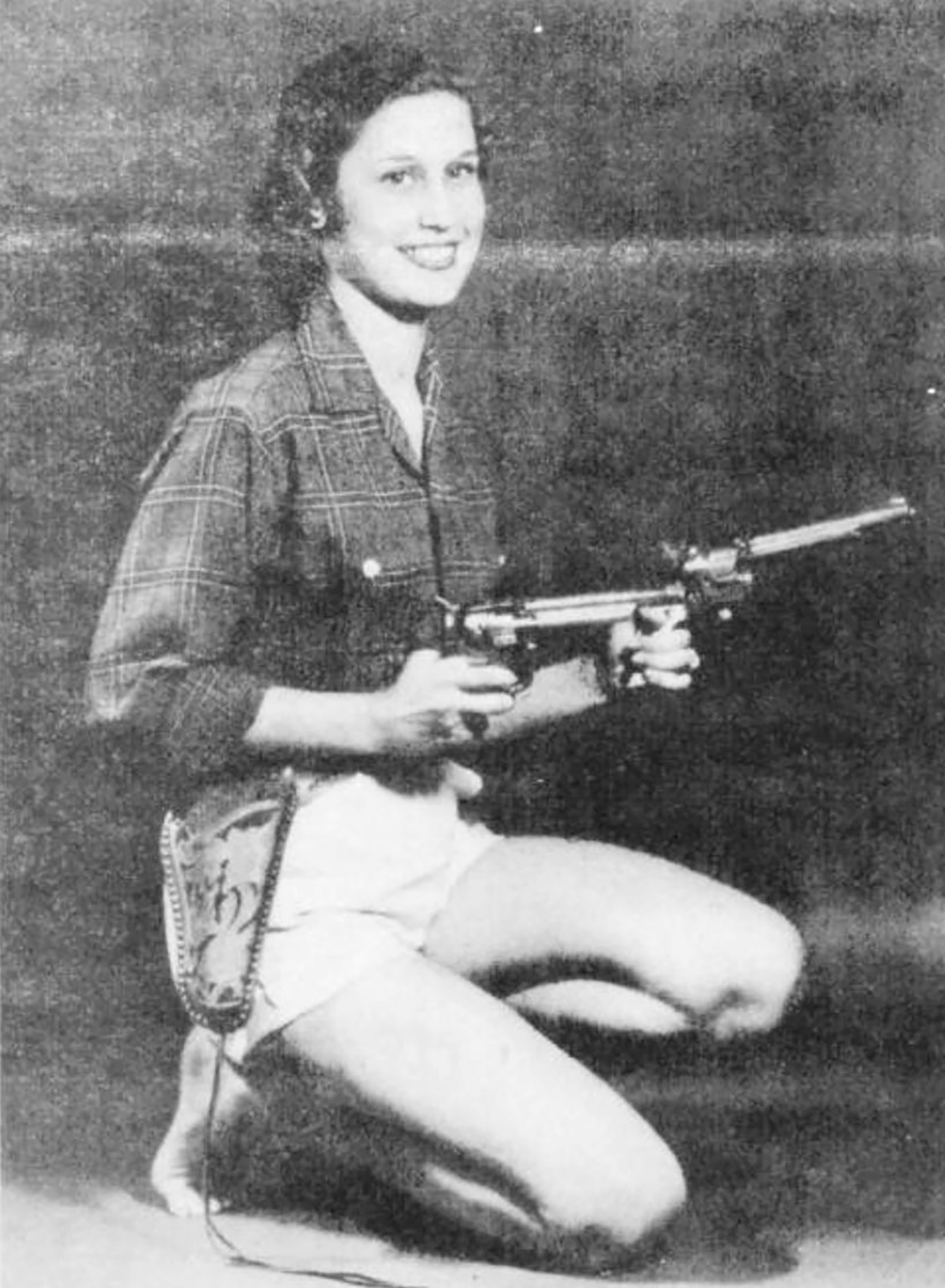 Hi, gang. This is the first of a series of pin ups that will be featured in The Redbird the rest of the semester. (That is until I get drafted.)
Each week there will be someone different. You can cut the picture out and pin it on your wall or just admire the girl when you see her on the campus. If you wish, I'll put the original "pin Up" in one of the display windows in the union. Jeanette Greer, our first pin up, is a sophomore business major from groves. Her main interest at the moment is recuperating from Wester Week.
Her Vital Statistics are: HEIGHT, 5'4"; never read a Kinsey report, or been 20 years old; EYES, blue; likes to dance; HAIR, blond; enjoys shooting six-guns and "loves bunny rabbits."
In front of Jeanette's house there is a sign that reads, "Speed Limit 30 MPH." The State Officials haven't figured out 'til this day why everyone stops at this speed sign. Jeanette's picture has brought new evidence to the case. —Agree? If you like the idea of a "Pin Up of the Week," when you see me let me know.
October 21, 1955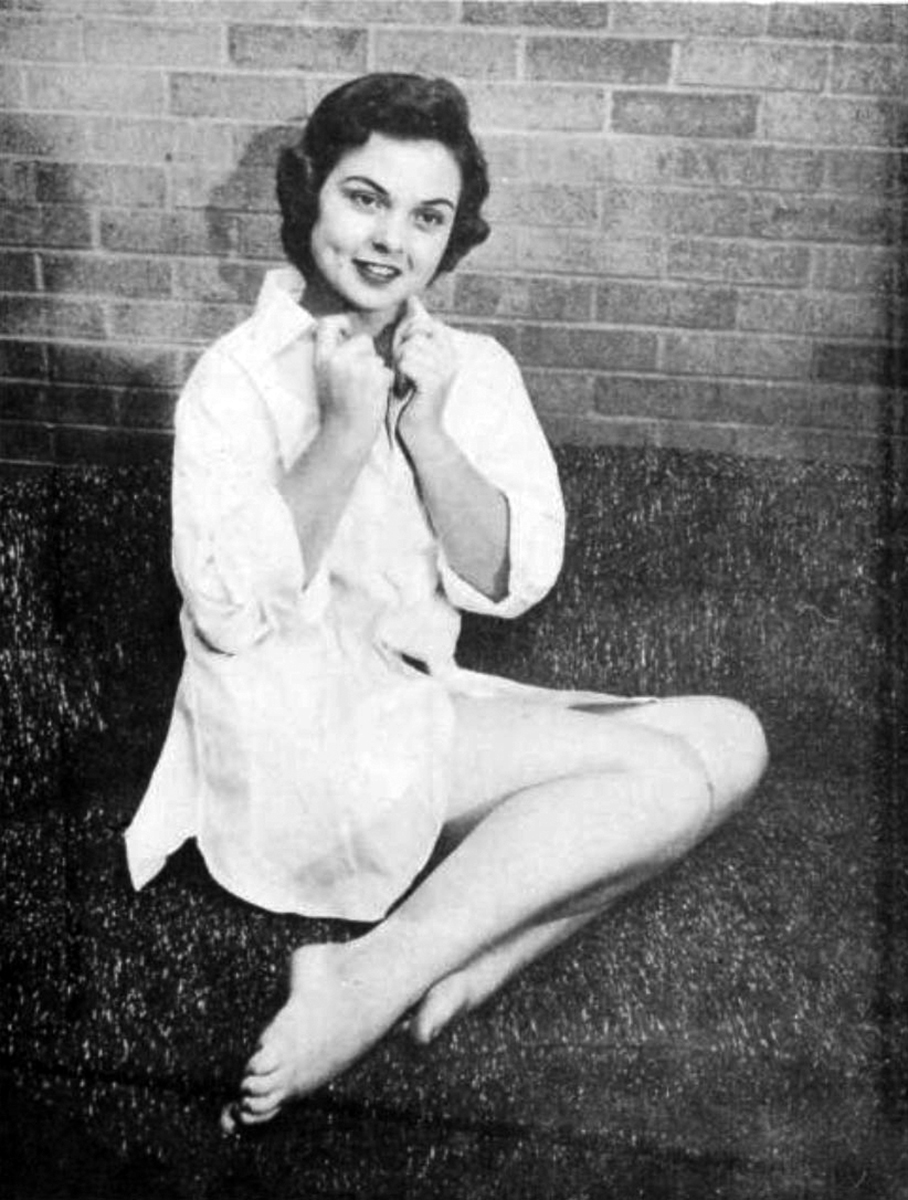 Carolyn's nuckle or Carolyn's knee. Oh! Where will Carolyn's dimple be? Carolyn Reese is this week's Pin Up. She is a freshmen education major from Orange who loves to travel and to dance. Carolyn stands 5'4" tall and tips the scales at 110. Her vital statistics are 34-24-36. She is a resident of West Hall, Section B, Room 103. Call anytime after 4 p.m. and she will tell you—who me?—Copy by Cricchio; Photo by Pearson.
April 29, 1955
Liz Likes Letter 'S' Wants to be Secretary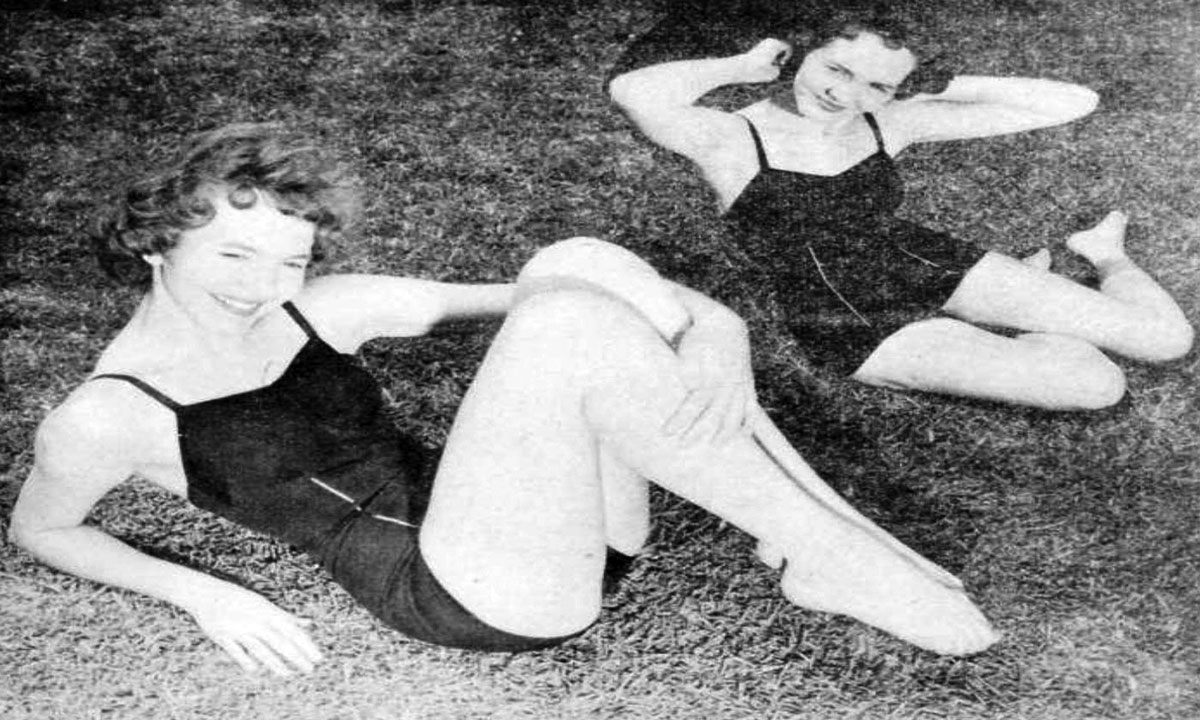 (Photos by James Bruce and Ed Pearson)
Liz Benton, this week's Pin Up, likes "S's." She likes shrimp and strawberry shortcake, sewing and swimming, Southern Belles and Shirts and Skirts, sophomores (that's her classification) and secretaries (she's running for junior class secretary).
Liz, who stands 5'9", is sophomore vice president and also a member of Nu Phi Mu and Management club. She sells toys at Grady's Toy store (and all the little boys and girls just adore her!).
She's a rarity among Redbird Pin Ups. Liz goes steady, with an "S" of course, Carl Schreiber.
She likes to cook and bake, especially cakes ('cause cake mix is so easy to use). She feels she might be a trifle dense, for she doesn't understand the Kinsey report at all, but she's happy.
Smiling Lizzy-Beth was "tickled pink" to be chosen Pin Up; James and Ed were "tickled pink" to be able to photograph (35-21 ½-37) her.
October 28, 1955
Witches Howl At Halloween
And men howl at Jo Ann Albert, this week's Pin Up. Jo Ann is a freshman secretarial science major from Port Arthur. She tips the scales at 107; and, when standing with three inch heels, she is 5'5 ½' tall. With her brown hair and dark brown eyes, Jo Ann is able to knock a Lamar Tech male student over at a distance of five feet. To aid her beauty she has the following vital statistics: 34-23-36. And the vital phone number is Port Arthur, Yu 3-7106.—Photo by Cricchio.
March 11, 1955
Jo Ann Smiles Prettily, Poses Before Leaving on Band Tour
By Frank Cricchio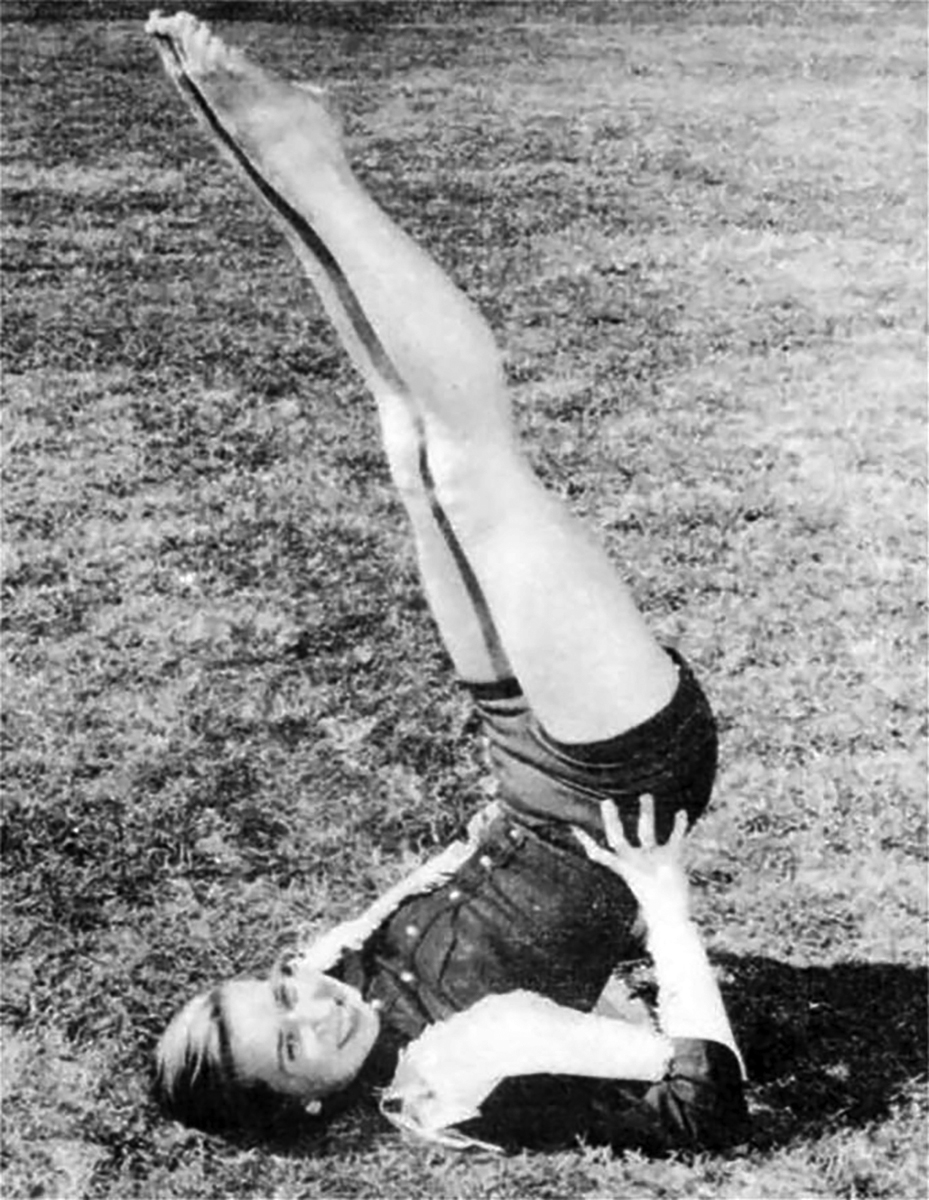 Miss Jo Ann Ruff, with her toes in the air and her body curled around, is still able to smile for the photographers for this week's pin up. 
Jo Ann, who intends to get her C.P.A. ("can't pass accounting"), is a freshman accounting major from Beaumont. Her vital statistics are 34-23-34 ½.
Jo Ann is a member of the Revelers, La Petite and a majorette in the great Lamar Tech band.
The things she loves best are dancing and playing games of chance at Monte Carlo. She also enjoys riding the rolling coaster and the loop-o planes. In the field of sports she loves to ride horses. When asked if she has ever been thrown off, she replied, "No, I've never been thrown off a horse, but ohhhhhh that bucking barrel.
Her favorite food is enchiladas and chile. She says that they taste best at two in the morning after dancing at the King's ball. (I wonder).
If you are a boy that is tall, enjoys dancing, has a good personality, polite and well mannered, with average looks, you may call 4-2420 and Jo Ann, "the upside down kid," will answer.