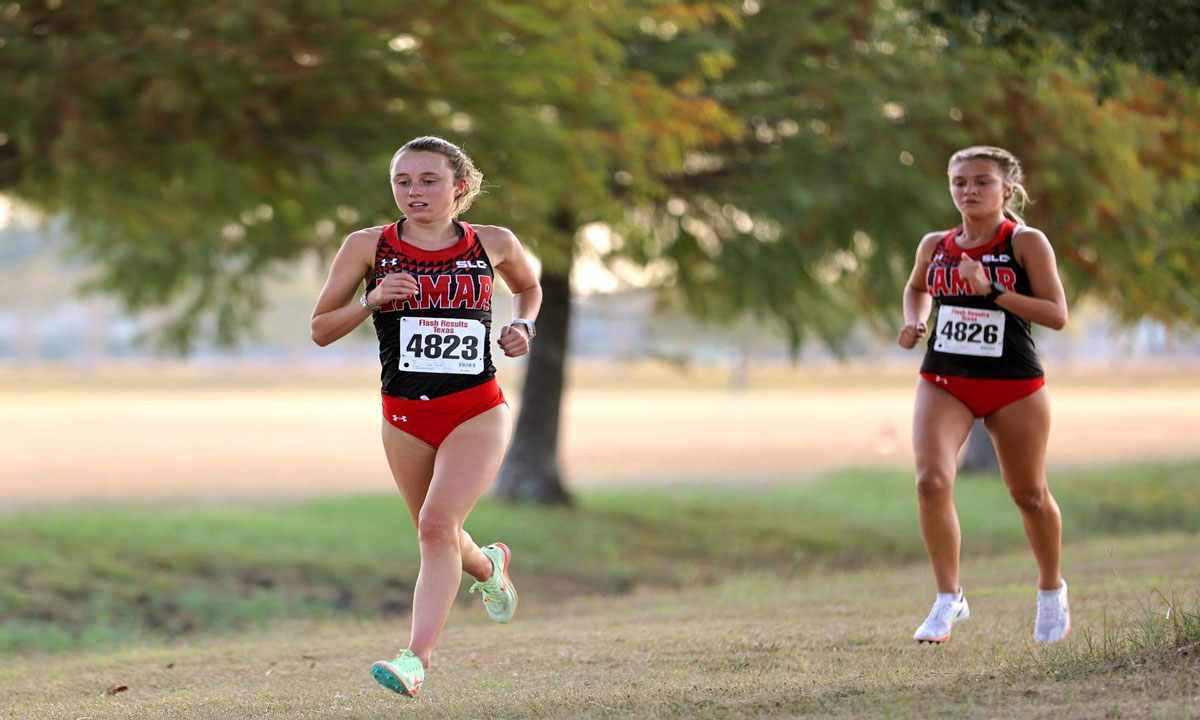 HOUSTON, Texas - Lamar University's cross country teams traveled to Houston to partake in the Rice University Invitational. For the women's squad, it was a joyous occasion as behind three top-10 finishes and a total of 65 points, the Cardinals edged out Rice, Texas A&M-Corpus Christi and Stephen F. Austin by one point to take first place overall back to Beaumont. 
LU's women had all seven runners finish in the top 40 in the 4K, which played a key role in earning the win. Nia Clatworthy led the way for LU by averaging a time of 5.55.5 per mile to claim third overall. She would cross the line at 14:45.1, which was nearly two seconds behind second place. Ashton Rainey (14:57.8) came within one second of finishing in the top five as she earned sixth place. Mykayla Mims became the third top-10 finisher for LU crossing the line in eighth place at 15:04.5. 
Making her Cardinal debut, Khylee Phillips claimed a top-20 spot in 19th place after a time of 15:35.5.  Haily Clegett (16:23.5) and Lauren Baur (16:24.4) were 30th and 31st respectively while last to cross for LU was Natalee Bergeron, who with a time of 16:49.5 for 36th placed higher than the remaining runners of the second place teams, which clinched the win. for LU. 

"It was an exciting meet for our women's squad," said assistant coach Andrew Sweeney. "We're very young and still a bit smaller of a group than we'd like, but we've been emphasizing pack running and a 'next woman up' mentality, and they executed well today. It's fun to watch them clicking this early."
Meanwhile, the men's squad had three runners in the top 20 as they earned fourth place with 108 points in the 5.2K, which was five points shy of medaling. For the second race in a row, it was  Jonathan Rivera who led the way by posting a 14th place finish at 16:28.4. Hayden Eubank (16:45.1) and Riley Trent (16:47.0) came within six-tenths of each as they both took 19th and 20th positions in the meet.
Aaron Saenz rounded the top 25 with a time of eight-tenths above 17 seconds flat. Adrian Hahn Vadstein (17:07.7), Alejandro Villalva (17:16.7), Geovany Cisneros (17:35.5), Ryan Servantes (17:59.7), and Raul Lopez (18:21.5) all would finish the race for the men's squad. 

"The men looked a bit flat today, but that's to be expected here and there at this point in the season," admits Coach Sweeney. "We're stacking up some quality training, and they've looked great in workouts, but it caught up to them today. I'm proud of the way they fought through discomfort and got a hard effort out of today."
The Cardinals will now get to rest up for three weeks as by the end of the month, they will make their way to Fayetteville, Ark., for the Chile Pepper Festival.