Lamar athletics honors past achievement while looking ahead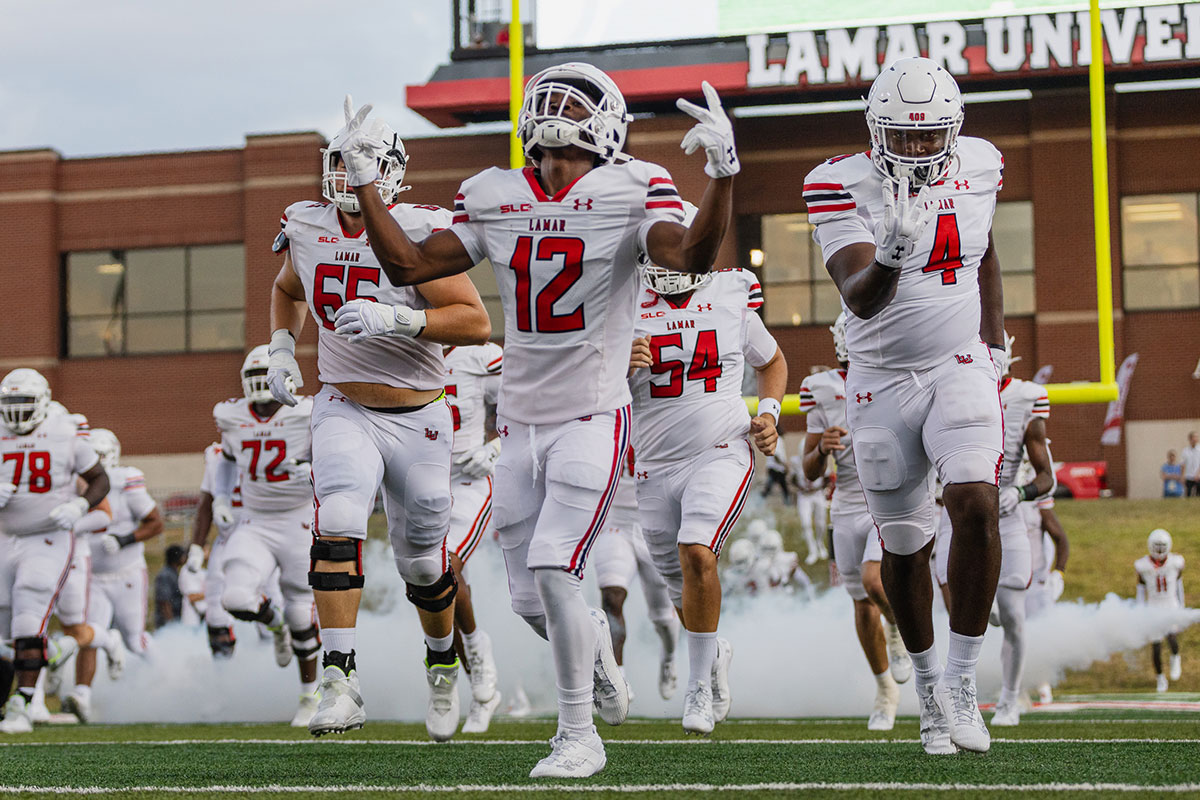 Throughout the 100 years since Lamar University's founding in 1923, sports have played an integral part of the college's story.
Whether it's baseball's dominant run under legendary manager Jim Gilligan, men's basketball making national waves in the late '70s and early '80s, or cross-country and golf ripping off dynastic runs across the 2000s, there's plenty of history in the Cardinal record books.
"There's certainly a long history of traditions and success here," LU athletic director Jeff O'Malley said. "We're looking to build upon the success that we've had, and take it to the next level to give our student athletes the best possible experience here.
"I really haven't stepped back to look at my job as the guardian of tradition, but when you put it that way, we certainly are. It's certainly a proud way to think of it."
Respecting a century of Lamar athletic history is a point of focus, especially this year. Team marketing materials have incorporated the centennial logo into their content, and Lamar's football helmets will sport a commemorative decal alongside the university logo as a nod to the Beaumont community.
O'Malley also recognized the importance of connecting with former Cardinal athletes and making them feel they're still part of the Lamar family.
"We love to welcome them back with open arms and show them around," O'Malley said. "They built the foundation of what Lamar athletics is now. If we can show them what their participation and success did at the time, and they see what we're doing now, (it makes) them feel proud about what they've done, I think that certainly goes a long way."
The athletics program can't live exclusively in the past, though. Being present in the moment and preparing for the future are both crucial. Thus, O'Malley and Lamar University President Jaime Taylor are working together to chase on-field success while improving the experience of student-athletes and fans alike.
Lamar's transition back to the Southland Conference a year and a half ago was an encouraging sign for the future.
Since then, women's soccer and track & field have claimed conference championships. Cardinal baseball, cross-country, and women's basketball are consistent challengers. Football and men's hoops have reason to be optimistic with the direction the programs are headed.
Off the playing field, significant improvements have been made to LU athletics facilities. Provost Umphrey Stadium received an impressive new video board and sound system. Upgraded lighting and a new basketball court were installed at the Montagne Center, with video board and sound system updates yet to come.
"Those things help to present a first class atmosphere for our student-athletes and for our fans," O'Malley said. "If you're trying to be first class, you need to present yourself in a first-class manner. That's certainly something that we want to do."
Of course, the landscape of college athletics is constantly changing — and folks, it moves fast.
Television and streaming rights have created a world where other universities throw out longstanding tradition and regional conference ties in the pursuit of the almighty dollar. Texas and Oklahoma are on their way to the Southeastern Conference and the Atlantic Coastal Conference is welcoming Pacific-coast schools. Realignment has decimated the PAC-12, which should more appropriately be named the PAC-4.
Meanwhile, name, image and likeness laws allow players to profit off their talents. While this much-needed change was a long time coming, it creates a perhaps unfair advantage for the schools with the wealthiest donors.
The NCAA's rapid transformation leaves the future of college athletics in somewhat murky waters. Frankly, it's impossible to predict what other changes may occur in the coming years.
"I don't know what the future is going to look like," O'Malley said. "I think there's a lot of people that feel the same way, especially with NIL and conference realignment. The one thing that I'm certain of is that it's going to continue to evolve.
"But from our standpoint of where Lamar is in the Southland, I think we're in a really good spot with our league under the leadership of Commissioner (Chris) Grant. We have a lot of like-minded institutions in our league. We seem to be on the same page a lot and I think that bodes really well for the cohesiveness of the Southland Conference."