Showcase of Southeast Texas plays popular hits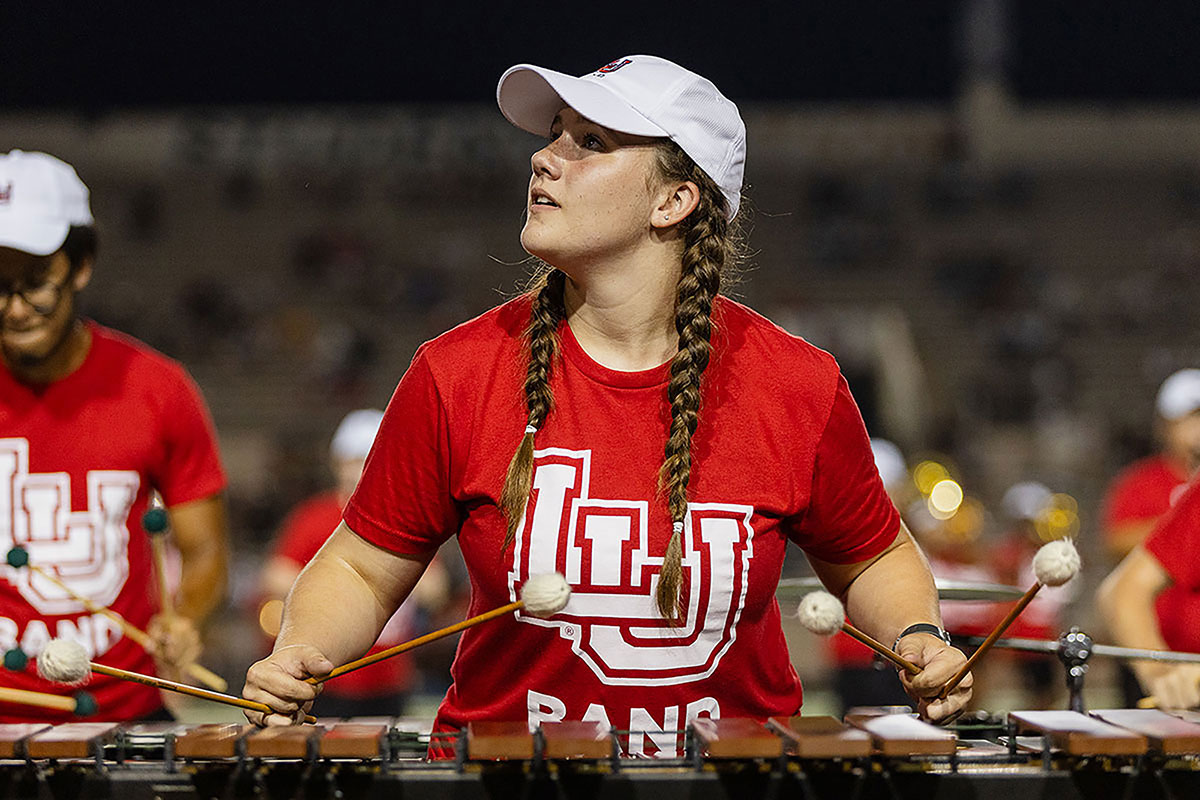 The Lamar University marching band is a staple of campus life, from football to pep rallies, and every school celebration event.
The band was originally known as "The Grandest Band in the Land," but in 1989, when LU's football program was stopped, the marching band went with it. However, when football returned in the fall of 2010, the band marched back, now rebranded as "The Showcase of Southeast Texas."
In 2014, Eric Shannon was hired as the director of athletic bands.
"I think Lamar already had a fantastic foundation for the band, with the history that we have with Dr. Barry Johnson and Dr. (Jimmy) Simmons," Shannon said. "And then before all of them, the man that really kicked it all off was Charles Pete Wiley. We have been able to build a lot upon that, having the band back."
When Shannon arrived at Lamar, the band had only returned for a few years, which meant everything was still brand new, he said.
"There wasn't a pregame show that we were set on," Shannon said. "There were not a lot of traditional elements either, like the spell out cadence like we came up with, 'Showcase Fanfare,' which a student wrote, and 'NRG.' All of it got made up over the first four or five years. Since then, we've just continued to tweak it every year.
"We've had the same band staff together for several senior classes, so that consistency helps us not necessarily build on top of history, but build on top of ourselves. From what (we've) learned going through this journey over and over and over again, is to try to make things more comfortable or more efficient."
This year, the Showcase's halftime show is called "Centennial Celebration," with music and narration telling Lamar's history. Music includes "Into the Woods," "Let's Get It Started/It Don't Mean A Thing," "Cadillac of the Skies," "Fortunate Son/Disco Inferno/Thriller," and "Till the World Ends." Each of piece has a specific era in mind, and how Lamar played its role throughout the past century.
"Picking this show was really hard, but I knew that this was an opportunity that I didn't want to miss," Shannon said. "I think, in a lot of people's psychology, if something's 100 years old, there's even more gravitas, and it's a bigger deal. So, I put pressure on myself to find something that could really celebrate our centennial, but do it in a way that was enjoyable for the current band students, for the majority of the target audience, or people going to the band competitions, where we will perform exhibitions.
"We want it to be like a college band, meaning that we played recognizable music. But a lot of music that would be really recognizable to people now wouldn't really be from the 1920s, '30s or '40s. You'd have to start in the '50s or after."
Shannon said the process took about six weeks, as he listened to a lot of different music, wanting to use pieces from different arrangers.
"I wanted to start with my favorite arranger right now, Scott Boerma," he said. "He's done a lot of great arranging for drum corps and for college bands. We've played a lot of his pieces over the years and I really wanted it to be how he does them, but there was going to be so much complexity in fusing the different sources of music, that he couldn't take on the project. But, he had a student, Andy Putnam, that he trusts with arrangement, and he let him modify his own preexisting ones. 'Into The Woods' was one of his originals, which we played a different part of that movement in 2017."
The band will tease their pieces during Centennial Fest, 4 p.m. to 7:30 p.m., Sept. 17, in the Quad. But for the full effect, one should check out the routine during Cardinal football home games.
For more information, visit lamar.edu/marchingband.