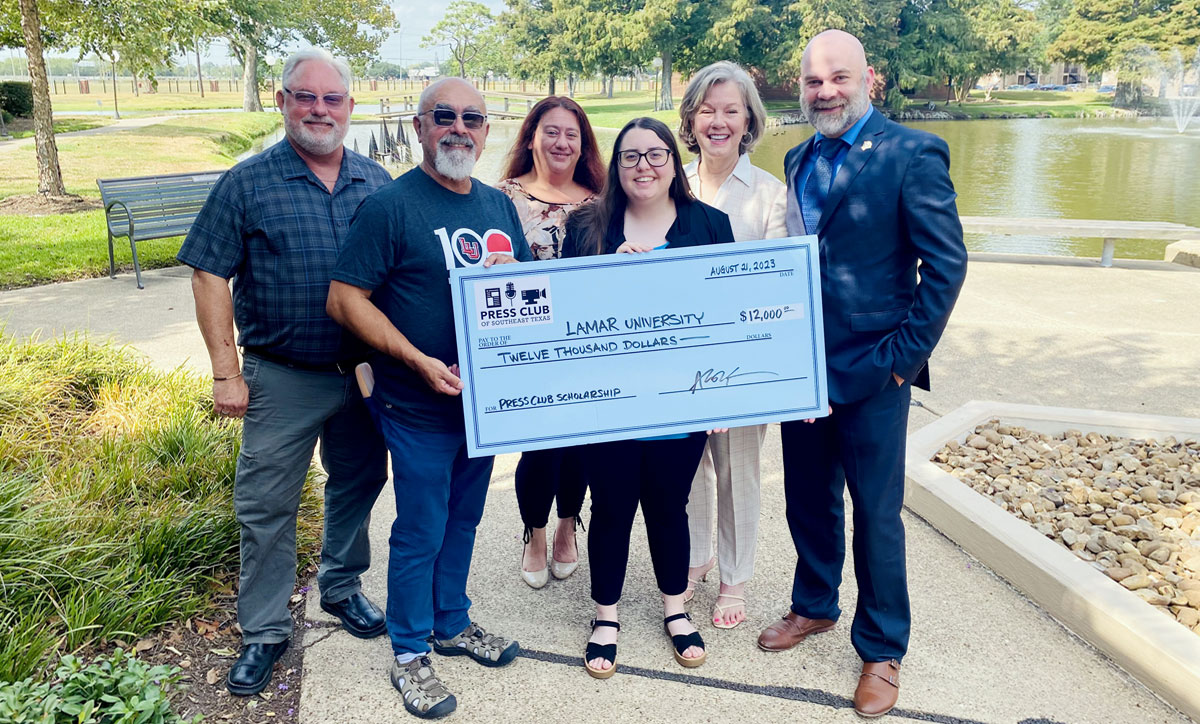 The Press Club of Southeast Texas presented its annual donation to the Lamar University Foundation, Aug. 21.
The club has awarded a scholarship annually since 1996 to an outstanding student in the field of communication and media. Past winners include professionals in print journalism, television and public relations, as well as many other professional fields.
This year's Press Club of Southeast Texas Memorial Scholarship winner is Madelyn Sims, who said this scholarship was a surprising, but amazing achievement.
"I'm really honored to have won," she said. "I've been working with the University Press for two years now, and this scholarship feels like a physical representation of how much I've done."
Joanne Brown, major gifts officer for the Lamar University Foundation, accepted the donation, saying the scholarship is special.
"It's important to recognize Lamar leaders who are members of the Press Club," she said. "(Director of student Publications) Andy Coughlan and (adviser) Stephan Malick are not simply imparting knowledge; they are leading through generosity in changing lives."
Golden Wright, dean of the College of Fine Arts and Communication, said he is grateful for the Press Club's support of Communication & Media students.
"I have seen first-hand how this annual scholarship provides the funds to help students explore their potential and follow their dreams," he said.
The Press Club Memorial Scholarship is funded by an endowment and the club raises funds annually through its Excellence in the Media contest and awards banquet, held each June, and through memberships.
Andy Coughlan, Press Club president, said the club takes seriously its obligation to encourage the next generation of media professionals.
"Being able to see the direct benefits the scholarship has on the students is the most rewarding part of being Press Club president," he said. "The recipients represent the best qualities of media and communication."
To become a Press Club member, visit pressclubofsoutheasttexas.org.