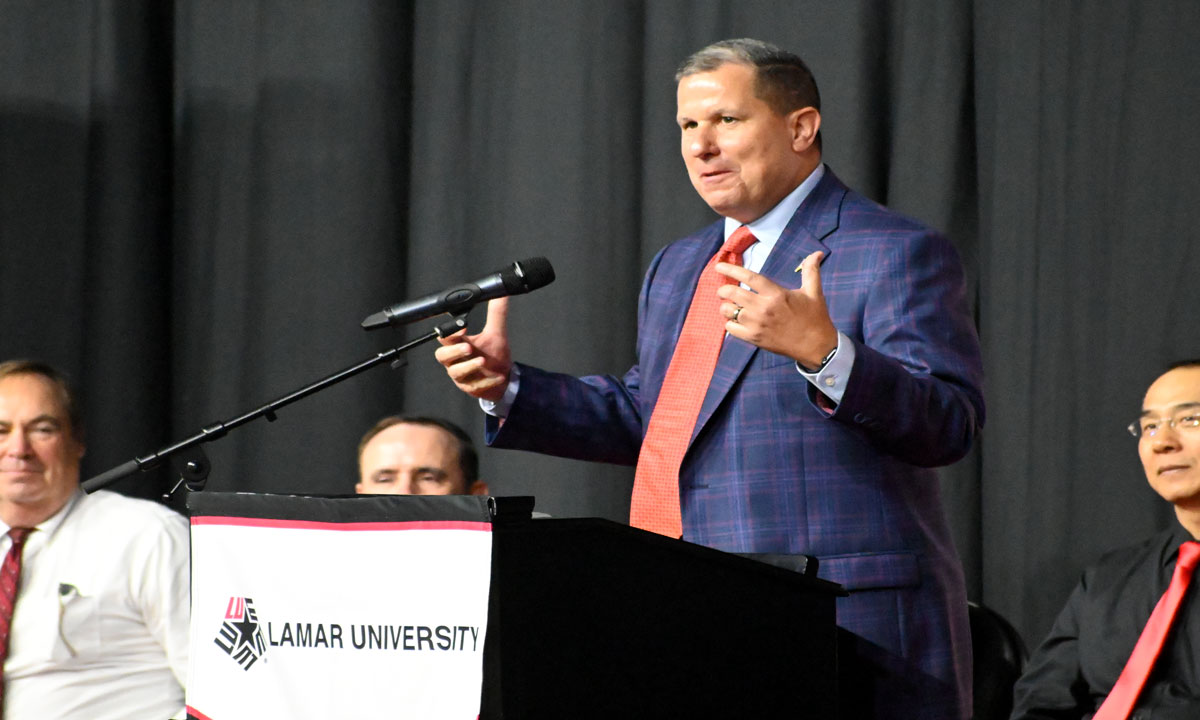 Lamar University athletic director Jeff O'Malley was among speakers at the fall 2023 convocation, Aug. 14, in the Montagne Center.
O'Malley, now in his second year guiding Cardinal athletics, gave an update about the state of Lamar's athletic programs and facilities ahead of the fall semester.
"This begins the journey that so many of our student athletes spend so many hours preparing for all year," he said. "We get to watch them train and compete in sports that they love. And we get to watch them succeed not only in athletics but also in the classroom."
O'Malley recapped Lamar's successes from last year. 
Women's soccer won the Southland Conference Championship and advanced to the NCAA tournament. Women's outdoor track also won a Southland Championship, while women's cross-country and indoor track teams both finished second in the league.
O'Malley said LU finished second in the Southland Conference Commissioner's Cup standings — an award given to the best overall athletic program in the league. The Cardinals also won the women's Commissioner's Cup outright for the first time ever.
"Now, we turn the page to '23-'24," O'Malley said. "We enter this year with a tremendous amount of enthusiasm. We have a new football coach in coach (Peter) Rossamondo and he brought new energy, culture and accountability that has been infectious to the department and the city.
"Women's soccer is picked No. 1 in the Southland conference preseason poll, and volleyball has many newcomers on the team as Coach (Brandon) Crisp begins his second year with the program."
The Lamar AD also detailed the upgrades which have been installed to several on-campus athletic facilities. O'Malley said Provost-Umphrey stadium received a new video board and sound system just in time for football season. 
The Montagne Center received new lighting, with a new basketball court, video board and sound system to be installed later in the fall.
"Efficiency doesn't happen without collaboration," O'Malley said. "All of these changes are happening with the help of many people in departments across this great campus. We have spent most of the year working to set the table for a positive experience for our student athletes, and we couldn't have done it without all of you."
O'Malley encouraged the LU community to support the student athletes as LU enters its 100th year.