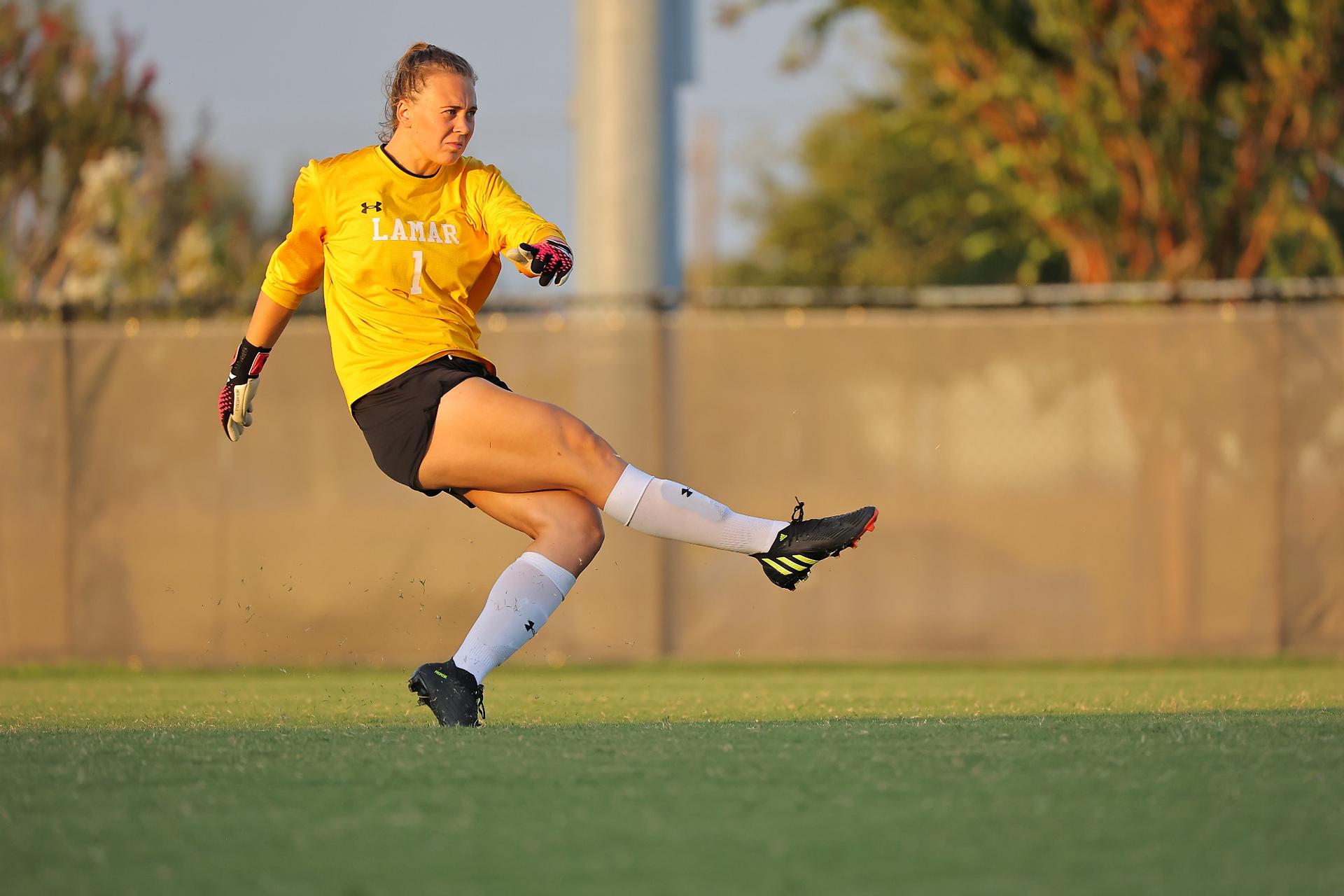 Lamar University's soccer team found themselves in a dilemma with under five minutes to go against Sam Houston. Forced to finish the match with 10 players on the field, LU, who had fired up 14 shots to that point, appeared to be heading to a second straight game without a goal. Then, with a cross from Arely Alaniz and a fortunate deflection off a Bearkat defender in the final minute, the Cardinals escaped Huntsville with a thrilling 1-0 victory.
Big Red finished with 15 shots, including nine on goal through the 90-minute match. Cariel Ellis and Hollie Massey each put up a team-high four shots while Alaniz recorded three shots. Isela Ramirez, Kaunay Sousa, Maddie Janolo, and Laura Linares would also pick up a shot in the game. Nicole Panis managed three saves in the game. 
While the first half would see LU outshoot the Bearkats 5-1 with two shots on goal, they were also efficient in creating five of the six corner kick opportunities. But at the start of the second half, SHSU fired three shots in a row, which Panis managed to save two while the third was off-target. LU responded with two shot opportunities, both of which were saved by the Bearkats' keeper. 
As the contest went deep into the final stages, Big Red continued to apply the pressure while also forcing SHSU to pick up two yellows. Two more great chances for LU were denied by the SHSU keeper and the crossbar. Then, in the 85th minute, a second yellow on the Cardinals meant they would be one player short for the rest of the match. 
Luckily, the Cardinals would get a great cross from Alaniz, which the ball was deflected off for an own goal giving LU the lead under a minute-and-a-half to go. That was all the Cardinals needed as they would hold off the Bearkats to secure their first win of the season.
"It's always tough to go on the road and get a result, especially in an interstate rivalry match up," said head coach Nathan Kogut. "I've always said that winning is incredibly hard, and we made it harder on ourselves at times tonight, but I'm pleased that we dug deep down a player to get that first win of the year. All the credit to Sam Houston who made it difficult tonight. We will work on things and get ready for Sunday afternoon" 
Big Red will look to get their second straight win as they will hit the road this Sunday to take on Grambling at 5:00 p.m.