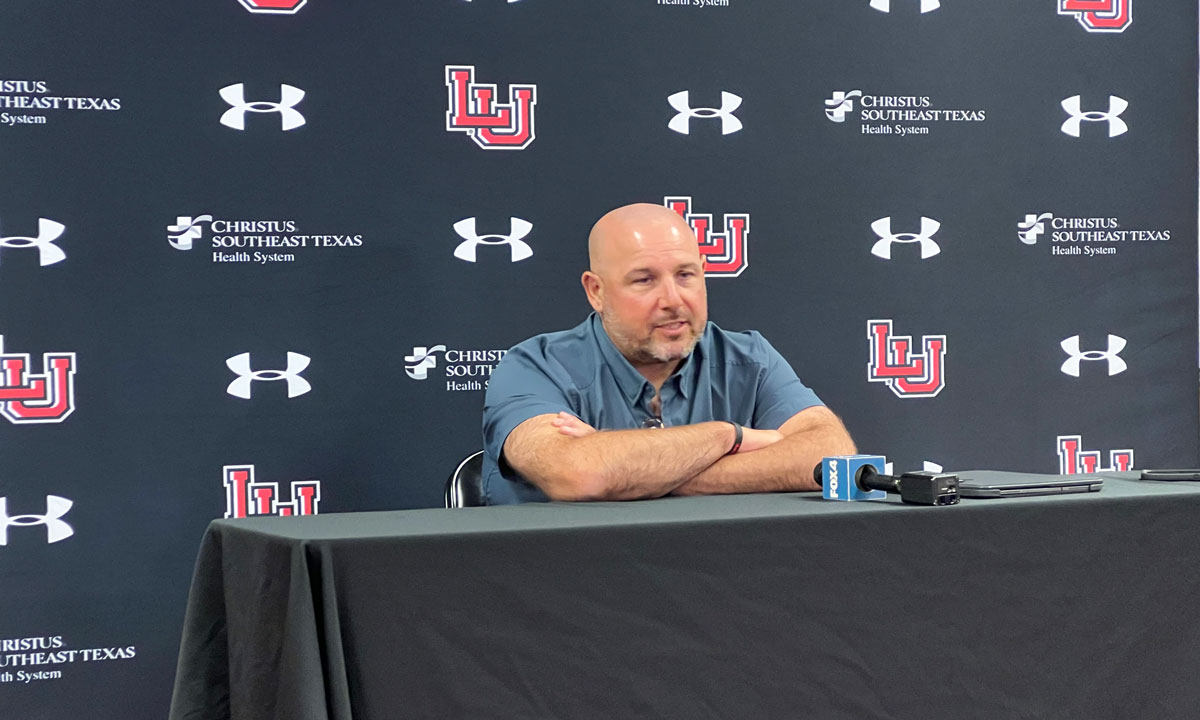 The wait is over — college football is back in Beaumont.
The Lamar Cardinals kick off the 2023 campaign at Provost Umphrey Stadium vs. the Idaho Vandals, Aug. 31. The contest represents more than just the start of a new season, though.
It's the dawn of a new era for Cardinal football.
The season opener marks the official debut of Lamar head coach Pete Rossomando, who took over the program last December. 
Rossomando garnered national recognition for turning multiple Football Championship Subdivision and Division II programs into perennial conference contenders. That vision has remained the same since arriving at Lamar, where the 2012 National Division II Coach of the Year has headlined a total culture reset.
Thursday night's opponent will be the first major test for this Cardinal team — Idaho is coming off a playoff appearance and sits 13th in the FCS Coaches Poll.
"From the frying pan into the fire," Rossomando said at his press conference, Aug. 28. "Idaho is going to be a great measuring stick for us Thursday night."
The Vandals' offense averaged 36 points a game last season and return nearly all of their key players, including a talented offensive duo in quarterback Gevani McCoy and wide receiver Hayden Hatten.
McCoy threw for more than 2,700 yards and scored 30 total touchdowns last season, earning the FCS National Freshman of the Year award. His running mate, Hatten, caught 83 passes for 1,209 yards and 16 touchdowns to earn a First Team FCS All-American nod.
Idaho receiver Jermaine Jackson also broke the 1,000-yard mark last season, making the Vandals the only FCS team to return two 1,000-yard receivers. 
All things considered, Lamar's defense will have their hands full — especially the secondary. However, Rossomando believes the back half of his defense is one of the unit's strengths. Defensive backs Kristian Pugh and Ramond Stevens were both preseason Southland All-Conference picks.
The hope is that LU's secondary can hang with Idaho's receiving corps, particularly in man coverage. If they can, the Cardinals' pass rush can put more pressure on McCoy, who seems to be most comfortable throwing from the pocket. 
"We've got to play great team defense," Rossomando said. "There's no other way. You can't get beat by a big play. (Idaho) lived on the big play last year and that's what got them into some of those situations where they can win some games."
On the other side of the ball, Lamar has talent of their own. Sevonne Rhea earned a preseason All-Conference nod and is expected to be the Cardinals' leading receiver. Kyndon Fuselier is likely to see plenty of snaps.
The running back room is deep, which will be crucial to the smash-mouth style of football Rossomando wants to play. R.J Carver and Damashja Harris are likely options 1A and 1B in the backfield committee, with Major Bowden possibly carving out a pass-catching role.
There is one big question yet to be answered, though. Rossomando said the starting quarterback job remains up for grabs — sophomore Jakolby Longino and junior transfer Robert Coleman are neck-and-neck in a position battle.
Both looked impressive in the Cardinals' final scrimmage. Longino completed 16-of-18 passes for 105 yards and two touchdowns, also rushing for another two scores. Coleman threw for 89 yards and a touchdown on 11 attempts.
Regardless of who starts under center, Lamar has a puncher's chance come Thursday night. Conditions are brewing for a potential upset.
The Vandals likely have LU penned as an easy win. Idaho is 1,682 miles from home with anticipated temperatures in the mid-90s at 7 p.m. kickoff. If Lamar gives them more trouble than expected, Idaho's players could easily become frustrated — it'll be up to the Cardinals to capitalize on any mistakes.
"I think our team will be ready," Rossomando said. "I love where our guys' heads are at right now as far as the way they're preparing. I don't think that'll be an issue. Let's see if we've come far enough to make our fans and our alumni and donors feel happy about where Lamar's going and show some progress."
Kickoff is slated for 7 p.m. at Provost Umphrey Stadium in Beaumont. Tickets are available at the gate.  The game will also stream live on ESPN+.