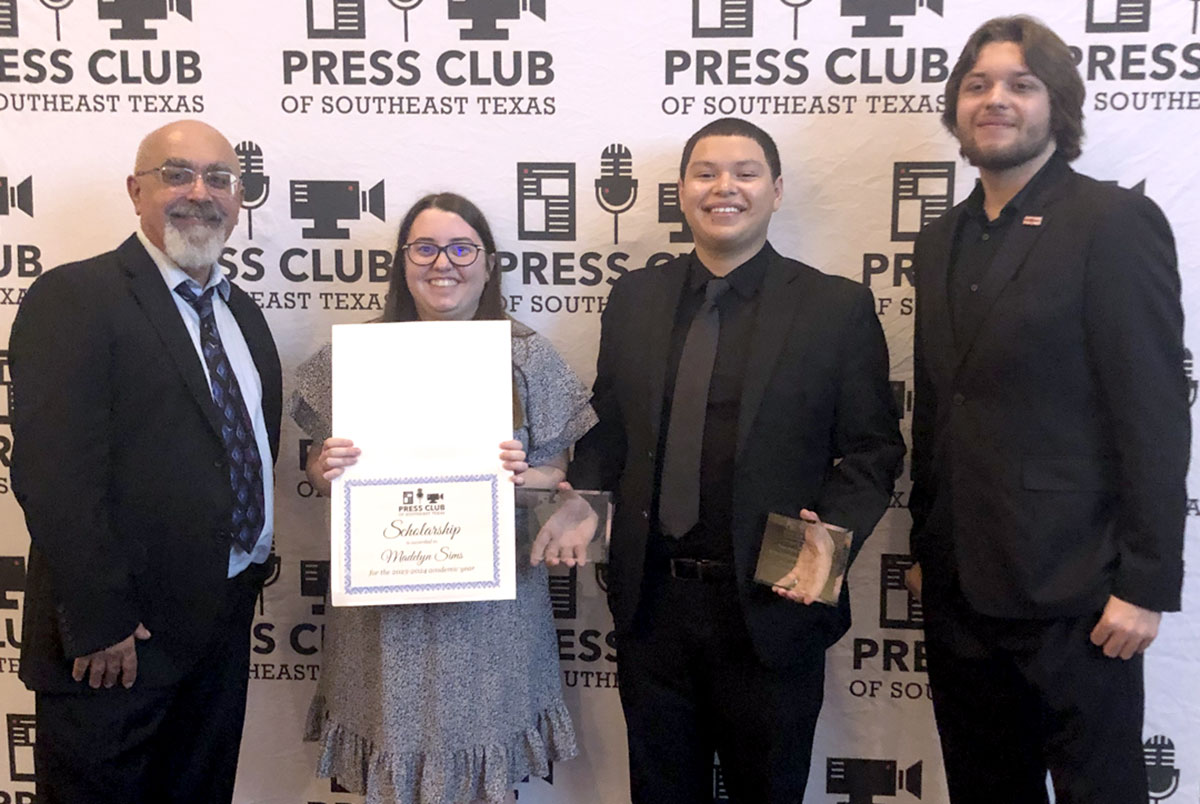 Lamar University students earned 16 honors at the Press Club of Southeast Texas Excellence in Media awards, presented at the organization's annual Newsmaker of the Year banquet, June 2. The University Press earned three first-place awards for work published in 2022.
"It is always exciting to see the students do well against local professionals," Director of Student Publications Andy Coughlan said. "As the University Press and LUTV students grow their skills, it is important for them to test themselves to see their progress. There are no student categories, so they compete on equal footing with professionals. It is encouraging to see them do so well."
UP Photo Editor Brian Quijada earned first place in the Travel Writing category for "Living in the Quarter," his story package documenting street life in New Orleans. The judge wrote, "An interesting take on what is typically a very mass-produced, bourgeois category. Travel writing is an interesting (and sometimes snobbish) genre of journalism, and it's typically afforded by those who work for organizations with big budgets. The entries here were written by two people who went somewhere and took notes — I like that approach much more."
Quijada also placed first in the Photo Essay category for their work during LU's Homecoming. The judge wrote, "Being able to be a fly on the wall is tough these days. Brian is able to really disappear in a scene and capture real moments with great light. Also enjoyed the variety of shots, angles and subject matter."
University Press contributor Vanessa Guerrero placed first in the Magazine Feature Photo category for her work in the paper's UPbeat magazine. The judge wrote, "It's the simple joys that make for strong feature photos. A board game, someone making a joke or telling a funny story — these are the photos that we need to see to remind us of all the good that remains."
Second place awards went to UP Sports Editor Keagan Smith for Column Writing, contributor Madelyn Blackshear for Magazine Layout, and Quijada for a second Photo Essay.
LUTV students Taylor Justice and Patrick Scott earned second places for Broadcast Internet Video and General news respectively.
Third places awards went to UP Managing Editor Maddie Sims for Magazine Feature and Fine Arts Review. Quijada placed second in the News Photo category, and the UP staff placed second in Newspaper Layout.
LUTV students Khalaya Coleman, Nick Northrup, Taylor Justice, earned second for Non-News Broadcast. Communication student Shane Brown placed second in Photo Essay for his work with The Art Studio, Inc.
Honorable mentions went to Quijada, Smith and Sims for What's UP, the UP's podcast. Sims and Tim Cohrs shared an award for column writing.
Sims was named Press Club of Southeast Texas Scholarship recipient for the 2023-24 school year with a $10,000 award.
"I had no idea I was going to win this award, it was a pleasant surprise," Sims said. "I've been working at the University Press for two years now, and it feels so special to be recognized for my accomplishments in the journalism field. It is definitely the highlight of my year."
LU department of communication and media advisers and staff also earned awards for their work in the community. LUTV director Gordon Williams and the student staff earned first place for the Documentary, "They Will Talk About Us." Williams also earned Honorable Mention for Radio Talk Show for his work at 91.3 KVLU. Lamar University's 91.3 KVLU public radio station also earned four awards for its "Bayoulands" series.
Coughlan earned 12 awards for his arts and entertainment contributions to The Beaumont Enterprise, including four first places for Magazine Writing Portfolio, Magazine News Story, Guest Column and Fine Arts Review.
"I think it is important that the communications and media advisers and staff lead by example," Coughlan said. "When the students see their advisors winning awards, it gives credibility to what we are trying to teach them, that we know what we're doing."
Orange County philanthropist Gisela Houseman was named the Press Club's Newsmaker of the Year from a list of finalists that included Coach David Green of Beaumont United; Shannon Allen, BISD superintendent; BPD's Sgt. Bobby Anderson; and State Rep. Christian Manuel.
The Press Club draws its membership from Jefferson, Orange, Hardin, Liberty, Chambers, Jasper, Tyler, Polk and Newton counties. Press Club members are professionals in media, public relations, academia, public affairs, and corporate communication and public information.
For a full list of winners, visit pressclubofsoutheasttexas.org.