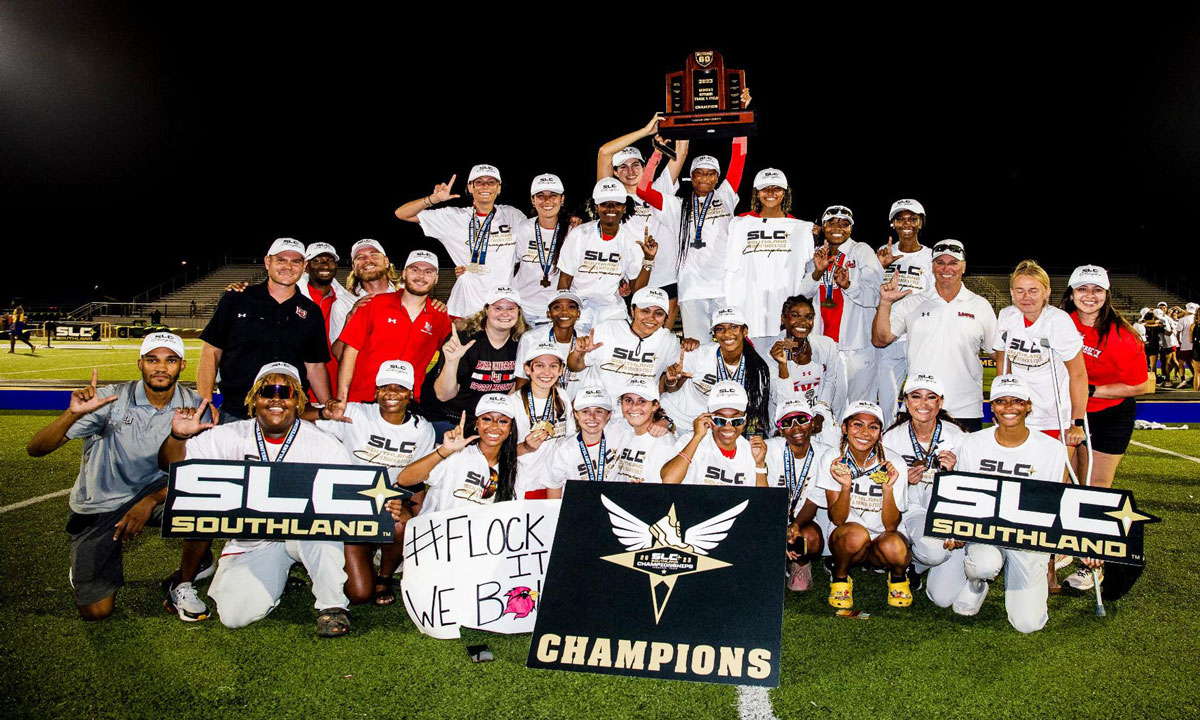 COMMERCE, Texas - It seemed to be deja vu for Lamar University's women's track and field team on the final day of the Southland Conference Outdoor Track & Field Championships. With a championship on the line, they found themselves in a titanic battle with Northwestern State coming down to the final events. But when Jillian Howard crossed the line in fourth place in the 5000m final, history was made. For the first time ever, LU's women's track and field team won the conference title.

With 155 points, LU finished ahead of NSU by 10 points in total for the 21 events that were scored. Prior to this year, the best finish in program history was back in 1986, their first year as a program. Meanwhile, the men's team would wind up taking eighth place with UIW earning the overall men's championship with 52 points to edge out Houston Christian by one. Collectively throughout the meet, LU earned 17 medals (six gold, six silver, five bronze).

LU's women's team started the day up 11 points, which shrunk to two following the discus throw. But Crisstin Riley made sure the double-digit lead was back as she won the triple jump with a dominating personal best of 12.94m (42'5.5") that also made her 21st in the NCAA West Region. Adding to the points total was Arajanee Jackson, who finished fifth with a personal best of 12.41m. That puts her as second all-time in the event.

As the attention shifted to the track portion, the 4x100m relay squad of Brianna Howard, Kayla Smith, Kayli Johnson, and Sydne Porter smashed the school record with a time of 45.06 seconds, which was enough for them to take the silver medal. Johnson added another school record and second place finish when in the finals of the 100m hurdles, she blasted her way to 13.63 seconds and 42nd best time in all of the NCAA West Region. Parl Eelma would finish fourth with 14.13 seconds in the same event.

It was three-on-one in the women's 200m finals as Porter held off three Northwestern State runners to win the title. Porter's time of 23.60 was .13 seconds faster than the trio of Demons combined. But their second through fourth place finishes would trim LU's margin down and it suddenly became a two-team battle.

The 400m finals saw LU have a top three finisher in each side as Faith Outing took third with a school record and personal best 53.51 seconds. On the men's side, Chin took second place at 46.70 seconds to set a new personal record and seventh fastest in school history. On the 400m hurdles side, Chloe Rodriguez took care of business winning that event by .33 seconds.

Last night had seen Yasmin Austridge claim the 3000m steeplechase title and on Saturday, she looked for her second conference title. On the day when a certain prince would be crowned king of England, Austridge would be crowned queen of the women's 800m finals as she finished with a 2:09.96 time to add to her legacy.

Much like the indoor championships, it was down to LU against NSU. With only two scoring events to go, the Cardinals' lead was just nine points. Fortunately for LU, they had one runner going in the women's 5000m in Jillian Howard while NSU didn't. Needing at least seventh place to ice the title, Jillian would cross the line in fourth place at 17:51.46 seconds to give LU a 14-point lead with one event, which was more than enough for the championship.

The 4x400m relay team of Outing, Smith, Adebola Odunlami, and Rodriguez added one more medal for to LU's collection by placing third with 3:43.53. This was the sixth fastest time in program history.
On the men's side, Elijah Jackson gave some massive points for the men's team when he earned bronze in high jump with a personal best of 2.09m (6'10.25"). That clearance now ranks him seventh in school history. Miles Jones also scored in the event finishing eighth at 1.98m. Trent Guidry would finish sixth in the men's 400m hurdle finals at 53 seconds flat. However, he would help contribute to a fourth place with for the men's 4x400m relay team alongside Cameron Chin, Christian Johnson, and Jaylon Roberts at 3:11.49 seconds. The men's javelin throw saw Nathaniel Mathura launch 56.66m (185'10") to finish fourth place.