Review: Beaumont Community Players present 'The SpongeBob Musical'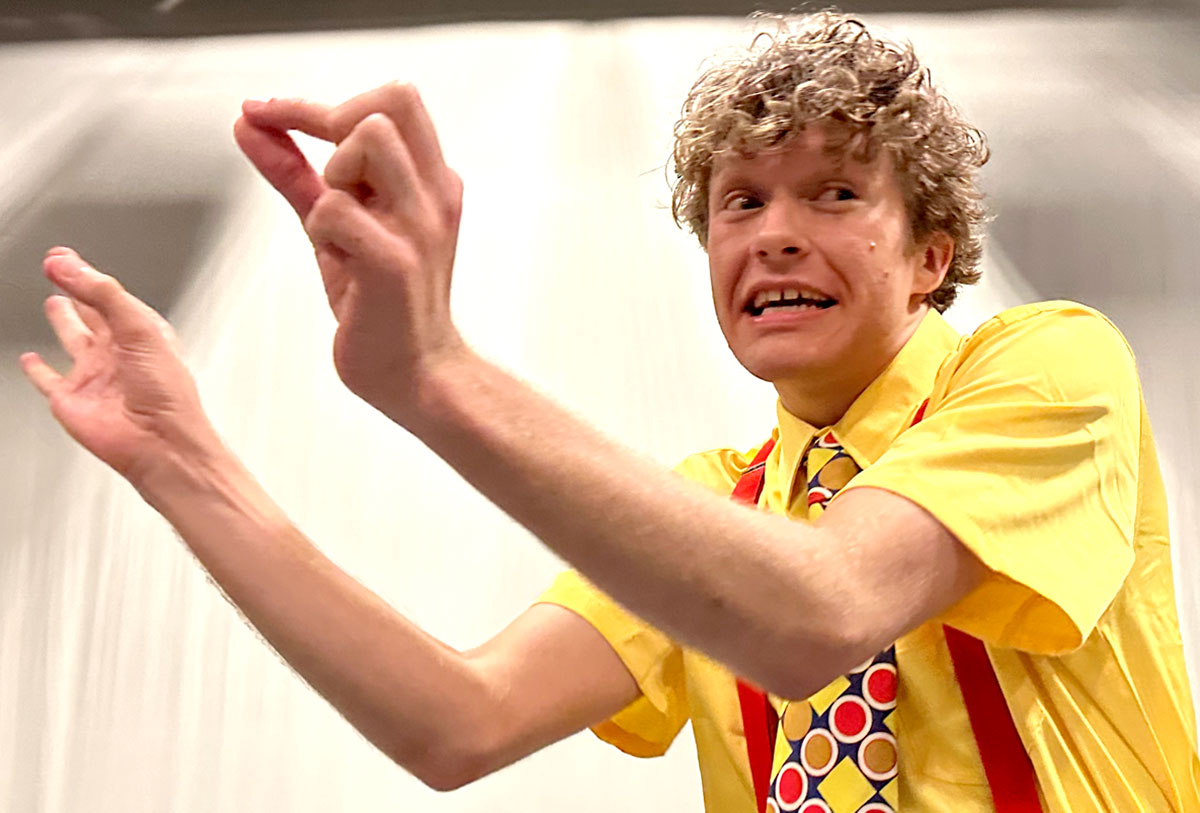 The absorbent, porous, yellow sponge who lives in an undersea pineapple has become one of the most recognizable cartoon characters in the world with merchandise, books, movies, and even its own Broadway musical, dedicated to the show itself. Yes, you read that right. SpongeBob SquarePants has its own Broadway musical. While it's no longer on Broadway's line up of shows, this doesn't stop local theaters from performing the show themselves.
Beaumont Community Players presents their rendition of "The SpongeBob Musical," originally written by Tina Landau, through May 20. The musical showcases SpongeBob (Bailey Jenkins), and his life on a typical Bikini Bottom day. But when a volcano is going to erupt on Mount Humongous the next day at sunset, it's up to him and his friends, Patrick (Ed Seymour), and Sandy, (Starr Lee-Alvarez), to save the town they love. Meanwhile, Plankton (Rhys Howeth) and his computer wife, Karen, (Daisy Obregon), plan an evil scheme to hypnotize the citizens of Bikini Bottom to love chum, as part of his fast food establishment.
This musical has something for everyone whether they are a seasoned fan of the franchise or have never seen it at all with a captivating story, catchy songs, and humorous dialogue. Fans of the show will be glad to see several references to the older episodes the musical throws in.
All of the behind the scenes work does not go unnoticed. The set and costumes are remanent of the original production. Scenic designer Jerry McMillan makes the set come to life on stage with backdrops and props that feel like we are being transported to Bikini Bottom. Costume designer, Janice Pattillo, does great work with the costumes, some special highlights being Squidward's legs, Mr. Krab's claws, and the sardines that appear in the show. Projections operator, Gloria Perkins, also does a fantastic job of showcasing the on-screen gags and backgrounds to the stage as well.
The cast is amazing and every character was chosen perfectly. Jenkins's SpongeBob, Seymour's Patrick, and Alvarez's Sandy have a great vocal range and energy on stage. They complement each other well whenever they share scenes together. Their displays of friendship and teamwork are fun to watch, which is especially highlighted in the song, "Hero Is My Middle Name."
Trini Gonzalez's Mr. Krabs and Isabella Gonzalez's Pearl are also fantastic together with the song, "Daddy Knows Best" being one of the most vocally impressive songs of the show. Hwoeth's Plankton has his own moment in the spotlight in the song, "When the Going Gets Tough" and Khalid Trent's Squidward in the song "I'm Not A Loser" steals the show. It feels like we are seeing the humanized versions of the characters on stage.
There are many different moments in the show that leave us laughing, smiling until our cheeks hurt, and connecting with these cartoon characters in a way we never have before. Do yourself a favor and get a ticket – it will not disappoint.
"The SpongeBob Musical" continues May 12, 13, 18, 19, and 20 at 7:30 p.m. with a matinee May 13 at 2 p.m. BCP is located at 4155 Laurel Ave. Tickets can be purchased at beaumontstages.com.