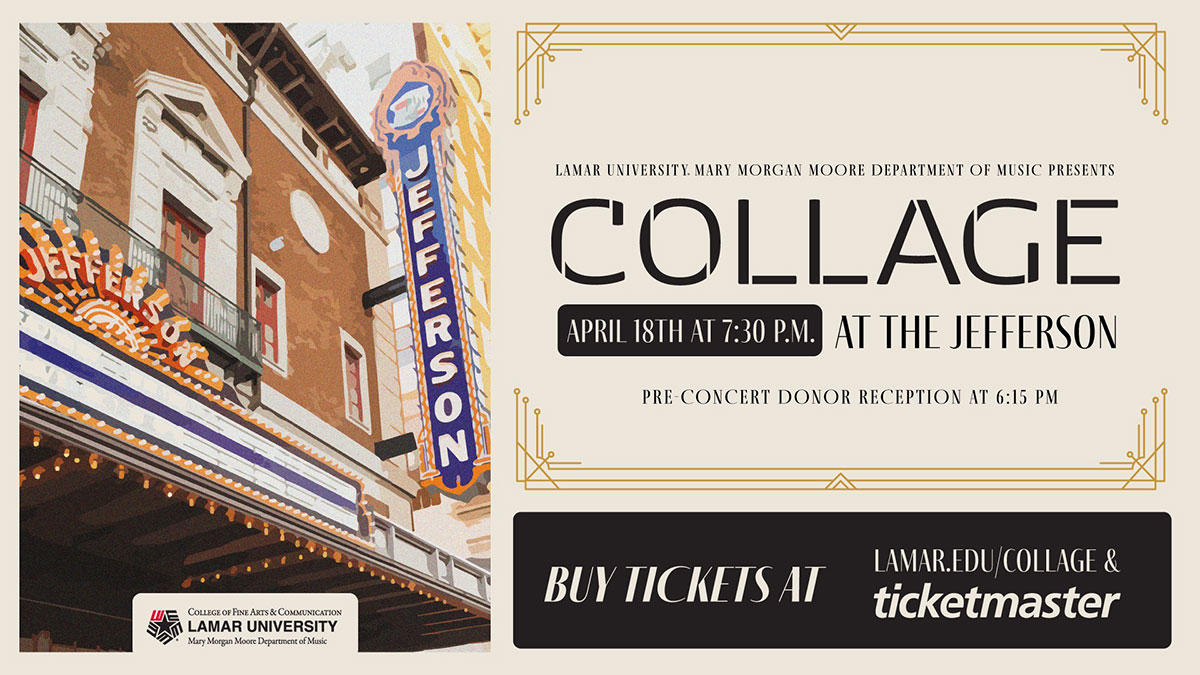 The Lamar University Mary Morgan Moore Department of Music is proud to present their annual Collage concert to benefit music students. The event will take place on April 18 at 7:30 p.m. at the Jefferson Theatre in downtown Beaumont. 
The event will feature the finest large ensembles, small chamber groups, student and faculty performances from the Department of Music including the opera theatre, brass choir, piano ensemble, flute ensemble, percussion ensemble, wind ensemble, choir, and the jazz orchestra. Both students and faculty are utilized in a quick-paced and seamless concert that will highlight the variety of talent Lamar University has to offer.
The funds raised during the event benefit the students directly by helping fund various music festivals and educational events throughout the academic year. Students will also have the opportunity to learn from prestigious guest artists, perform with renowned musicians and become inspired to lead the next generation to love and experience music. 
For the first time ever, the event will be held at the historic Jefferson Theatre which is responsible for hosting marquee events, concerts and performances from the community and beyond. 
Individual tickets for Collage are $30 and there are sponsorship-level tickets available which include their own benefits and a pre-donor reception starting at 6:15 p.m. To purchase, please visit lamar.edu/collage or the official website of Ticketmaster. 
For more information about Collage or the Mary Morgan Moore Department of Music, please visit lamar.edu/collage