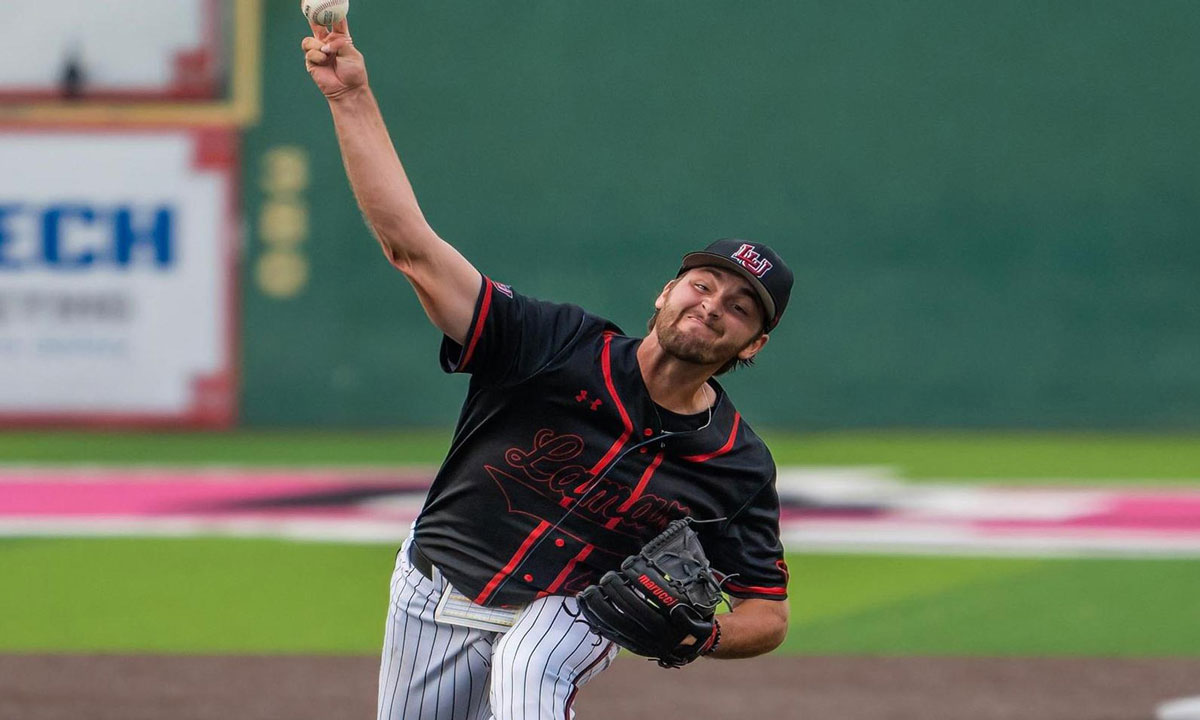 HOUSTON, Texas – Offense was hard to come by Tuesday evening in Houston but Lamar University scratched out a couple of early runs and the Cardinals' pitching staff never allowed Houston an opportunity to get back in the game. The Cardinals (22-18) defeated Houston, 4-2, Tuesday evening at Schroeder Park. 
The Cardinals sent 10 pitchers to the mound in what turned out to be a bullpen game. Trhea Morse got the start and pitched a scoreless first – with a walk and a strikeout – before turning things over to the pen. On the night, the Cardinals surrendered just two runs – both earned – on six hits with six strike outs. The Cardinals also walked six batters on the night. 
Bridge City native Gavin Green pitched a scoreless fifth facing the minimum to pick up the win (1-0). Kole Tauzin came on in the ninth to record the last two outs to pick up his second save of the season. 
Houston's Kyle Ayers (1-1) got the start and pitched 3.2 allowing one earned run on five hits with three walks and two strike outs, but he left the game with his team trailing and his teammates never managed to get him off the hook. 
Houston scored two runs on six hits, while the Cardinals scored their four runs on 12 hits. Neither team recorded an error. 
Seven different Cardinals recorded hits led by multi-hit efforts from River Orsak(3-for-5), Ryan Snell (2-for-4), Kanin Dodge (2-for-3) and Tanner Wilson (2-for-3). 
In a game that belonged to the pitching staffs, the Cardinals finally managed to break the scoreless tie in the fourth. Big Red had two-out baserunners in the first three innings before breaking through in the fourth with a MacNaughton two-out single through the left side (scoring Dodge). 
After a seven-pitch fourth inning from Zach Williams (which followed a four-pitch third from Landon Odom), the offense came right back and put traffic on the bases – this time with no outs – and it was Dodge that had the key hit with a single up the middle (scoring Orsak). 
After the Cougars managed to get on the board in the bottom half of the sixth, the Cardinals went back to work in the eighth. After singles from Dodge and  Josh Blankenship, Dodge came around to score on a wild pitch. Two batters later, Kirkland Banks connected with a 2-2 pitch and drove it into center field to score the second run of the inning. 
Things got tense in the ninth as the Cougars scored a run and had a baserunner on third, but the Cards' bullpen put out the fire preventing the Cougars from getting any closer. 
The Red and White return to conference action Friday when they travel to Hammond, La., to face Southeastern Louisiana. Friday's first pitch is slated to begin at 6 p.m. and will be streamed live on ESPN+.