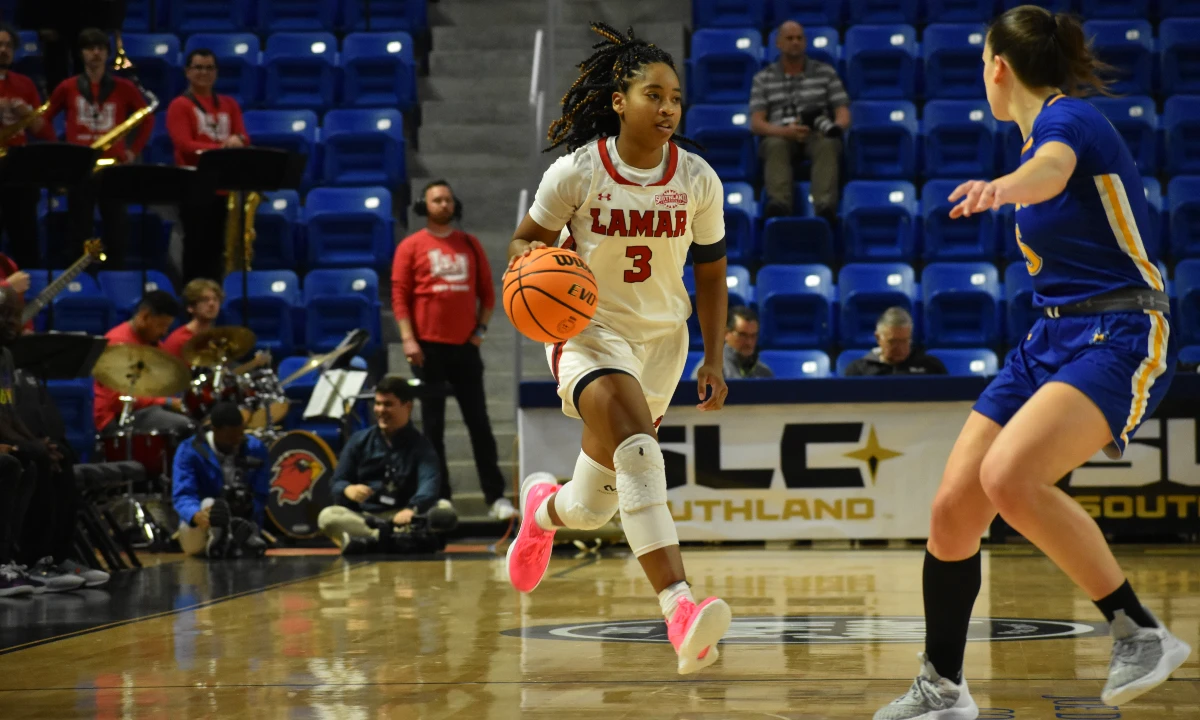 The Lamar Lady Cardinals basketball squad won their first game of the Southland Conference tournament, defeating the McNeese State Cowgirls, 80-75, March 7 in Lake Charles, Louisiana.
The third-seeded Lady Cardinals began their tournament run at the Legacy Center with a thrilling overtime matchup with sixth-seeded rival McNeese. What started out as a commanding showing by Lamar quickly turned into a much closer game in the second half, but strong performances by All-Southland forward Akasha Davis and guard Portia Adams were enough to send LU on to the next round.
Lamar led 24-14 at the end of the first quarter. Adams started the game out hot, nailing three three-pointers in the first quarter alone. However, LU's shooting began to cool off while McNeese slowly started to close the deficit before halftime. At the intermission, the Lady Cardinals held a 36-29 lead. 
The Lady Cards' three-point percentage continued to dip in the second half as they converted just one-of-nine attempts through the rest of the contest. Meanwhile, the Cowgirls got hot at the right time in the fourth quarter. McNeese shot 67% from the field in the fourth quarter, allowing them to rally from a double-digit deficit.  With just 12 seconds remaining in the fourth quarter, McNeese's Desirae Hansen hit a corner three to tie the game at 67-67 and force overtime.
Malay McQueen was the hero for Lamar in overtime, knocking down a three-pointer and converting both of her free throw attempts to give LU the lead, and eventually, the win.
Davis notched a 25-point, 14-rebound double-double. Adams finished with 17 points, good for second on the team. R'Mani Taylor and Sabria Dean followed with 12 and 11 points, respectively.
The Lady Cardinals will face two-seed Texas A&M-Corpus Christi in the tournament semifinals at 1:30 p.m., March 8.