Black Week to Feature Speakers, Entertainment
October 24, 1969
 The second annual Black Week, Sunday, Oct. 26, through Saturday, Nov. 1, sponsored by the Afro-American Student Association, will begin with a guest appearance by the Rev. Ransome Howard and his choir in the Recital Hall of the Music Speech Building at 4:30p.m.
Rev. Howard, pastor of the First sixth Baptist church in Port Arthur, will speak on the Association's Black Week theme "Doing Big Black Things in Big Black Ways."
"Ransome Howard is just the man to inspire our young proud Blacks toward a productive and successful week of activities," said William Carter a senior Fine Arts major from Beaumont, and spokesman for the organization.
Gene Locke, a graduate student at Texas Southern University and the vice president of the Afro-Americans for Black Liberation at the University of Houston, appears Monday. Locke will speak in Dining Hall A at 7:30p.m. on "Black Awareness and Black People."
Accompanying Locke is Mrs. Vernell Lillie and the Houston Black Theatre company. Mrs. Lillie, who is the director of the speech and drama department at Phillis Wheatler high School in Houston, will present the Black Theatre in an original black production. The company will also present a black folk singer.
"We are encouraging the public, black and white to attend these functions," says Carter. "It is not only important for the black man to regain his identity, but it is also important that the white man know that he has one," Carter continued.
On Tuesday, the Association plans a "Blac-nic," which will be held in the picnic area between the poll and the Senior Apartments.
On Wednesday night, the Association will present, as he is sometimes called, Mr. Dynamic James Brown. Brown and his Review will make their appearance in McDonald Gym at 8 p.m.
All during the week the association will be sponsoring two recreational activities; spade tournaments and women's flag or pussycat football. On Thursday, the final play-offs for both of these events will be held, and the victorious teams will receive awards.
"ASA, the initials do not title an organization," says Carter. "However, ASA is an association composed of black student organizations as well as independent black students. With this in mind, I would like to announce that the Alpha Phi Alpha and the Alpha Belles two of the member organizations in the Association are contributing a float to Black Week to be entered for competition in the Homecoming parade.
The float will be the first to be entered in the parade by black students," Carter continued, "and we are asking that all of our students participate in its construction. For this reason, we have not scheduled any events for Friday night, and hope that our students will participate in the construction of the float throughout the entire week after regular scheduled activities have ceased."
Being hung in the Baptist Student Union for viewing throughout the entire week will be a Black Art Exhibit, featuring talent from Texas Southern University, Lamar Tech and the black area high school. "We feel that these young artists are definitely striving for an identity in their work, and we urge you to come and see for yourselves the talent exhibited by these young artists," Carter said.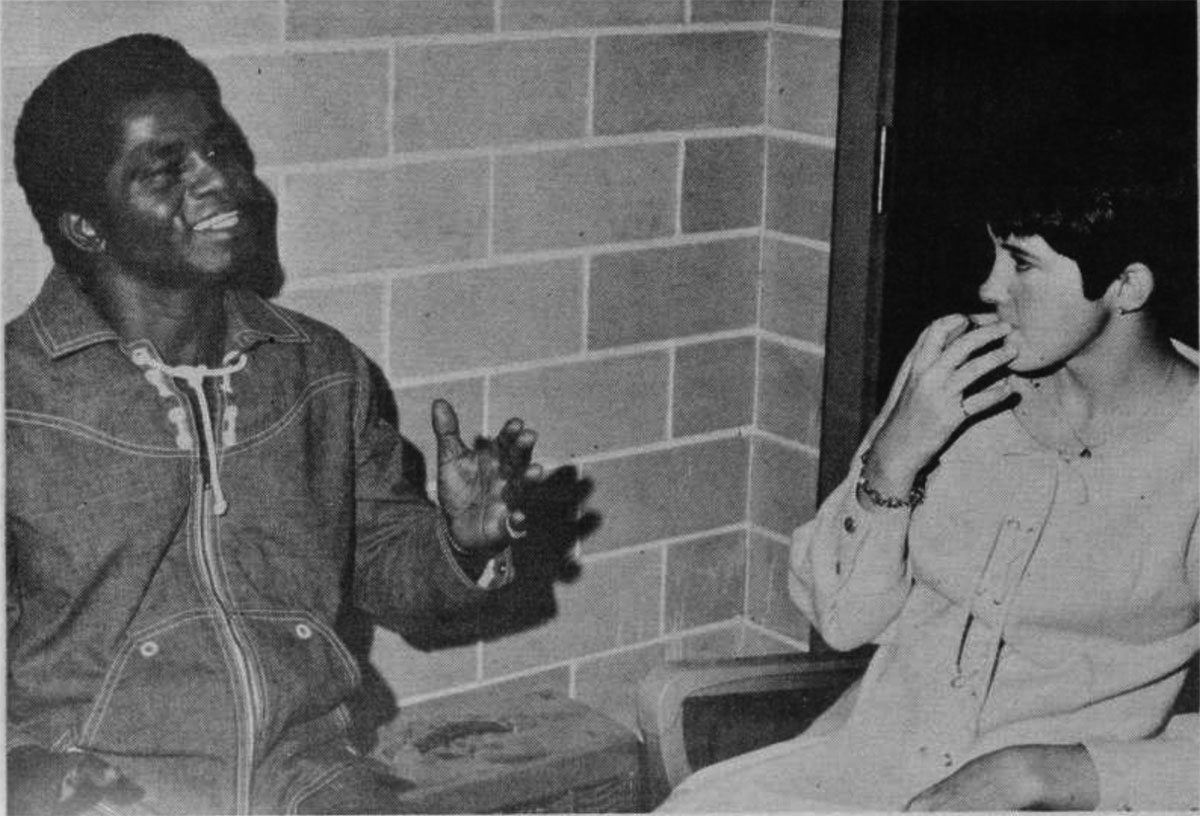 James Brown, King of Soul Found to Be Understanding
By Kristine Kreisher
 October 31, 1969
How can you describe James Brown? King of Soul? Militant black? An intelligent human being? He's all of these and more, he's one of the warmest, most understanding people I have ever met. He has no delusions about the state of the black people, but yet he still has an overwhelming desire to help his fellow man.
He wants the best for his people but he doesn't want charity. "We just want to be permitted the opportunity to do things for ourselves."
Brown is giving Lamar College a scholarship fund to help black students get the education necessary to better themselves and their country.
As I began to ask him questions I noticed one thing more than any other. James Brown is almost fanatically patriotic. He loves his race and is proud of it, but he loves his country even more. He said that the only chance we have to beat the race problem is for the whites and the blacks to "join forces and fight together."
We asked about his reported retirement, he said that in about 6-7 months he planned to cut down on his work as an entertainer, but that he still had a duty to help his people as much as possible. "It's something I have to do."
Compiled from the archives by Ja'Leigh Cerf.