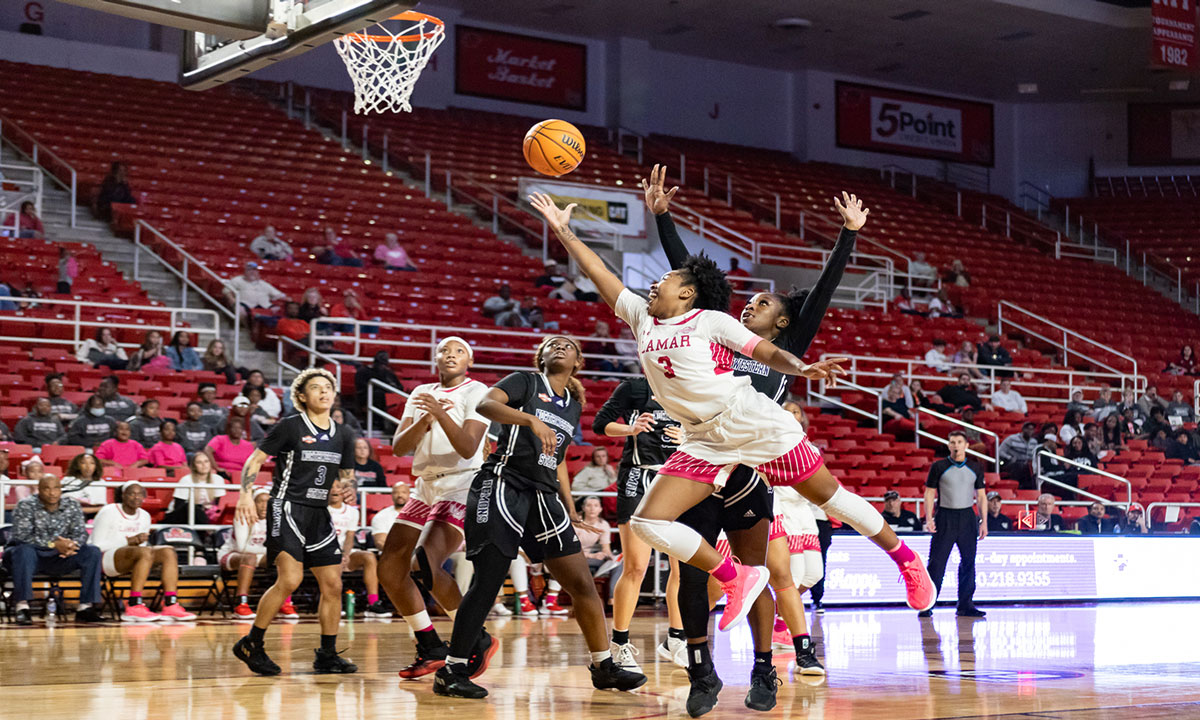 Lamar women's basketball team punched their ticket into postseason play with a thrilling win over the Houston Christian University Huskies, Feb. 18.
At press time, the Lady Cardinals held a 16-10 overall record with three games remaining in the regular season. They were tied for third place in the Southland Conference standings with Texas A&M-Commerce, also sitting just one game behind the second-place Texas A&M-Corpus Christi.
LU's season has been a story of two halves. The team struggled to string together multiple wins at the start of the campaign, going 6-5 through their non-conference slate. It's hard to keep from getting discouraged after losses, however, three of those came to Baylor, Arkansas and Louisiana State — all power five schools in the Big 12 or SEC.
The Lady Cards went 2-4 in their first six Southland contests, including a three-game losing streak in mid-January. Something had to change.
Change, it did. Lamar snapped the losing streak with a 20-point win over Incarnate Word, then followed it up with a 17-point victory over A&M-Commerce. Overall, they've won eight of their last nine games, rattling off a six-game win streak heading into the season's home stretch.
The effort put into turning the season around is admirable — the Lady Cardinals have shown incredible fight and toughness in the face of adversity, and they've undoubtedly earned their spot in the Southland tournament come March.
Junior Sabria Dean has been one of the standouts of the season. She averages 13.8 points per game, which ranks her fourth overall in the conference. Dean is also first in the Southland in three-pointers made and fifth in steals a game.
Sophomore Akasha Davis is also getting it done on both ends of the floor. She's just behind her teammate, ranking fifth in scoring with 13.4 points a game while also pulling in 7.6 rebounds a night — the conference's fourth-best mark.
Sophomore guard Portia Adams is also fourth in the Southland's assists rankings, and recently won her first Conference Player of the Week honors.
Lamar ends the regular season with games against New Orleans and Nicholls, which are the bottom two teams in the Southland as things currently stand. If the Lady Cardinals can handle business, they have a real shot at jumping to first place and securing the number-one seed in the conference tournament.
The Southland Conference women's basketball playoffs begin March 6 at the Legacy Center in Lake Charles, Louisiana. Tickets are on sale now.