BEAUMONT, Texas - Lamar University's women's basketball team set out to put distance between them and Houston Christian University for fourth place in the Southland Conference standings on Thursday night at the Montagne Center. Thanks to a career-high by Portia Adams, the Cardinals were able to keep the winning streak drive to five as they overcame a bad start to win 71-63 over the Huskies. Now 15-10, the Cardinals are 9-5 in conference play.
Adams put on a dazzling performance as she set a new career-high with 32 points on 11-of-18 from the field. Her previous career high was 24 against Loyola (LA) in December. 
R'Mani Taylor 
was the only other Cardinal in double-figures with 15 points. HCU wound up outshooting LU 46.9%-39.3%. But another big difference was LU's dominance in the free throw line hitting 17-of-20 while the Huskies were 12-of-22.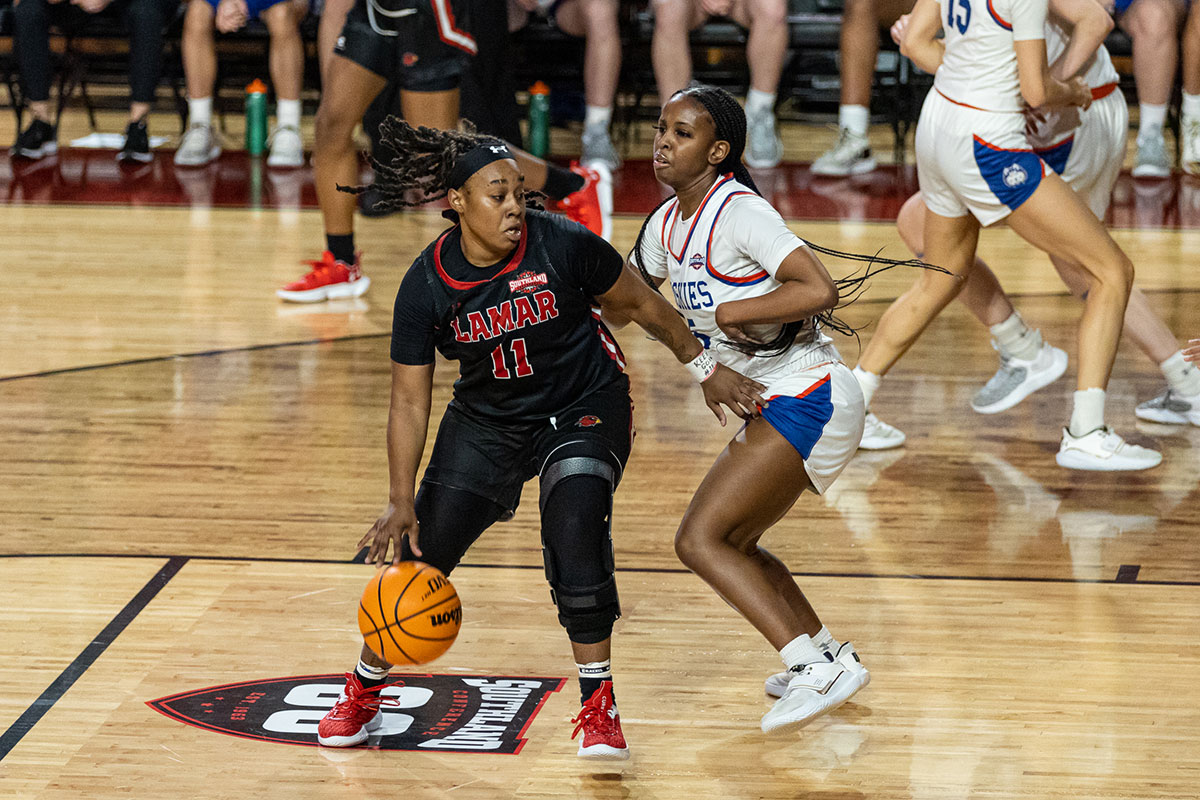 Early on, the Cardinals went into another cold start as they allowed HCU to get up 14-4. LU would trim the deficit to 15-9, but struggled from the field shooting 29.4%. The Huskies converted over half their shots to lead 21-14.
The second quarter belonged to Big Red, who dominated with a 24-11 run. Adams, who had nine in the first quarter suddenly caught fire as she poured in 15 points in the second. LU opened with an 13-4 run to grab their first lead of the game. But when HCU retook the lead at 32-31, the Cards netted seven unanswered to close the first half leading 38-32. Both teams made over 50% from the field, but LU converted 55.6%.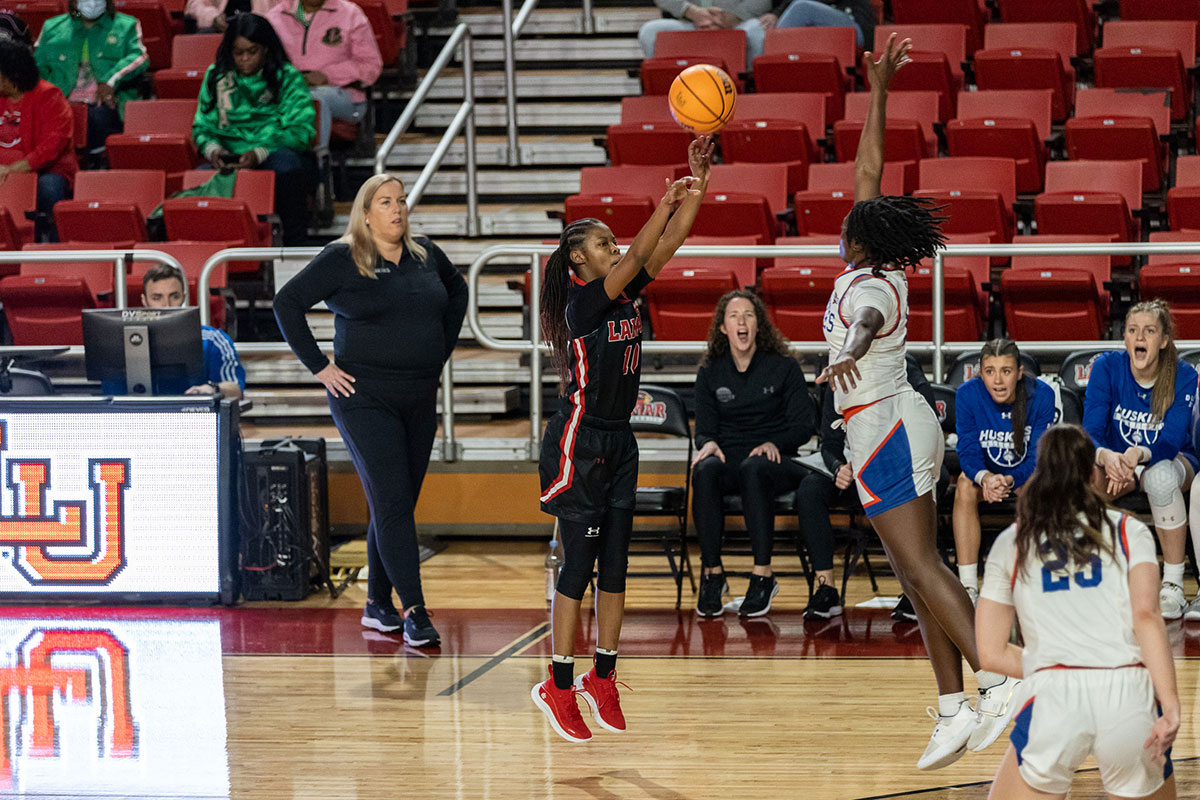 At the start of the third quarter, LU stretched their lead to 44-34 with 7:20 to play. But the Huskies would respond with a 13-3 run to tie the game at 47. The Cardinals retook the lead on an NJ Weems
 jumper and would hang on for that lead for the rest of the game despite HCU trimming the lead to one. Adams scored seven points in the quarter to pick up her 31st point as LU led 53-50 through three.
After being held without a basket through three quarters, 
Akasha Davis 
finally got on the scoreboard and sparked LU with eight points. HCU would cut LU's lead to 65-61 with under three-and-a-half to go. But LU's defense would concede two points and the Cards finished with six more for the 71-63 victory.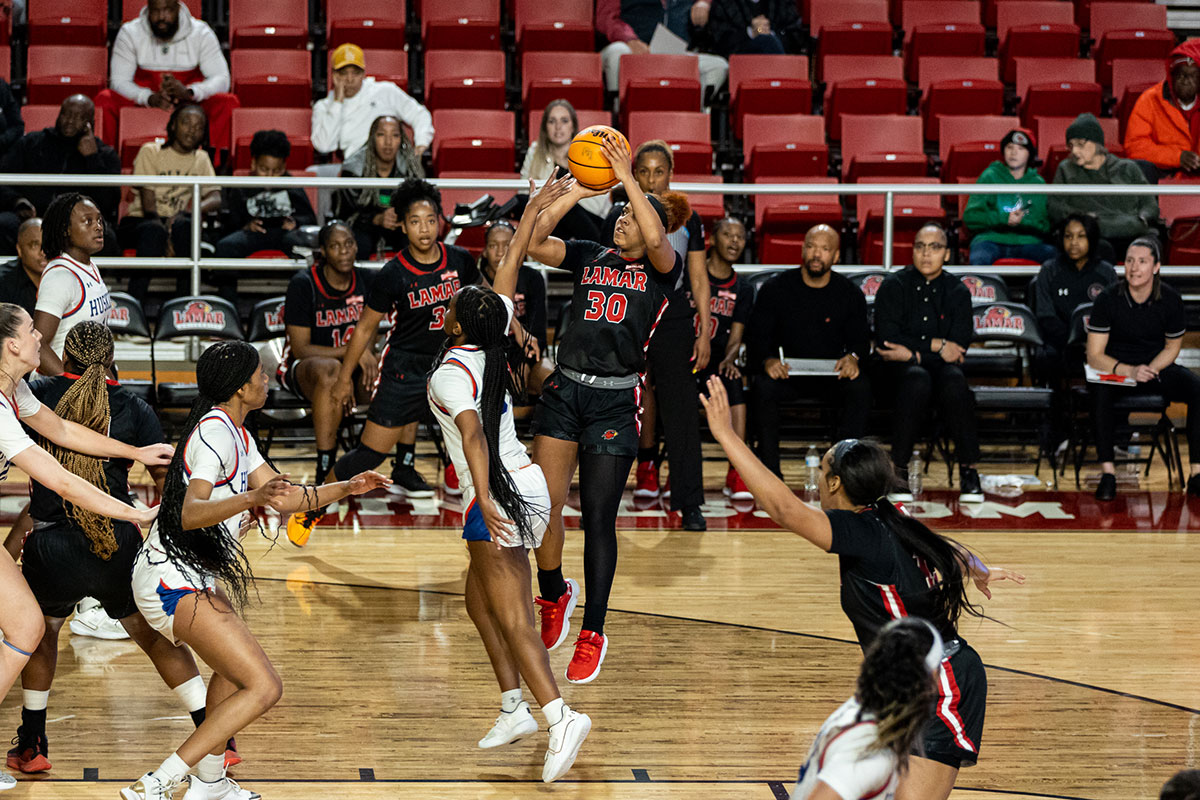 LU will have their second meeting with HCU this Saturday at 2:00 p.m. This time, LU will travel to Houston for the meeting.