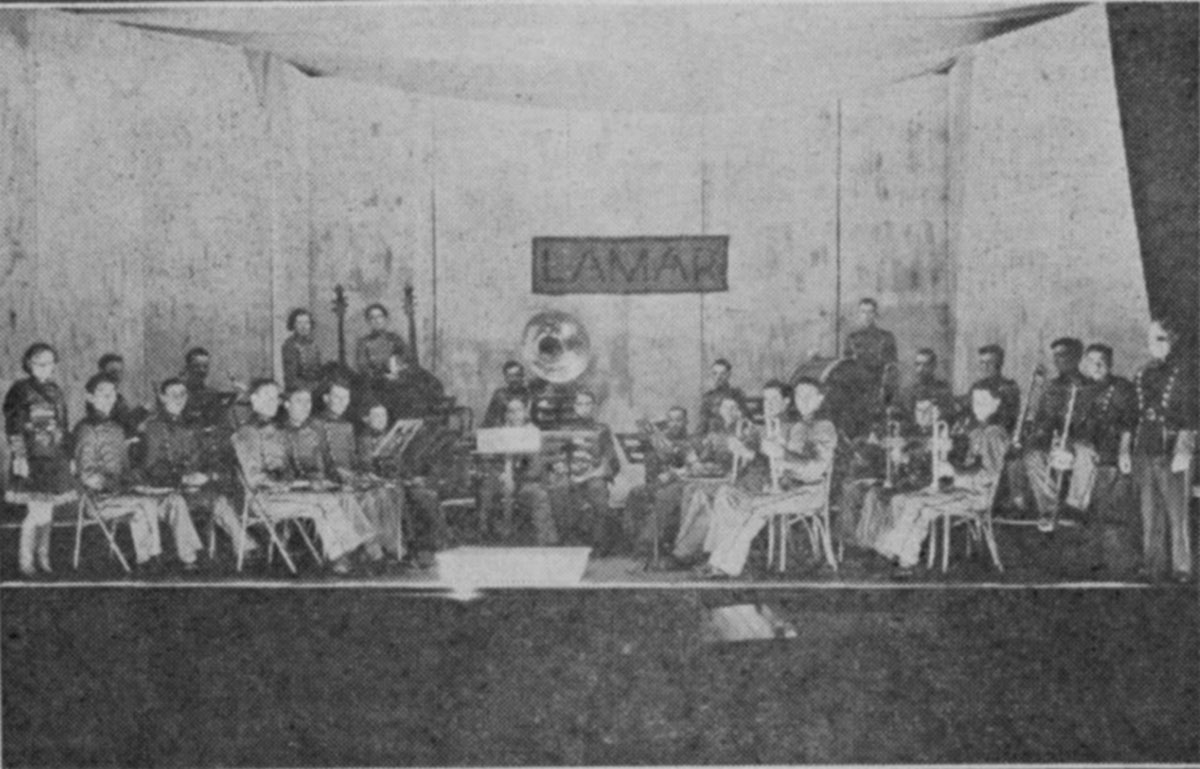 May 1, 1934
C.P. Wiedemann Experienced Director
Lamar's red and blue spangled college band, youngest of campus organizations, has rapidly won wide affection among the student body as well as a general popularity with the people of Southeast Texas. Without question Director C.P. Wiedemann since last September has developed a college band which takes rank with that of any other junior college in the state. 
Drum Major Features 
One of the real features of the 1933 football season was the playing and marching of the Cardinal band. An attraction in itself was the leading of the musicians by the sprightly little drum major, Miss Pat Nelson of Orange.
Due to the favor with which the band was received last fall Director Wiedemann could accept only a limited number of invitations extended for concerts and parades. Among the invitations accepted were the following: Armistice Day parade, Santa Claus parade, broadcast over KFDM, Silsbee concert, South Texas Fair concert, Poll Tax parade.
Out of Town Concerts
This spring a series of concerts have been arranged. Following the Beaumont appearance in the college auditorium on February 9, the band has gone in the college bus for concerts at Port Neches, Silsbee, Port Arthur, Sulphur, La., and Liberty. Other concerts have been scheduled for Sour Lake Jasper, and Orange.
Director at 15
Director Charley Wiedemann has held a colorful career as a director of bands. As a youth he played the brass horn in the town band of La Veta Colo., and Equality, Ill., and at 15 he was a director of the Equality high school band. Two years later young Charley had become a member of a band in St. Louis, and at 19 he entered the University of Illinois where he was a member of the 80-piece university band.
Directs in France
The World War found Wiedemann directing the musicians of the 162nd field artillery band. While stationed at camp Dix, N. J., this 63-piece band gave concerts in Atlantic City, Trenton, Philadelphia, and New York. Later Lieutenant Wiedemann sailed with his band for France and directed its activities in Europe for some nine months. One French Commander, incidentally called Wiedemann's band the best in France—and the best musicians of three nations were on the soil of the French republic at the time. 
All in all the students of Lamar College are fortunate in having the opportunity to study under the tutelage of a band leader of the ability and experience of Director C. P. Wiedemann.
 Complied from the archives by Ja'Leigh Cerf.