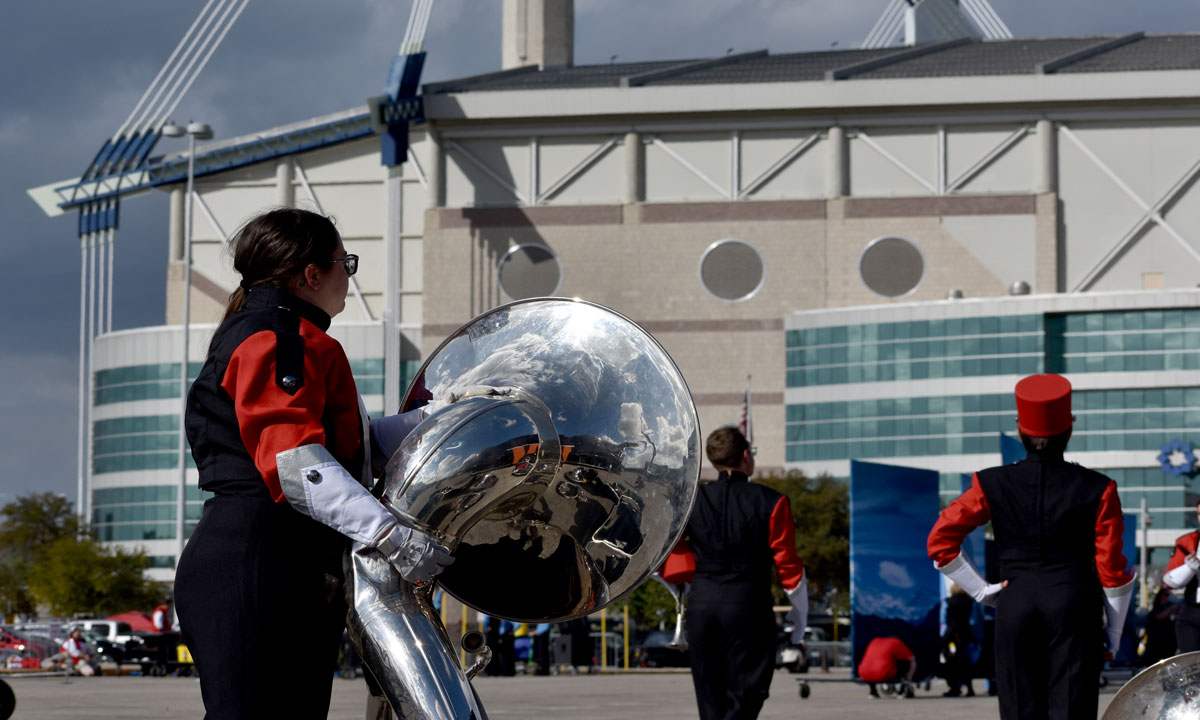 I'm a member of Lamar's Showcase of Southeast Texas marching band and when people ask me what instrument I play they tend to do a double-take or give me a confused look when I tell them I play the tuba. The inevitable question is, "But you're so short and the tuba is so big!"
When I started playing, I was only 4-feet, 11-inches tall (I've had a whopping one-inch growth spurt since then). Playing the tuba started with a series of doubts — could I actually carry it like the tall guys do? However, playing the tuba molded me into the person I am today.
When I was in fifth grade, everyone was required to audition for band or choir. I already had four years of piano lessons under my belt, so band was the easiest choice. We were given mouthpieces from different instruments, and according to how we did on each, we received a score from 1-5. Based on those scores, the band directors recommended an instrument we should play. My mom wanted me to play marimba due to its similarities with piano, so I set my sights on that.
However, the form recommended I play the tuba. I was shocked as the tuba was the last thing I thought I would be picked to play. I knew my mom wouldn't be happy with the results.
I got the form during class, so I played it off as a joke for my friends. After all, they must have picked the wrong instrument for me and I wouldn't last a day if I played it. But, a small part of me thought otherwise. "What if I decided to play the tuba? What would happen? Would I actually fall over and die or am I just exaggerating?" I figured these thoughts would be shut down quickly by people I knew, so I kept them hidden.
I showed my mom the letter and she was upset I hadn't been picked for percussion. The form had a series of checkboxes where parents could decide to stick with the instrument assigned or not place their child in band, meaning it was either the tuba or nothing. I wasn't allowed to switch to a different instrument. My mom acted like a lawyer looking for some kind of loophole in a contract, trying to see if there was any way around it.
We left it alone for about a week until my friend's dad changed Mom's mind. My friend and I were over at my house when her dad came by to pick her up. He was a band director for a different school. My mom discussed band, naturally. She told him how I got recommended for the tuba and how she wasn't going to let me, but he gave her a talking-to.
He said, "Size doesn't matter, determination does," and that she should give me a chance. He also said tubas are provided to the school so the parents don't have to pay for them, which was an added incentive. After he left, my mom said, "Do you want to be a tuba player?" I told her, "Sure, why not?" and the rest is history.
However, it wasn't smooth sailing. It was an intense process that almost led me to quit.
When I was a freshman, I had to adjust from the normal concert horns held with my arms to sousaphones which rested on my shoulders. Our section leader felt that the normal 20-pound sousaphones were too heavy for us, so we started out on plastic knockoff horns that were about half the weight. Even then, a 10-pound instrument on my shoulders was painful.
After the first few days of our school's summer band program, I called my mom crying and told her I wanted to quit. She told me to calm down and when she got home from work, we would talk about it. After I took a minute to freshen up and have a snack, I decided to keep going.
There were multiple opportunities for me to quit, but 11-year-old me wanted to invalidate people who thought I wouldn't be capable, and quitting felt like it would prove them right.
Throughout my eight years of playing the tuba, I've surpassed my own expectations. I've faced many obstacles with confidence, and reassurance from my family and friends. It not only boosted my self-esteem, but also has impacted how people see me.
For example, one of my best friends offered to carry my tuba for me as I was carrying props after practice and didn't want to carry my horn at the same time. When I came to check back on her, she said my instrument got too heavy and a person in my section had to help her bring it back into the band hall. She told me she gained more respect for me in that moment.
In my senior year, my UIL coach for Literary Criticism's son auditioned for sixth grade band. He was also assigned the tuba. When she asked if her son was capable of carrying a heavy instrument, they said, "If Maddie Sims could do it, then so can he."
So, I cemented my legacy by being the "If she can do it so can you" girl. But that's fine. Playing the tuba is an experience that once seemed unimaginable, but eventually became unforgettable.