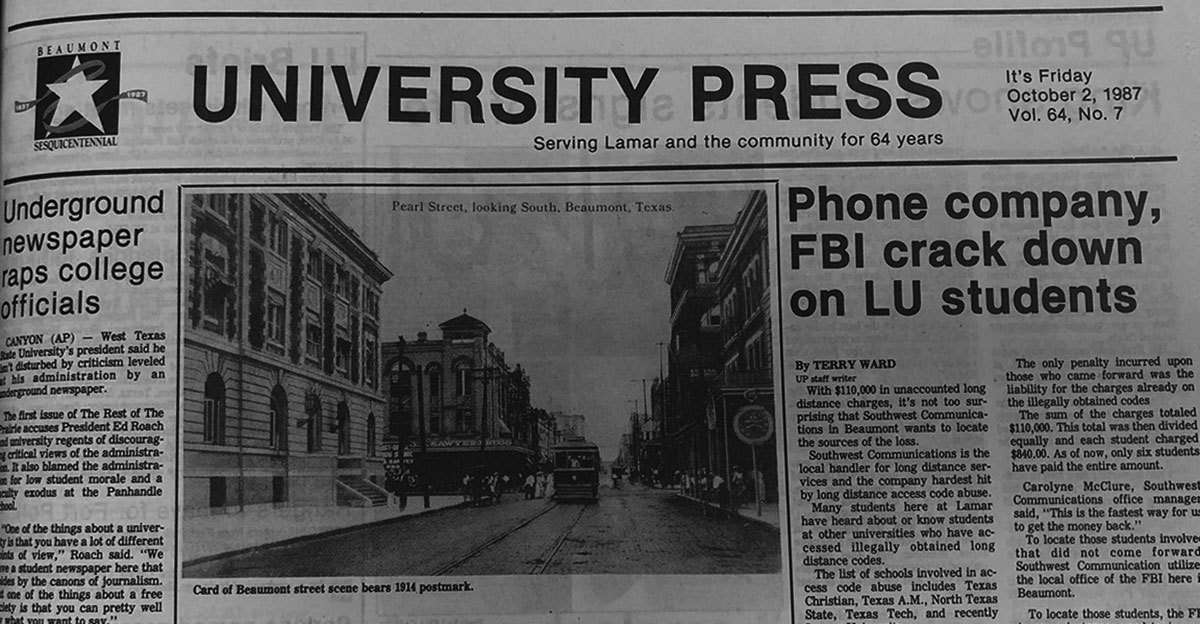 October 2, 1987
Phone company, FBI crack down on LU students 
With $110,000 in unaccounted long distance charges, It's not too surprising that Southwest Communications in Beaumont wants to locate the sources of the loss.
Southwest Communications is the local handler for long distance services and the company hardest hit by long distance access code abuse.
Many students here at Lamar have heard about or know students at other universities who have accessed illegally obtained long distance codes.
 The list of schools involved in access code abuse includes Texas Christian, Texas A.M., North Texas State, Texas Tech, and recently Lamar University.
 It started with Southwest Communications customers noticing an increase in their monthly bills. When questioned, the Southwest representatives began an investigation into the source of the increases. This investigation revealed that most long distance calls originated on or around the Lamar campus. 
In the spring, Southwest brought their investigative team to Lamar to pass out flyers and to let it be known that they were interested in locating those students involved.
As in most cases at other schools, an amnesty period was given. However, unlike the usual two weeks, Southwest granted Lamar students a three to four week period to come forward.
During that period, about 100 students came forward and admitted to participating or at least having knowledge of others who participated.
The only penalty incurred upon those who came forward was the liability for the charges already on the illegally obtained codes. 
The sum of the charges totaled $110,000. This total was then divided equally and each student charged $840.00. As of now, only six students have paid the entire amount.
Carolyne McClure, Southwest Communications office manager said, "This is the fastest way for us to get the money back."
To locate those students involved that did not come forward, Southwest Communication utilized the local office of the FBI here in Beaumont.
To locate those students, the FBI in some instances used taping and tracing equipment provided by Southwestern Bell and Southwest Communication. The evidence gathered by the FBI will be used to prosecute those students who have not come forward.
Those students prosecuted will be sued by Southwest Communications for $110,000 each.
"We believe there may be hundreds involved and those students will be prosecuted as soon as possible," McClure said.
Although the investigation has been pursued by Southwest for only four months, it has already resulted in the discovery of many other students involved. The names of those students involved in the investigation at this time are not being revealed but once suit is brought their names will become public record.
Compiled from the archives by Ja'Leigh Cerf.