LU theater to present Sarah Ruhl comedy, Oct. 6-9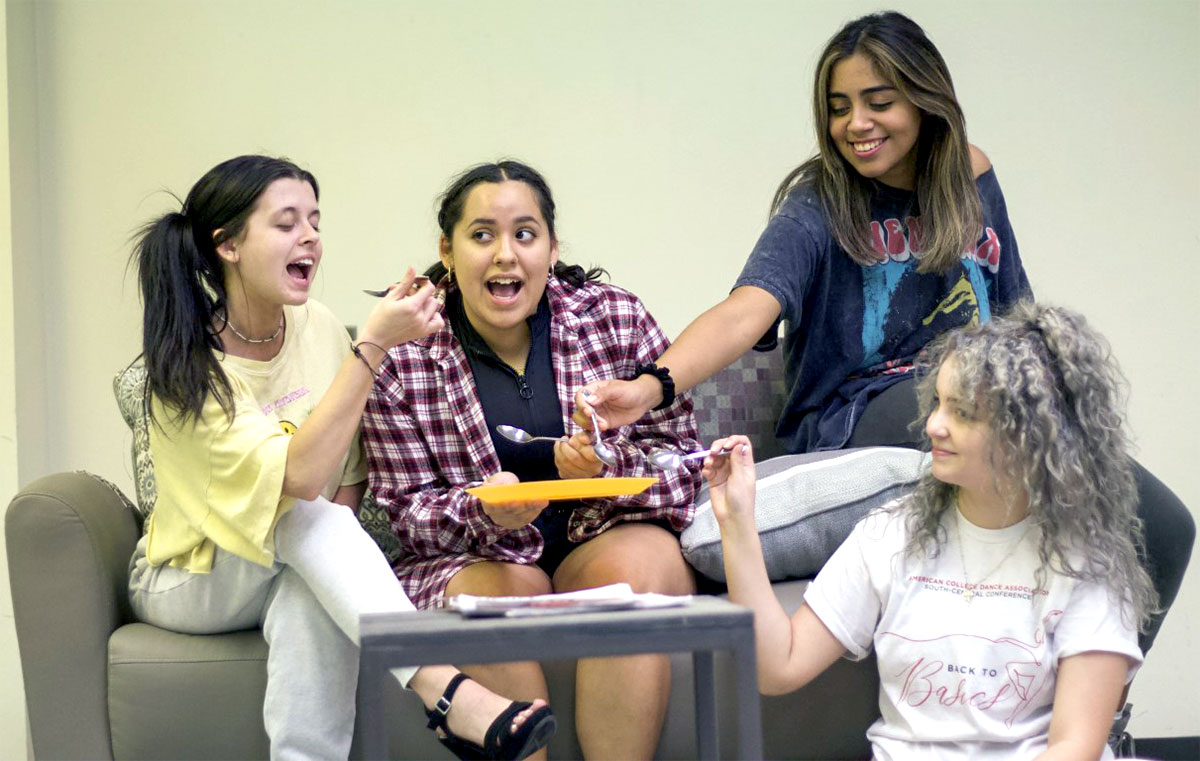 "Life is messy and chaotic at times, and sometimes laughter is the only thing that can get us through it," Alan Brincks, director of Lamar's latest play, "The Clean House," said.
Lamar University Theatre and Dance department will present Sarah Ruhl's romantic comedy, Oct. 6-9 in the Studio Theatre.
The cast of characters includes a stoic doctor, Lane (Kaylee Lambert), who says she didn't go to medical school to clean her own house, and her doctor husband, Charles (Kalan Bonnette). Their Brazilian housemaid, Matilde (Brianna Cobos), wants to be a comedian and is more interested in finding the perfect joke, and mourning her parents' death, than cleaning. When Lane's sister, Virginia (Julia McManus), comes to help out, she bonds with Matilde.
When Charles, who is also a doctor, reveals he has fallen in love with (Ana Daisy Obregon), one of his breast cancer patients, the characters are forced sort through their feelings about life, love and relationships.
Brincks said. "So, while this play deals with many issues people may not consider funny, Sarah Ruhl presents them in a way where laughter becomes the release valve."
The play premiered in 2004 and was a finalist for the 2005 Pulitzer Prize for drama.
The characters are in late middle age, and Brincks said the cast has been working vigorously to morph themselves into older characters facing hard problems.
"The characters have lived entire lifetimes longer and have experienced more life as a result," Brincks said. "This play gives young actors an opportunity to utilize their imagination as a research tool to fill in those gaps and find something beyond themselves as we build these characters, their struggles, and their successes."
Lambert said Lane is one of the most challenging roles she's had to take on.
"Being in her 50s and being a doctor are two things I've clearly never experienced, which has given me much to work on," Lambert said. "The range of comedy, yet realness, in this show has been such an interesting experience to work on and I'm so proud of all the work everyone has put in to make this such a great show."
Lambert will graduate this year, and this is her last show at Lamar.
"I've loved the friendships I've created here at Lamar and all the art we've created together," she said. "'Clean House' being my last show has given me a range of emotions for sure."
Brincks said the two new design faculty have enjoyed working with a story that is ripe with visual possibilities.
"Lee Barker (scenic and lighting design) and Tanner McAlpin (costume design) are a fantastic team to work with, because they have taken this script and come up with a stunning visual world in which the actors can play," Brincks said. "I'm eager to see it all come together when the audiences arrive and complete the puzzle."
McManus said Virginia is a clean freak who sees her life as almost boring and the same every day, especially compared to her sister, Lane.
"Virginia is a good person who wants a task in life, but she doesn't quite know what to do after exploring her interests and learning that they all lead to cleaning," McManus said.  
The show explores some deep and meaningful ideas, but is also fun, McManus said.
"Not only is the show outright hilarious, but it also simultaneously captures life how it truly is and the raw emotions of it," she said.
The show runs Oct. 6, 7 and 8 at 7:30 p.m., and Oct. 9 at 2p.m.
Tickets are available at lamar.edu/lutdtix.