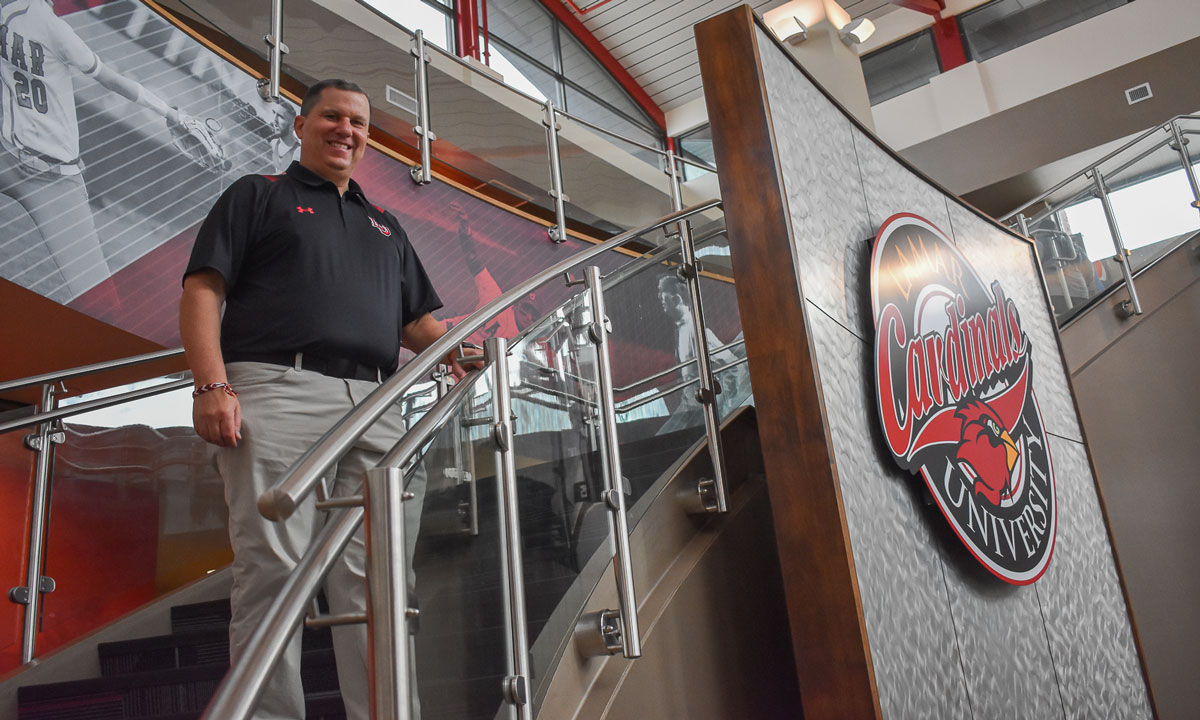 What does it mean to have a vision?
To some, it represents an outlook on the future and the goals we set for ourselves. To others, it's more of a concrete course of action, representing the steps it will take to accomplish those things. A quick Google search defines the term as, "The ability to think about or plan the future with imagination or wisdom."
The past several years of Lamar University athletics have been filled with uncertainty, unanswered questions and a lack of transparency. However, those days are no more. LU's newest athletic director, Jeff O'Malley, is here to revamp the Cardinals' reputation in college athletics — and, goodness, does he have a vision.
"With the community here, the facilities that we have, the staff that was in place and the resources that we have available to us, I think all that really adds up to the potential that we have to be really successful," O'Malley said.
Chasing, and achieving, success isn't anything new to O'Malley. He spent the past 20 years serving as associate director of athletics at Marshall University in West Virginia, helping oversee programs which enjoyed numerous winning seasons and conference championships. O'Malley said he wants to continue that track record of excellence in Beaumont — especially now that Lamar has rejoined the Southland Conference after spending a season in the Western Athletic Conference. 
"I think we can be a top-tier school in the Southland," O'Malley said. "We have some of the better facilities in this league. Our budget is probably top third in this league as well, which sets us up really well for success. I expect to go in there and be successful in a lot of our sports, like football and men's and women's basketball. Now, it may take a little time to ramp up and get right, but it's certainly down the road."
Fans need to be patient as LU transitions back to the Southland and rebuilds some of the school's young, but talent-filled rosters. The future holds nothing but potential though, and O'Malley has his sights set on even greater pedigree than conference titles.
"Do you want to set the highest standard, or just stop at a conference championship?" he said. "There's no reason why we can't be competitive on a national level in Division 1, and compete in football at the FCS level."
As the football program rebuilds, the athletic administration is dedicated to providing an enhanced gameday experience the community will want to be a part of — not only for alumni who frequent games at Provost-Umphrey Stadium, but also for current LU students.
"We're trying to upgrade the whole gameday experience here for football with our tailgating, and we're really trying to focus on students as well," O'Malley said. "We want to make them feel good about it, and we want them walking out of here with a positive experience."
There are plans to amplify the home-field advantage on Saturdays during the season.
"We're going to try and make the in-stadium gameday experience a little more interactive," O'Malley said. "We want people to feel like they're a part of the advantage as opposed to just being a spectator."
While the major changes may not occur this season, one possible addition is a new video board. O'Malley said the stadium's current Jumbotron has outlived its 10-year lifespan by several years, and that the school is looking at a more modern and updated model.
O'Malley said some of the facilities need a refresh.
"We need to look at a basketball practice facility, since the university wants to use the Montagne Center to bring in some outside events on a regular basis," he said. "With the weather here in Southeast Texas, we probably need to take a look at an indoor practice facility for not only football, but baseball and softball, too, thanks to those afternoon thunderstorms."
The Southeast Texas has taken some getting used to, O'Malley said, compared to West Virginia. Thankfully, adjusting to his new job has been an easy transition thanks to the community.
"The people here have been wonderful," he said. "The community has been outstanding. (President Jaime Taylor) and his staff, and people on campus have been really good to work with and very cooperative. I think that they all want the same thing, right? We all want Lamar to be successful, so we're all pulling in the same direction."
O'Malley said the pitch which convinced him to come to Lamar is similar to the pitch he would make to recruit student-athletes. 
"There's a ton of opportunity here," he said. "We have a great campus. We have a great president, and we have a great administrative staff who wants them to succeed. 
"I'm trying to sell a vision that we want a positive student-athlete experience here. We want them walking out of here feeling good about their development. Of course, I want to do things that are going to affect that positively."
The nature of college athletics has rapidly evolved over the past year thanks to the introduction of Name, Image, Likeness opportunities for student-athletes. In the past, college athletes weren't allowed to profit from sponsorships, but recently passed laws allow them to use their talents as a business venture. Assisting LU student-athletes in navigating the NIL landscape is a priority, O'Malley said.
"I'm in discussions with a third-party provider to help provide (athletes) with a marketplace to promote themselves to businesses in the community," O'Malley said. "Then we'll go out in the community and make that information known to businesses, so that they can be directed to this marketplace and connect with our student-athletes. Then that marketplace will manage the contract.
"I want to help our student-athletes, because I think there are resources here that they can take advantage of, and get a little bit of extra money to help them have a better experience here, as opposed to going someplace else."
Adapting to the changing trends in college athletics is a lesson O'Malley learned firsthand through his two decades at Marshall, especially during the eight months he served as the interim AD. During that time, he navigated his program through realignment into the Sun Belt Conference, all while handling the challenges brought on by the COVID-19 pandemic.
"I think we all learned a lot through the pandemic, and I think one of the things we in athletics learned is how much we can adapt to changing circumstances," he said. "I don't think that administrators and coaches probably would have embraced that as much as they would have in the past. 
"I think that's what made the decision (for Lamar) to go back to the Southland Conference this year a little bit easier." 
Lamar was a founding member of the Southland in 1963, and upon their reintroduction in April, the conference made it clear they want to market LU as one of the premier institutions among their member schools. 
"I think when you look at where (the conference) placed the Lamar-McNeese football game on the schedule, that shows the importance of where we are and our rivalry," O'Malley said. "I think that is a great indication of the importance of Lamar in this league."
The Cardinals are aiming to take flight into a new era of success. O'Malley has the vision to lead them there.