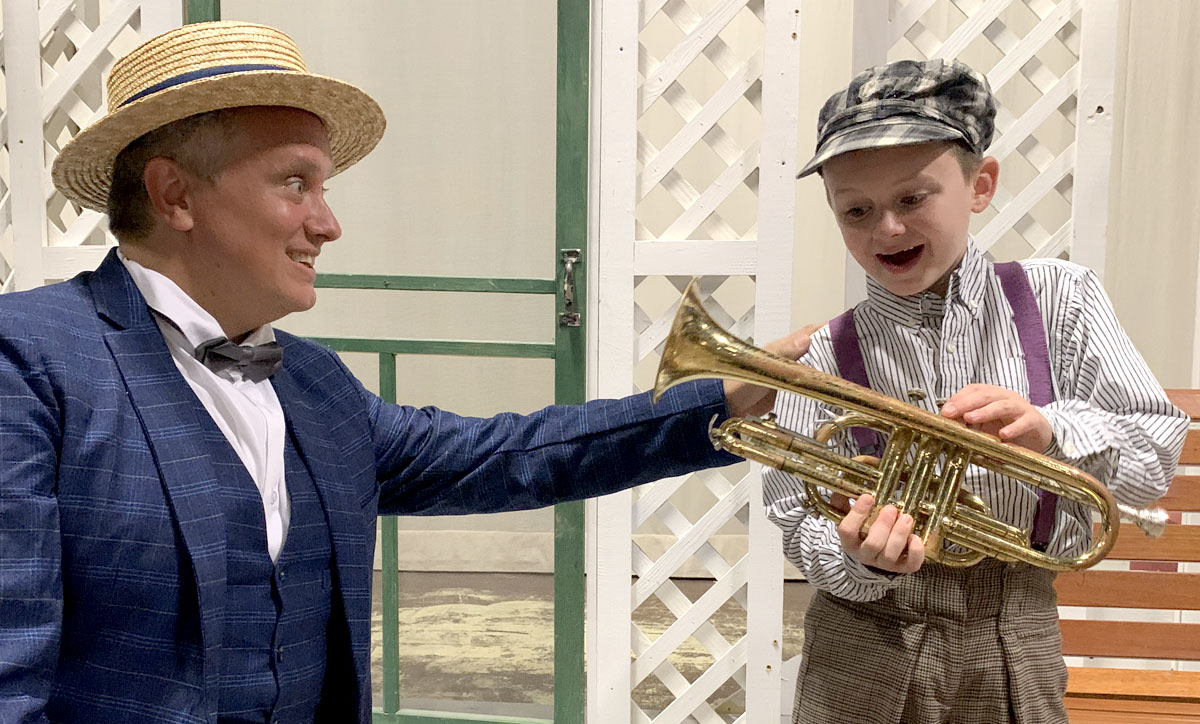 As the train stops at River City, Iowa, a man steps off to commit his usual routine of song, dance, and pandering to anyone and everyone he can.  
Professor Harold Hill (Chad Illa-Petersen) is a renowned con man working across several different Midwest states, asking townsfolk for money to buy instruments to start an all-boys marching band. But he keeps the money for himself and skips town.
When Hill arrives in River City, he sings and dances his way into the hearts of the townsfolk. However, not everyone is convinced of his legitimacy, including music teacher and librarian Marian (Alisa Bell) and Mayor George Shinn (Tom Rodman) who actively attempt to expose his true nature.
Beaumont Community Players presents the first show of the 2022-23 season, "The Music Man", based on the Broadway musical through Sept. 24. The show is full of likeable characters and classic songs with earworm-inducing melodies by Meredith Willson.
The cast members are a talented group that bring a vast amount of energy into the show. When the ensemble sing "Ya Got Trouble," it is hard to resist the urge to jump up and sing along.
Illa-Petersen captures the spirit of the conman. We know he's a bit of a rogue, but it's hard not like him. It is easy to see why the frosty Marian grows to love him, and he thaws her resistance. When Bell sings "Goodnight My Someone," you can feel her desire to connect with someone — although she is very picky (as evidenced by Mrs. Paroo entreating her to find love in the song, "If You Don't Mind My Saying So").
The orchestra is great from the overture throughout the show. Choreographer Lou Arrington's staging of the large numbers is show-stopping. The audience frequently applauded after every song, especially the marvelously silly "Shipoopi."
Director Paula Bothe does a fantastic job bringing everything together, taking the elements of the original and enhancing it. It's an entertaining show filled with unbridled energy, great acting, and immersive storytelling that draws us in.
Showtimes for "Music Man" continue through Sept. 23 and 24  at 7:30 p.m. BCP is located at 4155 Laurel Ave.
For more information, visit beaumontstages.com.