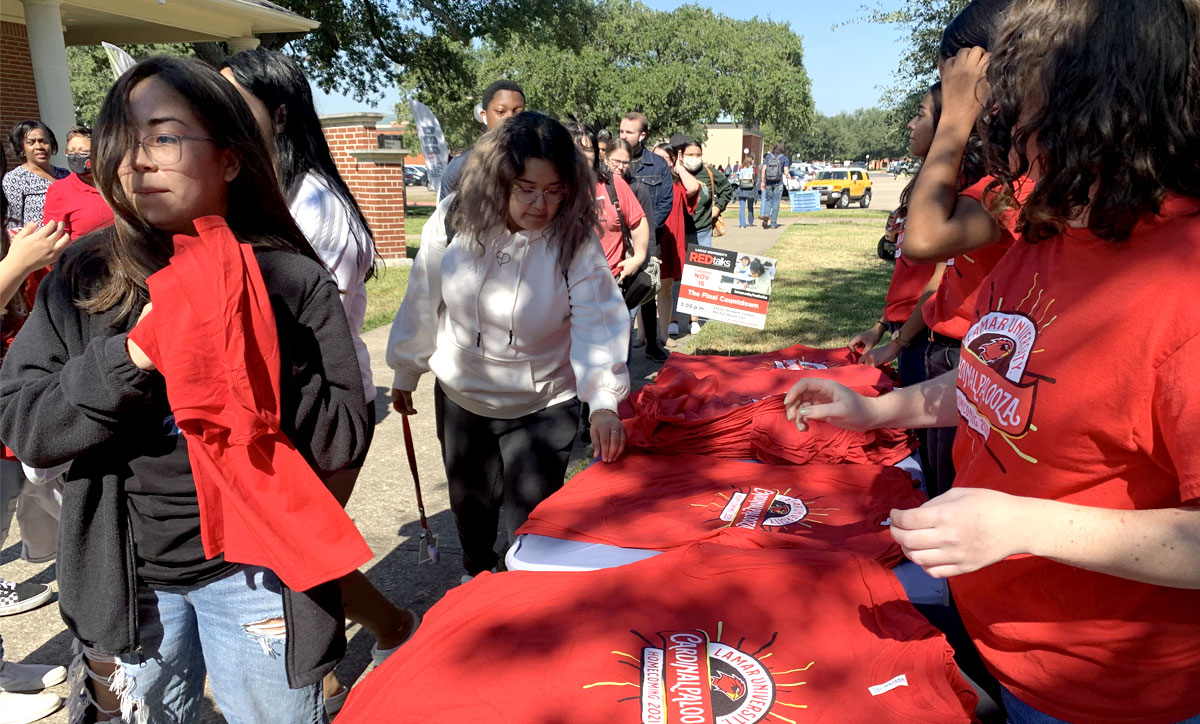 Lamar University's Homecoming week kicks off, Sept. 26, with activities taking place every day leading up to the Cardinal's game against Houston Baptist.
Homecoming festivities will begin with the kickoff, Monday, Sept. 26, the Setzer Student Center, 12:20-1 p.m. They will also hold two Goat Yoga sessions from 4 p.m.-5:15 p.m. and 5:30 p.m.-6:45 p.m. and a Silent Disco from 7-11 p.m.
"They'll have actual goats there during the yoga session, that (people) are free to pet," Cardinal Activities Board Director Victoria Anochili said. "It's a really calming and chill experience." 
Voting for Homecoming Court begins Sept. 26 on LU Hub until noon on Sept. 30.
The Setzer Student Center will host an escape room called "The Mystery of Mount Olympus" from 12:30-2 p.m., on Tuesday, Sept. 27.
We have a company that goes over the escape rooms, they're the ones essentially running the whole thing," Anochili said.
The day's activities will also include a Cardinal Grand Prix and Field Day at the Ty Terrell Track from 7-9 p.m. with free Kona Ice snow cones.
On Wednesday, Sept. 28, Morris Hall will host an escape room called "Space Calls-Infinite Horizon" 12:30-2 p.m. The Setzer Student Center will host a National Panhellenic Council Hump Day Step Show from 7-10 p.m., and will also host an event with Bingo and Late Night Breakfast from 10 p.m.-12 a.m.
The Sheila Umphrey Recreational Sports Center will host a variety of events, Thursday, Sept. 29, including Laser Tag from 12:20-2:30 p.m., a "Totally Tubular 80s Party" escape room, and a Retro Arcade and Dance Dance Revolution from 6-9 p.m.
On Friday, Sept. 30, the SSC will host a Make-Your-Own-Street Signs event from 11 a.m.-1 p.m. with a T-shirt exchange. The annual Bonfire and Pep Rally will be held at Spindletop Field at 6 p.m. with a spirit walk at 5:45 p.m. The bonfire will announce the members of the Royal Court for Homecoming.
On Saturday, Oct. 1, the Setzer Student Center will host a Parent and Family Day event at 9 a.m. Tickets for the event are $10 for ages 5 and up. Students and younger children are free.
Spindletop-Gladys City Boomtown Museum will host the Big Red's Ride Classic and Antique Car Show from 10 a.m.-2 p.m.
LU Volleyball will play Incarnate World in McDonald Gym at 10 a.m. Admission is free for student with ID.
The Montagne Center will host their FanFest and Tailgating event from 10 a.m.-2:30 p.m. The Dishman Art Museum will host a free art exhibit from Noon-4 p.m.
Prior to the big game, Tailgating events will be held in the Montagne Center parking lot, as well as across from Provost Umphrey Stadium. The Showcase of Southeast Texas, Lamar University's marching band, will play present a pre-game show at 2:40 p.m. with the game kicking off at 3 p.m.
For more information, visit www.lamar.edu/homecoming/schedule/studentevents.