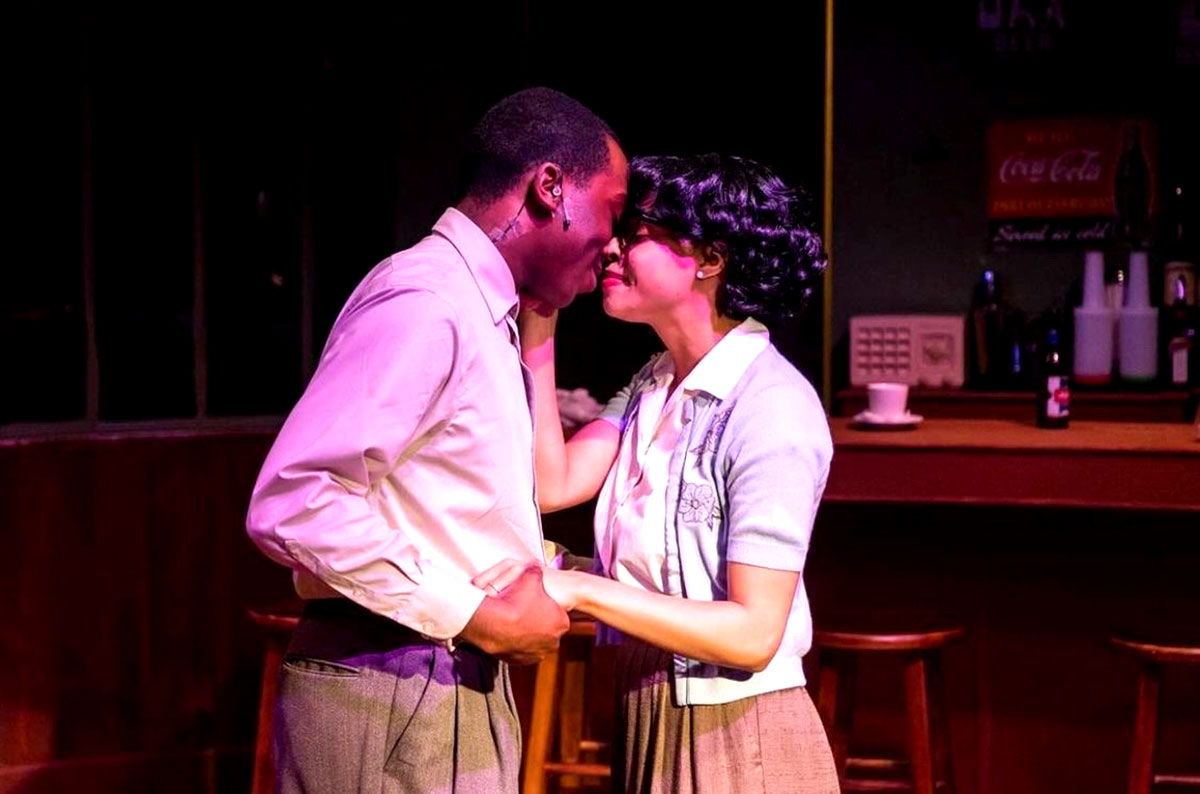 A new musical based on the sit-in demonstrations that took place around the country in 1960, is both entertaining and educational. Stages theater in Houston recently performed "You are Cordially Invited to Sit In," by ShaWanna Renee Rivon. The musical is centered around a sit-in in Houston.
On March 4, 1960, 13 students from Texas Southern University organized a sit-in at the Weingarten lunch counter, located on Almeda in Houston's segregated Third Ward. During the play, the students are disrespected and dehumanized, but do not give in.
Houston-native Rivon gives us a love story, inspired by her grandparents, about four friends who push each other towards a better world. The story is a jukebox musical, meaning Rivon incorporates popular '60s music rather than original songs.
The compelling Sarah Sachi plays Mae Florence, who sets the tone for the show with an exciting opening performance of "Heat Wave" by Martha and the Vandellas. Sachi plays Mae with a delicate yet ambitious attitude, which allows the audience to feel every emotion, whether it be her joyful goals and ambitions, or her uncertainty about her relationship with Leo (Jordan U. Okeke), and the world around her.
Rayevin Johnson plays Mae's best friend, Charline. She is comedic and quirky, as well as sassy. Her bubbly presence feels easy and natural, quickly winning over the audience. Johnson's performance of "Mr. Big Stuff" showcased both her vocal ability and playful approach to her character.  
Okeke has a beautiful, light tenor voice and gives a shy, yet courageous, performance as a poor university student. Okeke does this not only with his singing, but also with his ability to handle difficult emotions.
The rebellious yet timid Elijah, played by Kaleb Womack, creates a perfect younger brother-like character for Leo, who is a year older. Elijah attempts to be courageous, but Womack wonderfully portrays underlying insecurities while trying to act brave for the women. 
Stephanie D. Jones, as Hannah, rounds out the ensemble. Her incredible performance of "His Eye Is On The Sparrow," was greeted with rapt silence by the audience at a particularly emotional moment of the story. Hannah is based on the actual owner of the Eldorado Ballroom, Anna Dupree. Dupree was one of Houston's successful black businesswomen during the Jim Crow era. Jones portrays Hannah with love, wisdom, and a feeling of protection for the four young students.
"You Are Cordially Invited to a Sit-In" is a truly breathtaking experience. Set to the love songs and hits of the '60s-'70s and inspired by the real story of Houston's first sit-in that led to desegregation, it is both entertaining and educational.
The actors bring the four young characters to life, depicting the struggles trying to fulfill their potential in a system that is set up for them to fail. Despite the historical setting, Rivon's play is uplifting as we see the Mae Florence live her dream.